Isabella One Ups Disney Princesses in 'Galavant'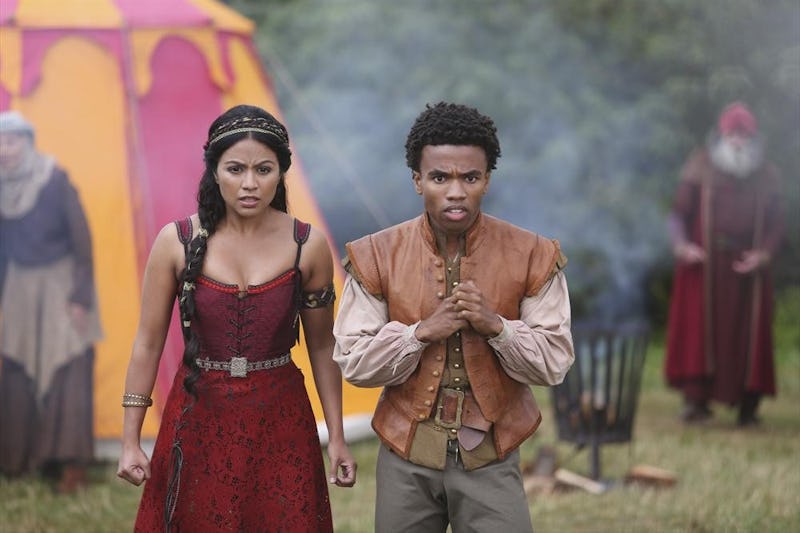 Isn't it every actress' dream to be a Disney princess? Lucky for Karen David, she gets to be the voice of, if not an animated Disney princess, an ABC one. She'll star as Princess Isabella Lucia Maria Elizabetta of Valencia (phew!) on Galavant, which debuts January 4, which means she gets to sing all of those Alan Menken princess songs while actually getting screen time, as opposed to taking a backseat to an animated character. But just who is Karen David, the actress who plays Galavant princess Isabella?
The actress and singer has had a long career, but if you haven't heard of her, it's because most of her successes have happened outside of the United States. She has a varied background herself; according to her ABC bio, David was born in India, raised in Canada, came of age in the United Kingdom, and went to college at the Berklee College of Music in Boston. And, while she has had a few major television roles in the U.K. (plus bit parts in shows like Castle and movies like Batman Begins), she comes to Galavant mostly from the musical side. She's done some musical theater and even has a few pop singles.
So, while David may not yet be a household name, she's certainly taken a creative path to Galavant. Here's where you can find more of her work, because after watching Galavant, you'll be begging for it:
"It's Me (You're Talking To)"
David's single sounds like very early Destiny's Child, back when DC had four members. David followed up this single with other singles, EPs, and albums, but it looks like this is her biggest hit. Chances are, the songs in Galavant won't sound remotely this poppy, but you can try and get a sense of David's voice here anyway. (It's catchy!)
Bollywood & Bombay
David has paid homage to her Indian roots through musicals, like when she co-starred in a British movie, Bollywood Queen, which put a Bollywood twist on Romeo and Juliet. (It co-stars James McAvoy as the Romeo character — swoon!) She's also from the original cast — and featured on the original cast recording — of the musical Bombay Dreams. The production comes from Andrew Lloyd Weber, of Phantom of the Opera super-fame, and A.R. Rahman, who got that "Jai Ho" song stuck in all of our heads after Slumdog Millionaire. Those are some big, musical heavy hitters, so David doesn't have to sweat it when it comes to tackling Menken's songs.
British Television
Americans may not have seen David on TV before, but, if you're in the UK, you could have seen her small-screen work already. From 2010-2011, David starred on Waterloo Road , a long-running TV series about a school. David was also on a children's program, Pixelface , which is about what video game characters do when the games aren't being played — sort of like a Toy Story for video games.
So, she sings, she's done theater, and she's an old hat when it comes to television. David is all set for Galavant.
Image: Nick Ray/ABC