AirAsia Flight Attendant Sends One Last Message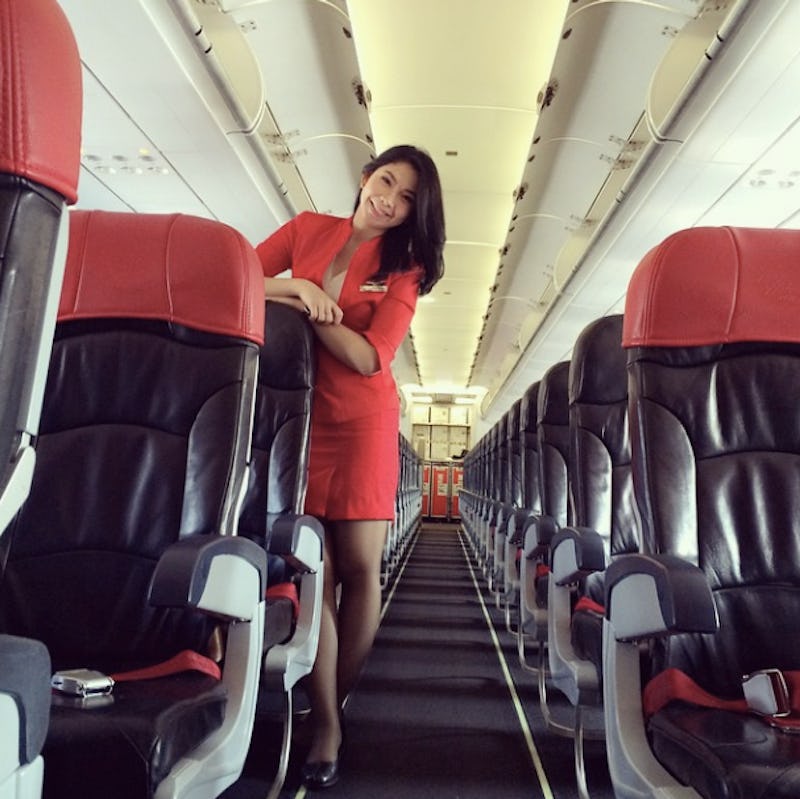 As rescuers continue to remove the bodies of passengers and crew on AirAsia Flight QZ8501, which crashed in the Java Sea on Sunday, heart-breaking stories about the victims are beginning to surface. According to The Independent, AirAsia flight attendant Khairunnisa Haidar Fauzie posted a message on her Instagram account while on the job just two weeks ago. The picture, presumably sent to her boyfriend, would be one of her last messages on social media.During a flight on Dec. 17, Fauzie uploaded a picture showing her AirAsia jet soaring above the clouds. On a napkin placed against the plane window, she wrote: "I Love You From 38,000ft." She added the caption: "Yes! I love!" with the hashtags #wings and #aircraft.
The Independent reports that Fauzie's touching Instagram was presumably for her boyfriend, Divo. The flight attendant, who was a former law student, was just 22 years old. According to her friends and family, being a flight attendant was her dream job — one she had been doing for the last two years.
"She is beautiful and smart. It has always been her dream to fly, her father," Haidar Fauzie, told SkyNews. He added that his family "knew the risks" of being a flight attendant, but his daughter was in love with her new job. "We couldn't have stopped her."
In addition to her love note from 38,000 feet, Fauzie posted numerous photos on her social media accounts, documenting the job she loved so much. In one post from two months ago, Fauzie spelled out "Love Divo" with her fingers in the shadows of a plane window — another message from the skies to her love.
Indonesian authorities confirmed on Wednesday that the body of an uniformed flight attendant was recovered from the site of the crash in the Karimata Strait. So far, just six bodies of the 162 passengers and crew have been recovered.
Bambang Soelistyo, head of Indonesia's National Search and Rescue Agency, told the media on Wednesday that the AirAsia jet's fuselage has yet to be found. There have been reports that sonar has detected parts of the downed plane, with one state official telling CNN that sonar equipment located wreckage at the bottom of the ocean floor. However, severe weather in the region delayed the search mission on Wednesday, and recovery operations may not begin again until Friday.
Images: Instagram/Nisa Fauzie