Miley's New Video for '23' Is Here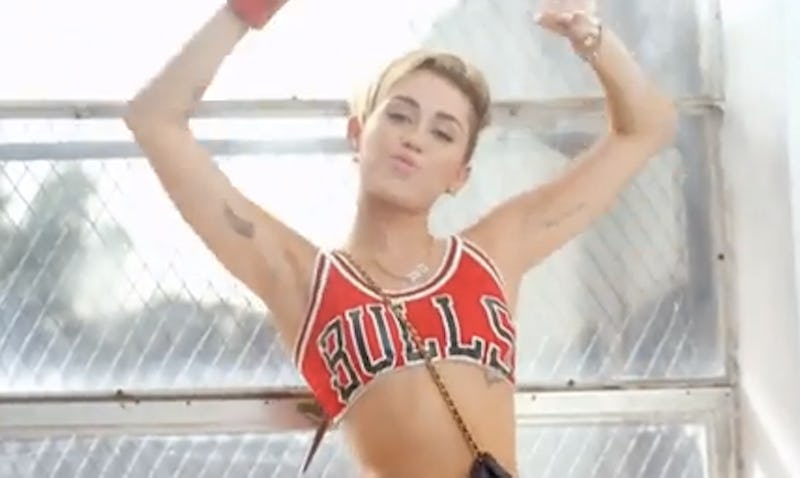 Unable stop providing pop culture with some juicy fodder, Miley Cyrus's video for "23" was released today and oh hello, there Miley controversy, it's so good/awful to see you again. "23" is Mike WiLL Made It's song and features Wiz Khalifa, Juicy J, and of course, a half-dressed Miley singing about sex, drugs, and not giving a fuck. Oh, and there's some twerking, too.
The song, when compared to the massive hits that are "We Can't Stop" and "Wrecking Ball", is not catchy whatsoever. In fact, it's pretty boring musically speaking, which is why they probably tried to make it a hit by dialing up the controversy. Miley raps on on the track, and spits lyrics like, "I be in the club standing on the couch/ In them Wolf Grays like it's my house/ Drinking out the bottle, I got no respect/ Looking like a model, you just got a check/ I back it up, cause I don't give a fuck/ If you're a lame, that's a shame you can't hang with us/ I'm MC Hammer fly, you can't touch/J's so fly I should work at Flight Club."
If the lyrics sound a little banal to you, all you have to do is watch Miley sing them in a Michael Jordan jersey that's been turned into dystopian rags, then turned into a skin-tight mini dress, to see that yeah, Miley's bringing the drama once again.
Plus, it takes place in a high school and the principal comes looking for Miley, who's smoking and twerking in the bathroom. Remember when Britney Spears caused eyebrow raises with her school-set video for "Hit Me Baby One More Time?" She showed her midriff and played with a feathery pen.
We've come a long way in 10 years, that's for sure.