Who Had a Better Year? T.Swift or Elsa?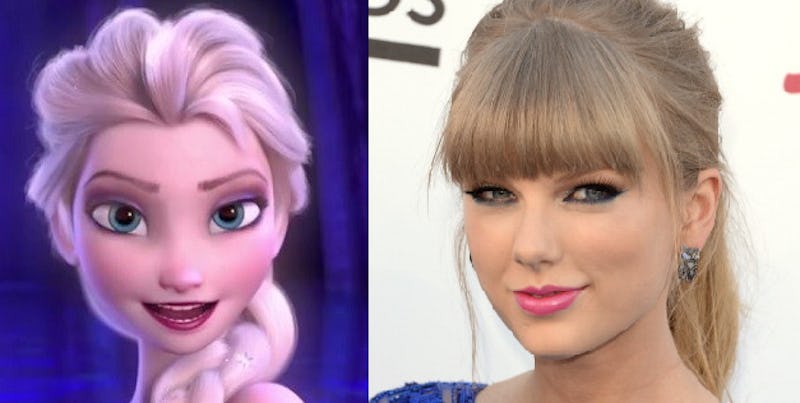 A hard and fast rule I learned when I did not make my high school's soccer team after three grueling days of try outs in the blistering August heat: we can't all be winners. An unfortunate, heartbreaking fact of life, but a true one nonetheless. That doesn't mean that there aren't winners, though, even if you're not one of them. For instance, Billboard reports that Taylor Swift just nabbed the top selling album of 2014 with "1989." The only person having a comparably amazing year? Queen Elsa from Frozen, whose soundtrack came in second to Swift's (ouch). So, basically, unless you're a blonde haired, blue eyed, slender blonde with a musical inclination, 2014 just wasn't your year.
It's cool, though. It wasn't like either gal didn't deserve their winnings. They both broke records, inspired fashion trends, and empowered young girls. Despite their uncanny similarities and their overwhelming popularity though, only one of these fabulous women can take home the prize as the girl who owned the outgoing year. Yes, Swift clenched the title for top record sales, but that doesn't mean Queen Elsa concedes the whole year to her because of that. In order to decide whose more deserving, let's do a comparison of these successful ladies.
Social Skills
Acquired an Uncountable Amount of Best Friends
Pretty Much Only Has Four Friends, Including Her Sister, a Reindeer, and an Overly Talkative Snowman
Point for Taylor.
Love Life
Has a Long List of Ex Lovers
Doesn't Have Any Lovers
Point for Elsa.
Magical Powers
Can Make Ice Castles By Pointing Her Fingers
Can Make Young Girls Faint By Waving Her Hand
Point for Elsa. I love home design.
Mantras
"Shake it Off"
"Let it Go"
Tie for both of them for not putting up with B.S.
Fashion
"Red Lip" & "Tight Little Skirt"
Err... Ball Gowns?
Point for Taylor.
Career Goals
Almost Broke a Record Set By the "Princess of Pop," Britney Spears
Rules an Entire Kingdom
Point for Taylor. She worked for that.
Overall Success
2014 Top Selling Album to Add to the Plethora of Broken Records, Grammys, Golden Globes, Charitable Works, & an A+ Sense of Humor
An Academy Award, a Golden Globe, Record for the Highest Grossing Animated Film, a Renewed Relationship with Her Sister, and Self-Actualization
Tie. Damn, they're good.
So, who collected the most points by comparison overall and officially owned 2014? The very real and not at all animated, Taylor Swift.
Here's to a 2015 that's even better.
Images: Getty; Disney; Giphy (12)