Before 'Girl Meets World,' Check Out These 5 Weird 'Boy Meets World' Episodes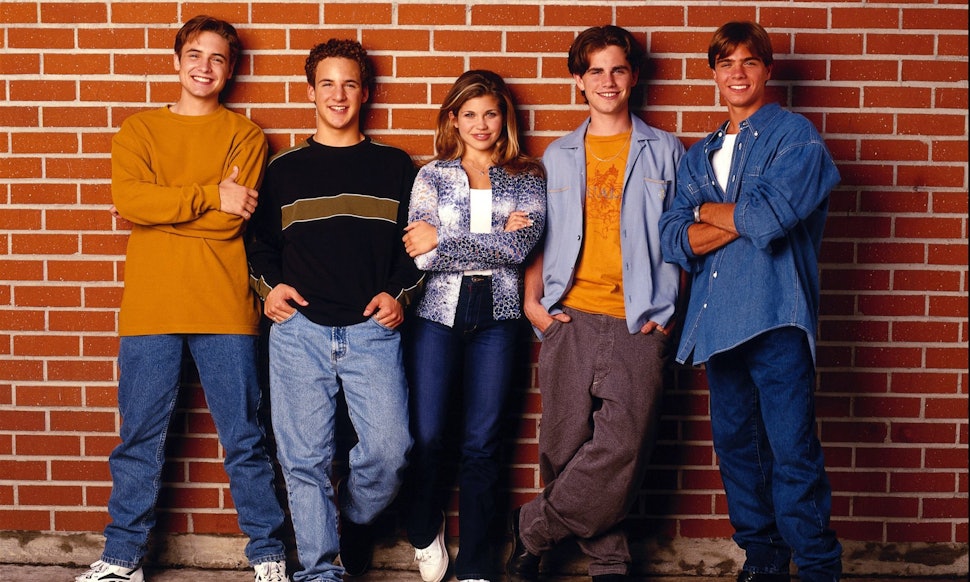 With 'Girl Meets World' fast approaching, it's only fitting that we re-watch some of our favorite 'Boy Meets World' episodes to prepare. After all, Cory and the gang had a ton of adventures over their seven-year run. And while most people could relate to the struggles of Cory, Topanga, Shawn, and Eric, looking back, some episodes of the show just got... weird. Here are the strangest 'Boy Meets World' episodes that you may have totally forgotten about. [Image: ABC]
The Weirdest Episodes of 'Boy Meets World' Ever
With 'Girl Meets World' fast approaching, it's only fitting that we re-watch some of our favorite 'Boy Meets World' episodes to prepare. After all, Cory and the gang had a ton of adventures over their seven-year run. And while most people could relate to the struggles of Cory, Topanga, Shawn, and Eric, looking back, some episodes of the show just got... weird. Here are the strangest 'Boy Meets World' episodes that you may have totally forgotten about. [Image: ABC]
'Cult Fiction'
In this 1997 episode of 'Boy Meets World,' Shawn joins a cult. Hilarious antics should ensue... except they don't. Instead, the entire episode is focused on Shawn's lack of spirituality — he believes that he can find religion if he follows in the ways of "The Center," which is run by a sketchy man named Mr. Mac. After all of this, Mr. Turner gets into a near-fatal motorcycle accident, causing Shawn to have his very first conversation with God. It's super heavy. The only saving grace of this episode is that the cult refuses to let Eric join. (He was only there "for the hugs".)
'Witches of Pennbrook'
Jack and Eric's neighbors — including former 'Full House' star Candace Cameron — are witches in this 1997 episode. And they want to sacrifice Eric. Or something. I don't know. The episode seems like a weird fever dream. Oh, and at the end, Sabrina (Melissa Joan Hart) from 'Sabrina the Teenage Witch' shows up. Bottom line? Never trust anyone from the ABC Family line-up.
'And Then There Was Shawn'
Shawn's anxieties about Cory and Topanga's break-up lead Shawn to have a dream in which he is in a 'Scream'/'I Know What You Did Last Summer' parody. Jennifer Love Hewitt, who was dating Will Friedle at the time, plays Jennifer Love Fefferman in this 1998 episode. Lots of people die — slacker Eric gets crushed by a stack of books... note the irony — but it's okay because it's all a dream. Right?
'Eric Hollywood'
It seems that the episodes following Topanga and Cory's breakup in Season 5 had to make up for the lack of romance by making everything way more meta. In this 1998 episode, Eric joins the cast of the ABC series 'Kid Gets Acquainted With the Universe' and meets alternate versions of his family and friends. (Shawn is a recluse, Cory is a tyrannical star, and Topanga is a dippy starlet.) It's quite weird, but also totally brilliant.
'Everybody Loves Stuart'
Fred Savage (Ben Savage's brother) guest stars in this 1998 episode as a cool, fun professor named Stuart who lets kids call him by his first name. The entire student body adores him... that is, until he makes a pass at Topanga, unapologetically ignoring the fact that she's with Cory. Cory punches him, and Stuart tries to get Cory expelled. Watching the kid from 'The Wonder Years' sexually harass Topanga? Yeah, we'd say that's weird.