13 Things Only Small Town Girls Will Understand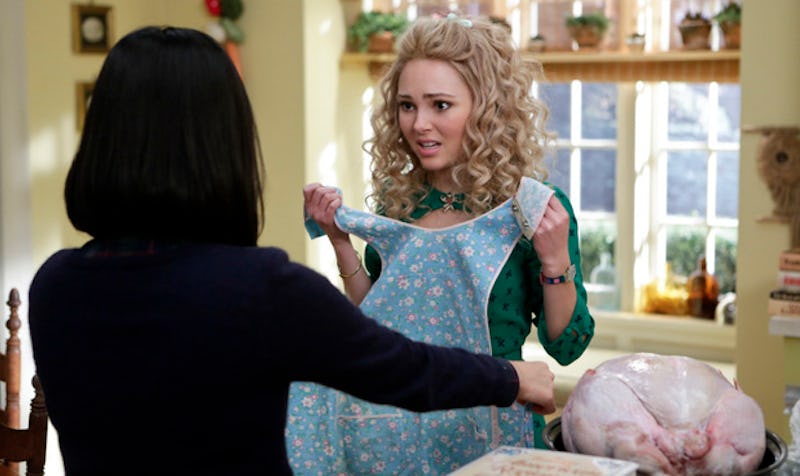 Carrie Bradshaw didn't stand for anyone talking smack about her boyfriend — New York City — and I won't, either. Only my boyfriend isn't a thriving metropolis: He's a little seaside town in Jersey that city-dwellers find awfully sleepy. Here, we ride bikes instead of cars, call out of work when the surf is up, and consider no-shower happy hours an important pastime. Not a bad place to be. But on the little peninsula where I live, the collective MO is to care more about where our next hoagie is coming from than which designer debuted controversial tampon earrings on the runway.
While I love a good cheese sub as much as the next girl, I do sometimes wish that fashion were a bigger priority. I mean, we're known for our boardwalks on this little part of the planet, and let's just say they aren't a place you go for style-inspiration. So what's a small-town girl to do? Hop a bus and get thee to a city once in a while, I say. It's OK to cheat on your (geographic) boyfriend from time to time, after all, if the end-game is remembering how exhilarating clothing design can be. But first, read this and know you're not alone. Presenting: All of the fashion dilemmas only small town girls will understand.
1. EVERYONE IN TOWN HAS ALREADY SEEN YOUR LBD
And your little green dress. And your little blue dress. And — you get the idea — because everyone is at seemingly every event.
2. PEOPLE ASSUME YOU'RE STYLE-IGNORANT
But some of the biggest names in fashion have come from small towns, including Cindy Crawford who was — no kidding — discovered while de-tasseling corn in Dekalb, Illinois.
3. YOU'RE NEVER INCOGNITO
It may be a bad hair day, and you may be wearing a pair of bleach-stained sweats, but you convince yourself you'll be able to pop into the drug store/grocery market/post office for a quick minute without being spotted. But then… oh, hello, ex-boyfriend, former boss, and Great Aunt Mabel.
4. EXCEPT WHEN YOU'RE LOOKING CUTE
Against all odds, when your makeup's on fleek and your hair is laying just right, you'll be all by your lonesome at CVS.
5. YOU'VE BEEN TO EVERY SHOP IN TOWN 100 TIMES
Because there are only three of them.
6. AND THE WOMAN RINGING YOU UP ALWAYS KNOWS YOU
And she heard from your sister's friend's doctor's daughter just how much you owe in student loan debt. Is she judging you for buying another pair of shoes. Is she?!
7. FASHION RISKS SEEM BIGGER
Sure, in Manhattan or some other fashion capital, you may be able to shave half your head, dreadlock the other side, and pair combat boots with a ball gown — while remaining just another face on the subway. But in a small-town, you're more likely to scare little children at the bus stop.
8. AND FAUX PAS, MORE DAUNTING
How could they not be, when some poor girl's wardrobe malfunction becomes topic of discussion at the local pub, a meeting of the garden club, and borough hall's long-anticipated bingo night?
9. THERE ARE FEW PEOPLE TO COMMISERATE WITH WHEN YOU HEAR THE "B" WORD: BACKORDERED
Perhaps no one gets the gravity of this situation, because they're all too concerned with the outcome of tonight's high school football game. Go, tigers!
10. BUT SPEND $200 ON A PURSE AND SUDDENLY EVERYONE IS IN YOUR BUSINESS
And totally aghast. By the way.
11. YOU'RE SO FAR REMOVED FROM THE BUZZ OF FASHION WEEK
No, the biggest thing happening right now is NOT the Valentine's Day teen dance at Convention Hall. Now excuse me while I gorge on InStyle.com.
12. YOUR NEIGHBORS STILL THINK YOU'RE BREAKING THE RULES IF YOU WEAR WHITE AFTER LABOR DAY
Don't you people read Vogue?!
13. NO MATTER WHAT, YOU'RE PERPETUALLY OVERDRESSED
No, wing night might not be the appropriate place to wear this metallic Courtney Smith number, but dammit, you love it. There are no fancy art gallery openings at which to sport it, but You. Will. Rock. It.
Images: The CW; Giphy