Selena and Gigi Were Twinsies on New Year's Eve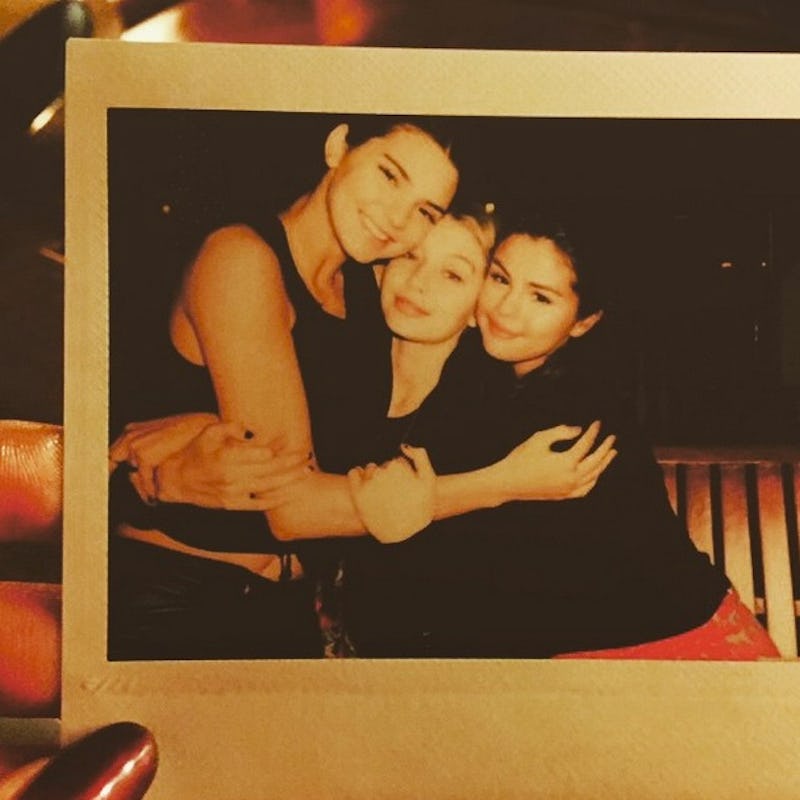 Seems like the friendship between Selena Gomez and Gigi Hadid is heating up fast: on their trip to Dubai with famous pals including Kendall Jenner, Balmain's creative director Olivier Rousteing, and Hadid's on-again boyfriend Cody Simpson, Gelena (yup, making that a thing) rang in the New Year in sparkly minidresses that were almost exactly the same. Bringing back twin day for 2015? I'm so in.
At first, I thought Selena's mauve number and Gigi's black frock were exactly the same style but in different colors, and one of them was just wearing it in reverse. Upon further inspection, though, it looks like the strap on Selena's is too high too be the same dress as Gigi's. That would've been another level of bestie cuteness, but oh well. Even though that's not the case, it did remind me of the dress-reversal technique I've been wanting to test out (provided that it doesn't leave me too vulnerable to a wardrobe malfunction.)
I definitely wish I could've been on their fabulous vacation to see the fashionably festive dresses for myself, but I'm sure they'll invite me next year, right? If not, I might have to ask my best friend if she wants to coordinate for New Year's Eve 2015, because nothing says "this is my homegirl" like matching celebration ensembles.
Side note, RE Olivier's Instagram snap: Is Cody Simpson trying to steal Pharrell's signature hat look? A word of advice to the singer: leave the major statement headwear to the master, and let your beautiful blonde locks flow. Kendall killed it, per usual, though: her plunging AQ/AQ bodysuit and Balmain pants proved that New Year's Eve isn't just for dresses.
Images: Instagram/@selenagomez, @olivier_rousteing