The New Louis Vuitton Ads Look Really Familiar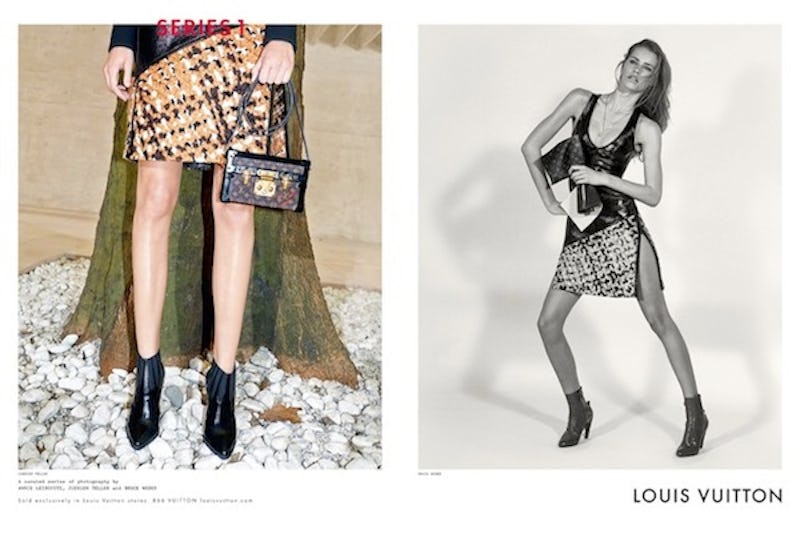 Each new season's fashion campaigns are all about reinvention, outdoing the old, tempting us with the shocking, the beautiful, and the avant garde. So it's rare that we look at an ad campaign and say — wait, have I seen this already? But Nicolas Ghesquiere's Spring 2015 Louis Vuitton campaign has been released, and honestly —it's not all that different from his ads for fall.
Ghesquiere released the spring ads on Instagram Monday, and from the early images, it looks as though not much has changed from the last campaign. For the fall ads, called "Series 1," Ghesquiere used photographers Bruce Weber, Annie Leibovits, and Juergen Teller to shoot models inlcuding Charlotte Gainsbourg and Freja Beha Erichsen. Clearly, that is quite the line-up of outstanding talent, so I can see why Ghesquiere would be keen on keeping the vibe alive in his current campaign. I mean, if it ain't broke, don't fix it, right?
For spring 2015, appropriately called "Series 2," Ghesquiere used the same photographers and Erichsen, though chose to also feature Jennifer Connelly, his longtime muse at Balenciaga. Though the images are sartorially stunning, it's bordering on redundant (which borders on boring), so let's cross our fingers we don't get a "Series 3" next fall.
Spring 2015:
Fall 2014:
Images: nicolasghesquiereofficial/Instagram; Louis Vuitton