'Gone With the Wind' Style From the Celebs on NYE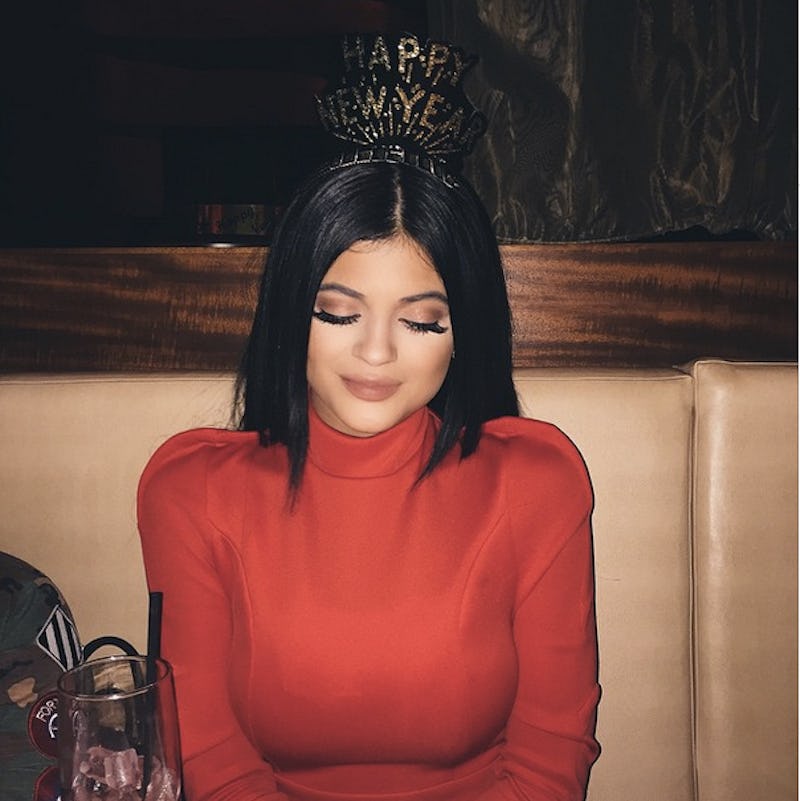 As I was sitting on my couch on a late New Year's Eve, (deliciously tipsy from sipping champagne and pretending I was at a Gatsby party), I decided to distract myself from the laborious wait of the ever-impending midnight countdown, and have a look through my beloved social media. I gazed at all the Gone With The Wind fabulous outfits (by which I mean Scarlett O'Hara would've been proud of them) that were being worn to bring in 2015 by all my favorite celebrities. Because real talk: Aside from the drinking, the fashion is what really matters on NYE. It is the ultimate party evening, after all. I crave all that glitz and glamour that's celebrated on New Year's, and the only way I can satisfy those cravings is to submerge myself in what famous people are wearing — so I can live vicariously through them all, of course.
The thing about NYE (and I know it was a few days ago) is that it's kind of an early fashion forecast for the year to come. When the celebs rock outfits that you cannot stop thinking about, it makes you think that they'll continue to do so for the next 12 months. So let's have a look at some of the women who I truly felt were Gone With The Wind fabulous as they brought in January 1st. And cross our fingers that they keep it up.
1. TAYLOR SWIFT
One of the first celebrities to stand out to me was my girl T. Swift. Now, it's no secret that the 1989 star is one of my favorite female artists, for reasons that I just cannot list right now (at least, not quickly). So let's all agree that we love her, OK? In usual form, she managed to stun and dazzle the crowds as she sang in the new year in a glittering black crop top (completely ignoring the fact that it was freezing outside). Sure, some people were outraged by Taylor Swift's NYE outfit, but styled with a pair of high-waisted suit pants and a sparkling silver blazer (which she threw on after realizing it was, in fact, freezing outside), she still managed to pull off a glitzy, sexy spin on a black tie tux. She even did a J. Law and tripped down the stage stairs — and laughed it off gracefully as any Gone With The Wind fabulous woman would. Here's to more sequins in 2015, Tay.
2. KYLIE JENNER
After much deliberation as to whether I loved or hated this look, I finally settled on loving it. Kylie's choice is simple and bold, with a little retro-Gaga-flare. I like how different her choice was, and how sexy she made a dress that (let's be honest) could very easily have looked like something straight out of Star Trek. And really, who else could pull off that cheap paper "Happy New Year" hat? Kylie the Fabulous, that's who. So will turtle necks be making a big comeback? Stay tuned.
3. FERGIE
I'll admit, Fergie really isn't on my fashion-radar much these days, but I was absolutely blown away by her emerald green embellished mermaid dress. She looked absolutely stunning, and her long sea-queen hair was on point, too. Here's hoping for more mermaid-style. Starting now!
4. SHAY MITCHELL AND SELENA GOMEZ
Selena Gomez and Shay Mitchell (or as we all know her, Emily from Pretty Little Liars) spent their NYE in Dubai, and they looked absolutely fabulous doing it. Shay wore a flowing, black and gold embellished dress/robe combo, and Selena went a bit more bold and brave with an clingy open-front, slate-colored dress that hugged all the right places. The two party girls really brought in 2015 in glamorous style. So... I wonder if the whole "robe dress" thing is finally going to happen this year?
5. LENA DUNHAM
How adorable are Lena and Jack? I mean — I cannot even deal with the perfection of this photo (featuring a "New Year's Eve dip from my great love," in the words of Dunham herself). But the power tiara is the thing that really caught my eye. The New York Times said tiaras are replacing the power scrunchie, and I really hope they do: Glamorous, sparkly, one-of-a-kind. In other words, what 2015 really needs.
Images: Twitter; Instagram