Old Woman's Face is Reverse-Aged With Photoshop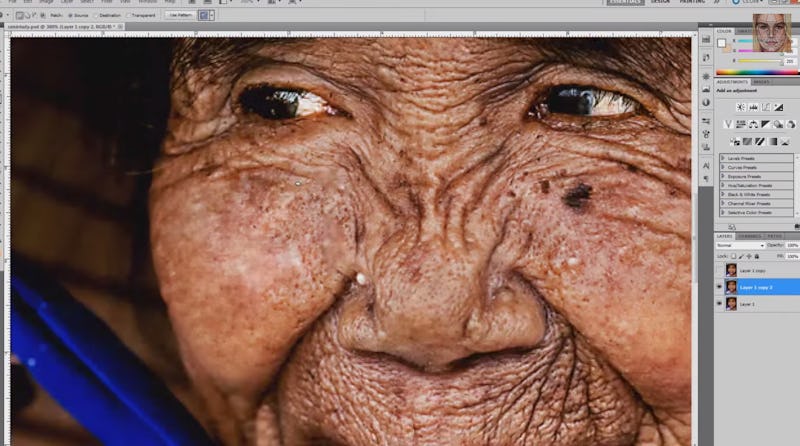 A Photoshopped image of an elderly woman is going viral, and it's all thanks to Photoshop Surgeon, a YouTube channel that depicts incredibly cool and creative Photoshop projects. In this video, you get to see how a real photo of a woman (taken by photographer Bui Linh Ngan in Vietnam and made publicly available through Flickr) was digitally altered and enhanced in order to look like a former, younger version of herself. Its step-by-step illustration is hauntingly beautiful and brings our attention to the tremendous power of Photoshop even more than John Mayer's Instagram account.
Photoshop Surgeon said, "I chose her because I think she looks fascinating and endearing. I wondered if I could reverse time and give people a glimpse of how she might have looked when she was young."
While many viewers admire the project and are emotionally affected by its aesthetic manipulations, some don't think it's such an awesome idea. Commenters have expressed concern, saying that reverse-aging this already beautiful woman is perpetuating the belief that only young women can be attractive. While this is definitely a legitimate point, the artist behind the transformation stated that addressing beauty ideals was not his/her intention.
"For me, as with all my videos on the Photoshop Surgeon channel, it was an experiment and a challenge to find out what extreme transformations are possible with Photoshop," the artist explaied.
The video has over 6.5 millions views, and over seven thousand comments—clearly, the rest of the internet is into experimenting with digital transformations too.
Image: YouTube