If You Loved 'The Luminaries,' Try These 9 Books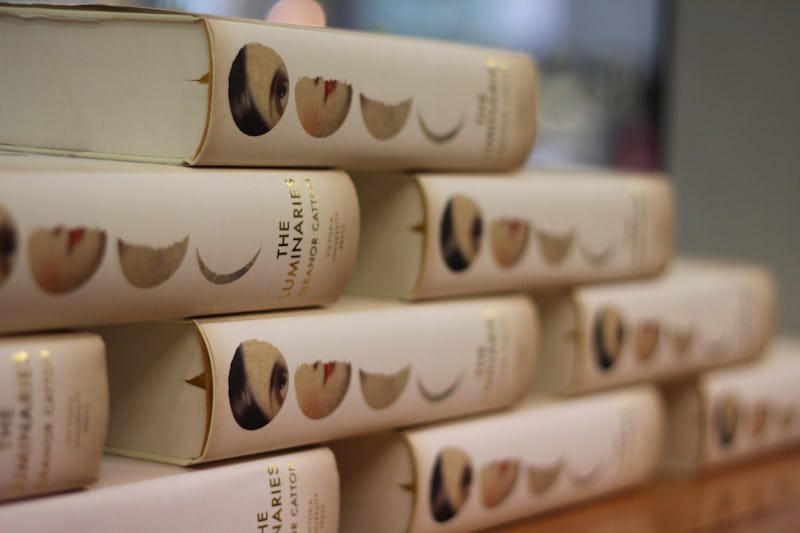 No one could ever accuse author Eleanor Catton of skimping on the details in her Man Booker Prize-winning The Luminaries . A kitchen sink affair of the highest order, Catton's hefty novel weaves together seemingly disparate stories, from a Scottish ex-pat looking to make his fortune during New Zealand's West Coast Gold Rush to a group of awkwardly and oddly connected men desperate to untangle a mystery gripping their small town to the kind of crime that seems nothing short of unsolvable.
Oh, and there's all that stuff about astrological tables. And missing bullets. And visions. In short, it's a lot to process, but Catton somehow keeps everything coherent and compelling, sweeping up her readers into a fully imagined world that's equal parts historically accurate and just plain dreamy. As daunting as the novel might look — at 848 pages, even my own hardcover copy temporarily scared me off — the rewards of The Luminaries are rich, and the book just might keep enough of a hold on you to push you into reading some other similarly-toned novels.
If you've already read (and loved) The Luminaries and are looking for other titles similar to it, there are plenty more to choose from, depending on what exactly about Catton's wide-ranging (and kind of magical) epic made you want to go digging for your own gold.
If you want to read another account of life in New Zealand during the West Coast Gold Rush, pick up Rose Tremain's The Colour
Like The Luminaries, Tremain's 2004 novel centers on an outsider who attempts to make his fortune during the West Coast Gold Rush of the 1860's. Yet unlike Catton's story, Tremain's novel actually includes three ex-pats, the newly married Joseph and Harriet, along with Joseph's own mother Lilian, who find themselves at odds when one of them strikes the jackpot... and refuses to share the wealth.
If you'd rather read up on the California Gold Rush in a fictionalized format, you might like Gwen Bristow's Calico Palace
Just a few years before New Zealand struck gold, it was America's West Coast that was consumed by its very own gold rush. Bristow's novel picks up before the so-called "forty-niners" (prospectors so named for the year they came looking for gold near San Francisco, back in 1849), instead focusing on the people who found the gold first. You can call them "forty-eighters," and Bristow's book brings them stunningly to life.
If you want to read another sweeping epic about life Down Under, you'll love Colleen McCullough's The Thorn Birds
Perhaps you've caught bits of the 1983 television miniseries based on McCullough's beloved book — maybe your mom was obsessed with it, like mine? — but now is the time to buckle down and read the novel that inspired it. This is one of the definitive forbidden love stories of our time (he's a priest, she's a lot younger), but it also provides a massive look at life Down Under during the early part of the 20th century.
If you'd like to check out another novel that utilizes astrology for its storytelling, check out Patricia Storace's The Book of Heaven
One of the most notable elements of Catton's novel is how she uses different characters to represent different star signs (from Scorpio to Cancer) and other heavenly bodies. It's a very unique idea, but there are a handful of other novels that use something similar, like Storace's The Book of Heaven , which imagines four new zodiacs (and associated characters and myths) to round out our starry skies. If you're constantly reading your horoscope, this is a fresh way to reimagine just what it all means.
If you want to experience another intricately structured story (that works!), grab David Mitchell's Cloud Atlas
Catton's novel might not span quite the same amount of time and space as Mitchell's epic does, but it does provide a challenging narrative and complex structure for its readers. If the intellectual gymnastics you had to go through to fully process Catton's story appealed to you, Mitchell's 2004 collection of "nested" stories will give you a similar brain workout. Bonus: if you love the book (or, more honestly, if you need a little help visualizing it), there's a movie version available that can also work out your mind.
If you're curious about other Man Booker Prize-winners, try Anne Enright's The Gathering
Awarded annually, the Man Booker Prize has some relatively lax constraints: novels must be original, written in the English language, and published in the U.K. to qualify. Catton may be the youngest author to win the prize, but she joins a long line of stellar works — including a ton from prominent female authors — that are all worth the read. Why not pick up Anne Enright's 2007 winner, which chronicles a distraught family and dives into their unhappy history to uncover why one of their own committed suicide? It's certainly not a feel-good pick, but it's deeply enthralling.
If you want to read another historically-set novel with a major crime at its center, pick up Hilary Mantel's Bring Up the Bodies
Mantel is yet another Man Booker Prize-winner — two times over! — and her special brand of historical fiction blended with true crime is particularly fun to read. A sequel to her Wolf Hall , Mantel's Bring Up the Bodies is the third book in a planned trilogy that focuses on the life of Thomas Cromwell, a minister in King Henry VIII's court. This entry in the series is particularly invested in the messed up relationship between the King and his wife Anne Boleyn, all leading up to her highly mysterious execution.
If you're looking for another story about outsiders who change the status quo, go for Charlotte Brontë's Jane Eyre
Walter Moody essentially stumbles into the action of The Luminaries — the guy just wanted some gold! — and eventually becomes its catalyst for change. Although you've probably read Jane Eyre before (most likely for its still-stirring romantic storyline) why not approach it with a new view? Jane, continually bounced around, from orphanage to Thornfield Hall to the Rivers' family home, is constantly an outsider, a position that affords her the ability to bring major change to everyone around her.
If you just want to read more from Eleanor Catton, be sure to grab her debut novel, The Rehearsal
Although Catton's 2008 debut (it initially served as her graduate thesis) doesn't sound too much like The Luminaries, at least plot-wise — it centers on a very modern affair between a male teacher and his younger female student — it still displays Catton's knack for playing with prospective and narrative. Its non-linear plot and stacked cast of characters drive its story on, much like the more ambitious Luminaries.
Image: Unity Books