'Gotham' Nurse Dorothy Duncan Is an Arkham Ally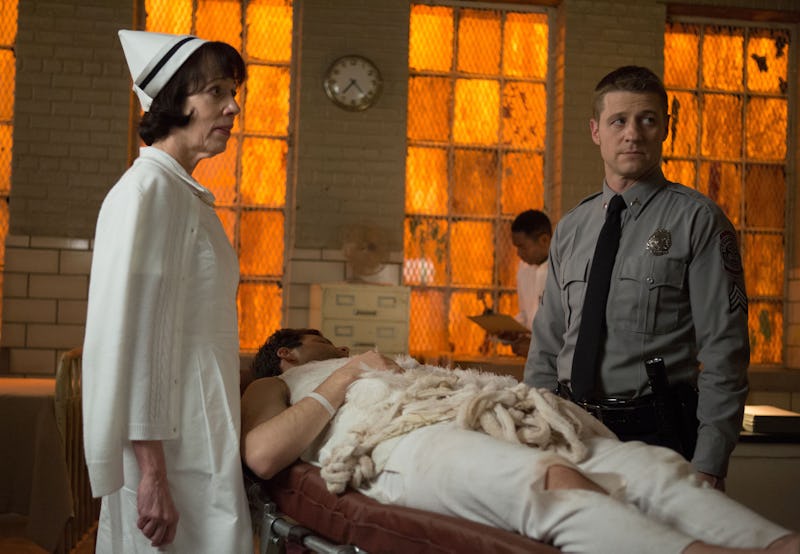 New year, new Gotham episodes, and an all-new job for Jim Gordon. Instead of working with his partner, Harvey, he'll be faced with all new coworkers — but who will they be? Well, we know the identity of at least one of them: Nurse Dorothy Duncan, who works at Arkham Asylum alongside Dr. Leslie Thompkins, the facility's overseeing physician. Allyce Beasley will be playing the nurse, and as Fox's episode description explains that she and Dr. Thompkins will be helping Detective Gordon, they're probably his only allies now that he's been demoted from detective to Arkham security guard. Dr. Thompkins is a character who will be very familiar to comics fans, but Dorothy Duncan is an original Gotham creation.
No Nurse Ratched retreads here — this nurse should prove to be a force for good. Actually, it's unclear why Dr. Thompkins and Nurse Duncan are working at the decrepit Arkham Asylum, which has always been a terrible organization, filled with crooked psychiatrists, mobsters planted as guards, and a seemingly endless amount of underground tunnels and secret entrances that can be used for villains escaping. The Joker practically walks out the front door in every Batman comic.
Jim Gordon will have to look for allies where he can get them, and the pickings look pretty slim. Administrator Gerry Lang is looking to cover up the corruptions and failures that are already a part of Arkham's short history. On the outside, the mayor is fed up with Gordon's penchant for breaking/obsessively following the rules, the other cops hate him for his perceived lack of loyalty, and the mob still maybe wants him dead, even though they have enough internal problems to keep them busy for the rest of the season.
Since Arkham is basically a sieve and there are explosions, poisonous gas, and stabbings regularly, you don't see a ton of great doctors or nurses working at Arkham for long in Batman history — just another way for Gotham to stand out among adaptations, right? — but there are a few examples to look to that might help explain where they got the idea for Nurse Duncan.
There's one comic in particular, Madness , that dove into the day to day life of the Arkham support staff. In it, a whole collection of nurses get a spotlight as it overviews one of Joker's elaborate schemes from the point of view of Sabine, a nurse and mother who finds herself inexplicably drawn to remain working there even after spending almost a full 24 hours being toyed with by the Joker's crazy plans, which include flooding the asylum, poisoning doctors, and playing cruel practical jokes. While Gotham is only an hour-long drama, and probably doesn't have time to devote a full 44-minute episode to the POV of Nurse Duncan, I think the idea would be amazing, especially since Gordon is now a security guard — just like Roy, one of Madness' supporting characters.
Images: Jessica Miglio/FOX; Giphy (2)