'Shark Tank's Latest Dating App Is Available Now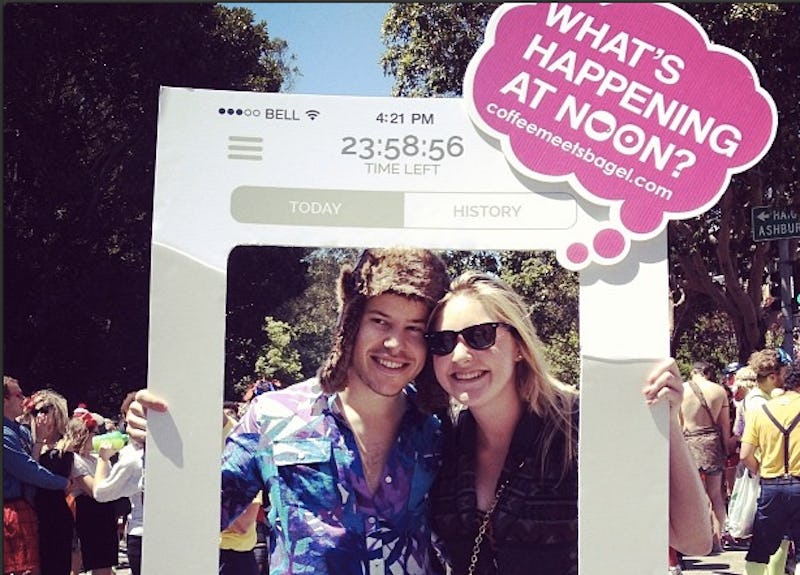 There are very few pairs in the world better than coffee and bagels. I mean, a rich and robust cup of coffee with a crunchy yet doughy bagel covered in cream cheese is really all you need in life. So how could the sharks on Shark Tank not immediately fall in love with the online dating service Coffee Meets Bagel based on its name alone? Of course, the sharks have much more business savvy than to invest in a company just because it has a cute name. Still, the idea behind the dating service should be enough to pique their interest.Coffee Meets Bagel is a dating app where you, the "coffee," are delivered a match, or a "bagel," at noon every day. I see this idea entertaining the sharks, but they're not usually too keen on investing in online dating. However, this is one of the few companies to appear on Shark Tank that I've actually heard of, which means it could have already raked in the dough without the help of the sharks. If the numbers are right, Coffee Meets Bagel could be a perfect match for one or more of the sharks. Here are four other reasons why the sharks might be interested in Coffee Meets Bagel.
It's Kind of Like Shopping for a Date
Coffee Meets Bagel puts the fun in the otherwise suck-tastic activity of online dating. You can sign up for the service for free online or through its app on iOS and Android devices by connecting the service to your Facebook profile. Then, you provide personal details about yourself and what you're looking for in a date. Coffee Meets Bagel scours your Facebook profile for friends of friends, your "bagel," and sends them to you through email every day at noon. You have one day to either "Pass" or "Like" the "bagel," and after that, you will either be connected if the "bagel" also likes you or you'll never be matched with him or her again. Users also earn or can pay for coffee beans, which unlock special features like finding out who the mutual friends of your match are or giving a match a second chance.
It Was Created By 3 Sisters
In the world of start-ups, women are few and far between. So the fact that Coffee Meets Bagel was founded by three women is something to brag about. Arum, Dawoon, and Soo Kang launched Coffee Meets Bagel in New York City in 2012. Their backgrounds include everything from marketing and business (Arum is a graduate of Harvard Business School and Dawoon is a Stanford Graduate School of Business alum) to graphic design (Soo's past clients include Samsung, Belvedere Vodka, and Harajuku). And let's face it, having a sister act is not a bad gimmick with which to go into the Shark Tank.
This Is What Coffee Meets Bagel Actually Means
As I mentioned before, Coffee Meets Bagel is a great-sounding name, but it's also confusing. I mean, when you hear it, you don't automatically think "dating service." How did the Kang sisters even come up with this name in the first place? Recognizing how kooky the name sounds, the Kang sisters were smart enough to put a little explanation on the Coffee Meets Bagel website:
We wanted our service to be something that people look forward to everyday, something that can spice up their lunch break. Most of our members are busy young professionals, and we know that one thing everyone looks forward to daily is coffee breaks. That led us to choose coffee. There are many things that go well with coffee but we chose Bagels because we launched in New York City!
So yes, it really is as simple as being about coffee and bagels.
This Is Why It's Great For Women
If you've ever been on the Internet, you know it's not always a great place to be a woman, and that is especially true when it comes to dating sites and apps. However, Coffee Meets Bagel might actually take away much of the pain and awkwardness of online dating for women. There's the aforementioned feature of dates going away forever once you say "See ya!" One other feature I think is especially great is that once a match is made, you and your "bagel" get a private, temporary texting line with which to communicate. That means you don't have to give your date your phone number, email address, or anything else like that to get in touch. So if your first date goes south, and you don't want this guy or girl to contact you ever again, that's pretty much what will happen.
If Coffee Meets Bagel sounds like your kid of dating app (and breakfast, duh), it's available for download now in the Apple App Store and on Google Play.
Images: Coffee Meets Bagel/Instagram; Getty Images