Is Chris Right To Say There's No Women in Iowa?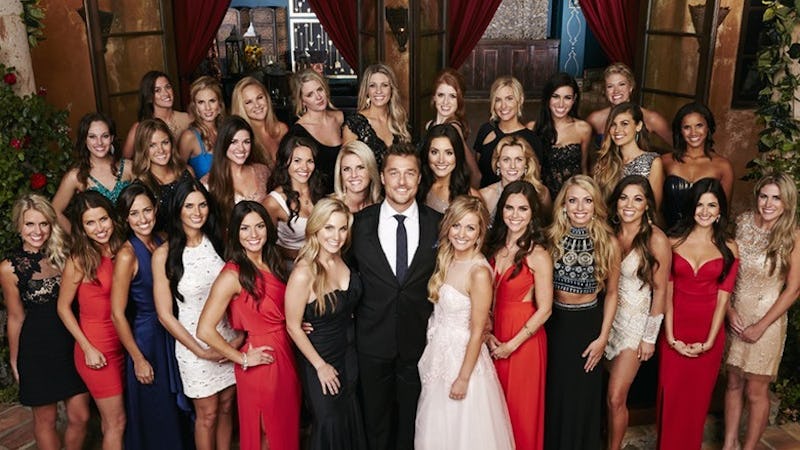 You know when one of your friends says, "I have no friends," but you're sitting right there? That's how I imagine the women of Iowa feel every time new Bachelor Chris Soules says that there are no women in Iowa. In a state with a population of over three million, how is it possible that there are no women? I imagine the ones who do exist are feeling a lot like chopped liver right now. But obviously, your dating pool isn't defined by your state — more likely, your potential life mate will be found in or near the town you live in — and for Chris, that's Arlington. But after doing a little investigation into Arlington's population, I totally get where Chris is coming from. He's right: There are no women in Arlington, Iowa.
We already know Chris comes from farmlands — aka the middle of nowhere — and if you assumed acres and acres of crops means less people, you are correct. In fact, Arlington is such a small town that the US Census' website doesn't even offer its population in their database. According to Alltowndata's report of recent Census data, though, there are approximately 429 people in Arlington. Yes, 429 people total. More people attended my suburban Atlanta high school. In fact, I'm willing to bet there are more people in any given mall in your average American city than people who live in Arlington. And suddenly, it becomes all the more clear why Andi Dorfman refused to move there to become a farmer's wife.
Even better? Out of those 429 people, four of them are single and between the ages of 20-34. In the 35-44 age range? Exactly zero. There are more women competing on The Bachelor this season than exist in Chris' hometown. This essentially means that Chris has four "potential wives" in Arlington in that they are unattached women, and it's possible that one or more of these women are not interested in Chris. He was not exaggerating.
It kind of seems like Chris really had no choice but to go on The Bachelor to find a woman to spend the rest of his life with. And suddenly, this quote from an interview with Chris Harrison about the premiere episode makes so much sense.
"He was like a kid in a candy store... At first, I thought he was giving me lip service and being nice, but I realized he'd never really dated women as beautiful as this."
Chris, buddy, I hope you find someone... otherwise, it might be time to move. And we all know you don't want that.
Images: Craig Sjodin/ABC; Giphy