Dzhokhar Tsarnaev's Dad, Anzor Tsarnaev, Blames The U.S. For "Harming" His Sons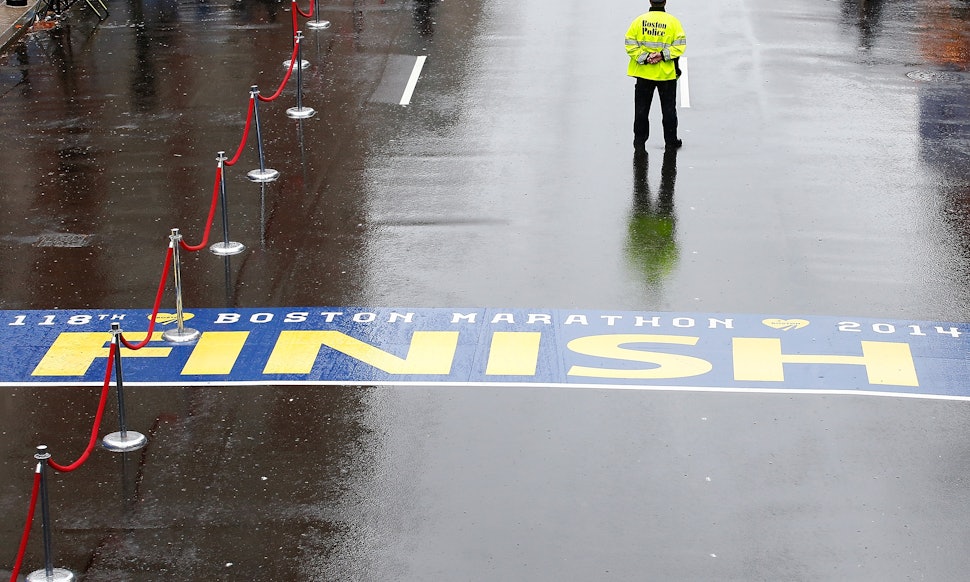 Jared Wickerham/Getty Images News/Getty Images
As the trial for Dzhokhar Tsarnaev, one of the alleged bombers in the 2013 Boston Marathon bombings, begins Monday, the victim's family is speaking out in defense of their son. Anzor Tsarnaev accused the United States of harming his son, who may face the death penalty if convicted. Dzhokhar Tsarnaev is pleading not guilty to allegedly detonating two homemade bombs at the finish line of the Boston Marathon, killing three people and wounding more than 200 others.
Speaking with ABC News from Dagestan over the weekend, Anzor Tsarnaev attacked the U.S. government for putting his son up against the death penalty — which he believes will be the eventual outcome of Dzhokhar Tsarnaev's trial:
The Americans are going to harm my second son the same way they did to my oldest son. We already know what's going to happen. Everything is in Allah's hand.
So far, this is the only recent public statement made by Anzor or other members of the Tsarnaev family. According to the Agence France-Presse, the family has mostly remained silent in the days leading up to the trial. The news agency reports Anzor Tsarnaev has refused to answer media requests, and it's unclear if the family had traveled to America to see their imprisoned son following the April 2013 bombings.
Anzor Tsarnaev has had a few harsh words for the United States, where he once lived for about a decade, in the past. In July 2013, just months after Dzhokhar Tsarnaev was arrested and his brother, Tamerlan, was killed in a shootout with Boston police, Anzor Tsarnaev told U.K. Channel 4 News, "I loved the USA. Until it killed my son."
When hearing the news of his eldest son's death and the ensuing manhunt following the horrific bombings in April 2013, Anzor Tsarnaev told the media his two sons were framed. "I don't know who exactly did it, but someone did," he told CNN.
As the nearly 24-hour manhunt for Dzhokhar Tsarnaev continued throughout Watertown, a suburb of Boston, Anzor repeatedly appealed to his son via ABC News. But even then, the patriarch had some critical words for the United States and its deadly force, saying:
If they kill my second child, I will know that it is an inside job, a hit job. The police are to blame. Someone, some organization is out to get them.
On Monday, Dzhokhar Tsarnaev appeared in a federal courthouse in Boston for day one of his trial. Dressed in khakis, the 21-year-old watched silently as the judge began narrowing down the jury, out of a pool of 3,000 possible members, according to NBC News. Tsarnaev is being charged with 30 criminal counts, but his defense is reportedly aiming at pinning most of the blame on his older brother Tamerlan.
Federal prosecutors have made it clear over the last year that they intend to go after the death penalty, despite Tsarnaev's young age.
Images: Getty Images (2)