You'll Never Believe What This Bracelet Does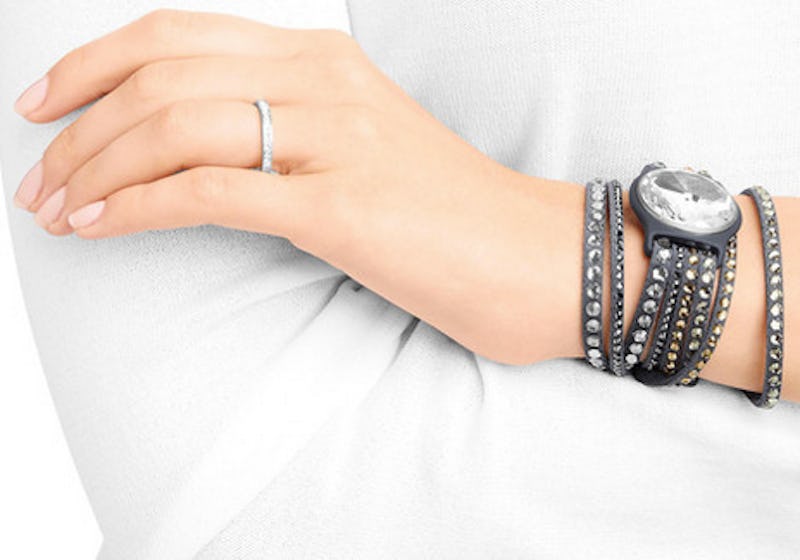 For once, I might actually enjoy sweating... The fitness tracker craze is alive and well, with dozens of wearable tech products on the market that can keep track of your exercise, movement, and every waking moment of your life, but none of them are quite this fabulous. The wearable tech brand Misfit is partnering up with the glitzy Swarovski Crystal to bring you the Swarovski Shine, the sparkliest fitness tracker there ever was.
The Swarovski Shine is a small, circular crystal that comes as a clear diamond or in sapphire blue and can be inserted into glittery bracelet, flashy pendant, and other sparkly studded options. Oh, and it can also track your running, walking, aerobics, yoga, and sleep patterns, of course. The Swarovski Shine also connects with smartphone fitness apps so you can keep track of your progress and calorie intake and be impeccably accessorized while doing it. Best of all, there is also a solar-powered option available (or an 'energy crystal' as Misfit is calling it because apparently this is an Indiana Jones movie) that won't die as long as it's exposed to the sun or indoor LED lights.
Gaudy? Yes. Ridiculous and unnecessary? Totally. Do I want it? Absolutely. While some may be concerned that this sparkly eye-catcher may be a tad bit embarrassing to tote around the gym, after falling off a treadmill I no longer have any gym shame so bring on the sparkle.
Images: Misfit.com