'Parenthood' Clip Teases End for Major Character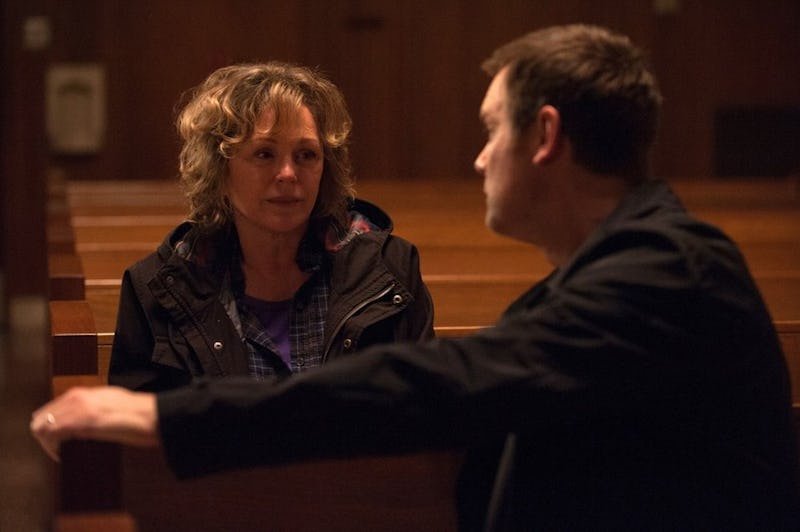 Perhaps the meanest thing Parenthood has done in their final season is made us all worry about Zeek from episode one. Even when he was healthy or recovering well from his heart surgery there was a pall cast over his character because everyone is pretty sure he's going to die from the outset. After the midseason finale left fans wondering if Zeek was still alive, a new clip continues to cast doubt on Zeek's future. The second half of the final season starts out with Camille very tellingly crying in a church.
Although Zeek hasn't died (yet), the teaser shows that Camille is very worried. Adam catches her in a vulnerable, tearful moment and she confesses she's afraid Zeek might not make it this time. Adam tries to comfort his mother by telling her it's OK, which breaks her a little bit. "We don't know that it's OK. Oh, Adam. It was bad. It was really bad. I don't know if he's going to make it through this," she tells him.
It's a testament to Bonnie Bedelia's acting that her crying is completely convincing, and even worse, totally contagious. If you're a Parenthood fan, you're used to shedding tears throughout the years, and the new episode where we learn Zeek's fate will be no different. As much as I want to believe he'll be alright, when Camille cries, I cry—and like her, I'm not sure he's going to make it through this.
Image: Colleen Hayes/NBC