25 Unique First Sentences In Books To Inspire You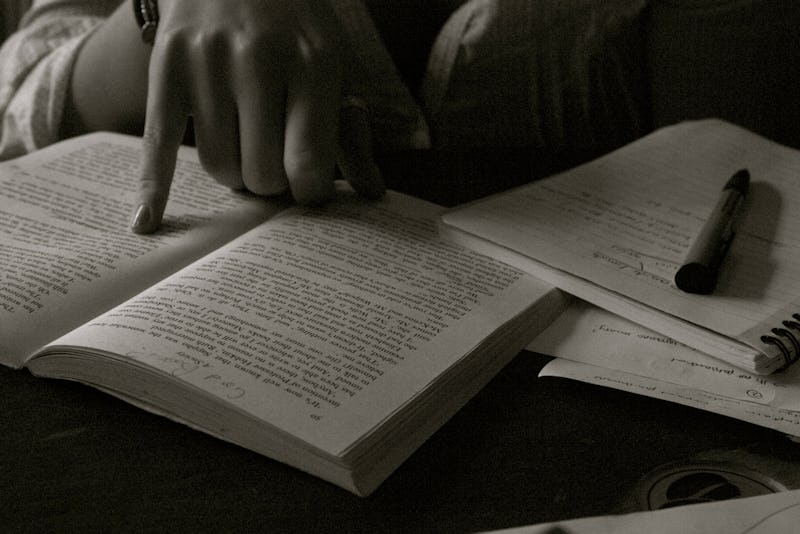 Once upon a time there was a writer who racked her brain for the perfect words to begin her story.
Sound familiar? You're not alone. Toiling over the perfect opening line is enough to drive even the most accomplished storyteller mad. First impressions, after all, are not to be taken lightly. Of course, one could default to the tried and true opener, "Once upon a time" (and some writers do, adding their own creative twist to the classic phrase). Or perhaps one might launch right into dialogue, or a short and sweet three-word quip, or a breathless, page-long run-on sentence, or in media res (in the middle of things), or a bit of poetry, or an exclamation, or... alright, you get the point. The possibilities are infinite.
A story's first sentence sets the stage for the literary behemoth that lies ahead. Recall the way one of your favorite authors began his or her best bit of lit. Is the first sentence of <insert masterpiece> an ominous warning, sly observation, or goofy witticism? Does the author introduce a regional dialect, abstract language, or unusual sentence structure? Any shrewd writer knows that the opening line must be treated like prime real estate, where every word is precious and you only have so many seconds to grab your reader's attention.
So, which famous first words have left their mark on you? While you ruminate over that question, check out the following 25, all unique in their own right, each opening the floodgates to the story that awaits.
The Blind Assassin: A Novel by Margaret Atwood
"Ten days after the war ended, my sister Laura drove a car off a bridge."
The Brief Wondrous Life of Oscar Wao by Junot Díaz
"Our hero was not one of those Dominican cats everybody's always going on about — he wasn't no home-run hitter or a fly bachatero, not a playboy with a million hots on his jock."
Fahrenheit 451 by Ray Bradbury
"It was a pleasure to burn."
The Gathering by Anne Enright
"I would like to write down what happened in my grandmother's house the summer I was eight or nine, but I am not sure if it really did happen."
Breakfast of Champions by Kurt Vonnegut
"This is a tale of a meeting of two lonesome, skinny, fairly old white men on a planet which was dying fast."
Gone Girl by Gillian Flynn
"When I think of my wife, I always think of her head."
Gone with the Wind by Margaret Mitchell
"Scarlett O'Hara was not beautiful, but men seldom realized it when caught by her charm as the Tarleton twins were."
Bring Up the Bodies by Hilary Mantel
"His children are falling from the sky."
Fight Club by Chuck Palahniuk
"Tyler gets me a job as a waiter, after that Tyler's pushing a gun in my mouth and saying, the first step to eternal life is you have to die."
Oliver Kitteridge by Elizabeth Strout
"For many years Henry Kitteridge was a pharmacist in the next town over, driving every morning on snowy roads, or rainy roads, or summertime roads, when the wild raspberries shot their new growth in brambles along the last section of town before he turned off to where the wider road led to the pharmacy."
Their Eyes Were Watching God by Zora Neale Hurston
"Ships at a distance have every man's wish on board."
A Wrinkle in Time by Madeleine L'Engle
"It was a dark and stormy night."
One Flew Over the Cuckoos Nest by Ken Kesey
"They're out there."
Americanah by Chimamanda Ngozi Adichie
"Princeton, in the summer, smelled of nothing, and although Ifemelu liked the tranquil greenness of the many trees, the clean streets and stately homes, the delicately overpriced shops, and the quiet abiding air of earned grace, it was this, the lack of a smell, that most appealed to her, perhaps because the other American cities she knew well had all smelled distinctly."
Black Water by Joyce Carol Oates
"The rented Toyota, driven with such impatient exuberance by The Senator, was speeding along the unpaved unnamed road, taking the turns in giddy skidding slides, and then, with no warning, somehow the car had gone off the road and had overturned in black rushing water, listing to its passenger's side, rapidly sinking."
Rebecca by Daphne du Maurier
"Last night I dreamt I went to Manderley again."
The Shipping News by Annie Proulx
"Here is an account of a few years in the life of Quoyle, born in Brooklyn and raised in a shuffle of dreary upstate towns."
My Struggle: Book One by Karl Ove Knausgaard
"For the heart, life is simple: it beats for as long as it can."
The Bell Jar by Sylvia Plath
"It was a queer, sultry summer, the summer they electrocuted the Rosenbergs, and I didn't know what I was doing in New York."
The Office by Alice Munro
"The solution to my life occurred to me one evening while I was ironing a shirt."
Paradise by Toni Morrison
"They shoot the white girl first."
The Semplica Girl Diaries by George Saunders
"Having just turned 40 have resolved to embark on grand project of writing every day in this new black book just got at OfficeMax."
Ordinary People by Judith Guest
"To have a reason to get up in the morning, it is necessary to possess a guiding principle."
Pride and Prejudice by Jane Austen
"It is a truth universally acknowledged, that a single man in possession of a good fortune must be in want of a wife."
Harry Potter and the Sorcerer's Stone by J.K. Rowling
"Mr and Mrs Dursley, of number four, Privet Drive, were proud to say that they were perfectly normal, thank you very much."
Images: Giphy (1); Getty Images (19); tonyetone, Adg's Screen Caps, Reading Tom, vanderfrog, Juhan Sonin, Sarah Ross/ Flickr; actorsbehindthescenes/Tumblr