17 Questions For Sia's "Elastic Heart"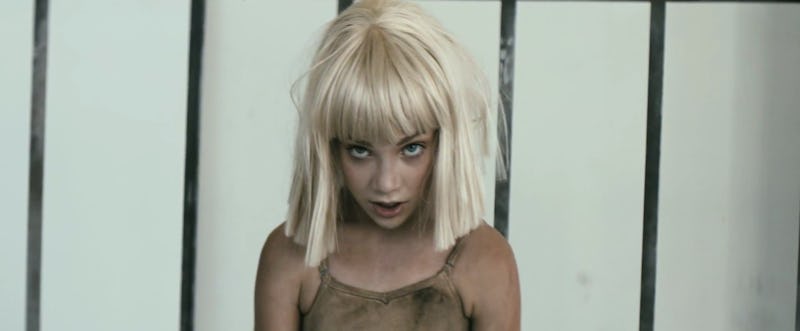 On Tuesday, Sia unveiled a teaser for her new "Elastic Heart" music video. It's only 14 seconds long, but I already have chills. I'm not kidding — this thing looks like it's going to be epic! Strangely enough, "Elastic Heart" was originally released in 2013 as a part of The Hunger Games: Catching Fire soundtrack — but that version featured R&B singer The Weeknd. The solo version, which appears on Sia's latest studio album, 1000 Forms of Fear, serves as the official follow-up single to her breakthrough smash hit, "Chandelier."
After releasing the incredible "Chandelier" visual last May, Sia certainly has a lot to live up to with "Elastic Heart" — but it seems as though she's up to the challenge. In fact, she enlisted the help of Dance Moms star Maddie Ziegler once again! Hooray! Oh, and actor Shia LaBeouf was apparently on hand to lend his talents to the video, as well (more on that in just a second). In the brief clip, Ziegler and LaBeouf stand opposite each other in a giant cage. The camera zooms in on Ziegler's face just as the music starts — and she looks like she's ready to rumble! What's going to happen next?? We'll have to wait until the video premieres in full on Wednesday, Jan. 7 to find out!
These are the 17 burning questions that Sia's "Elastic Heart" music video teaser has left me with:
Will we ever see Sia again? Or is Maddie her permanent stand-in now?
Where on Earth did they find such an enormous bird cage for humans? Restoration Hardware? Hobby Lobby? Gary Busey's basement?
Why is Shia LaBeouf in this video?
No, I'm serious: Why is he here?
Also, is he NAKED???
Or is he just wearing a flesh-colored leotard like Maddie?
Also, why is Maddie enraged?
Are these two going to FIGHT? Like the UFC, only with a 12-year-old kid and the star of Even Stevens instead of actual MMA fighters?
Or are they going to dance fight? That would probably be more fun to watch.
Why am I so mad about Shia LaBeouf? Anyone? I've never even seen a Transformers movie! What is making me so UPSET?
Clearly, I have some unresolved issues that I need to explore. Check out the "Elastic Heart" teaser below.