Thanks To 'Empire,' Jussie Smollett is Back!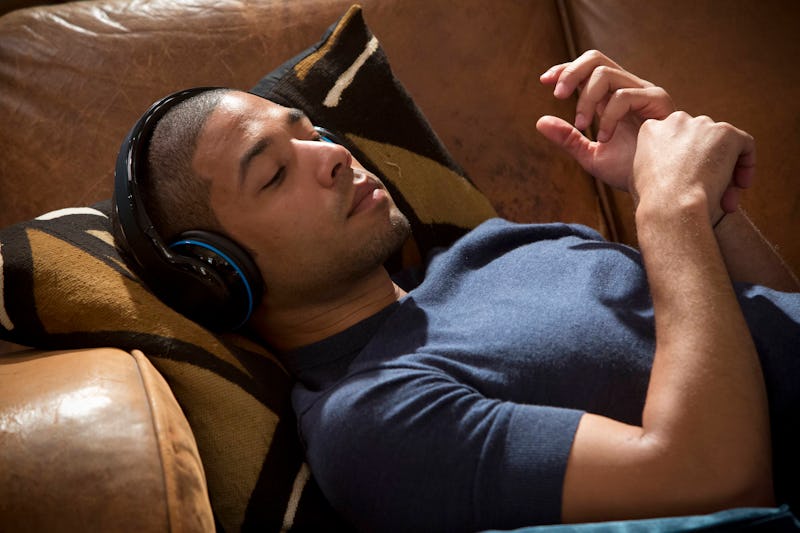 Fame can be a fickle thing. One day you're on top of the world, starring in movies and TV shows, and the next thing you know, you're old news. That's what could've happened to Jussie Smollett, a former child actor you've probably seen before, even if you can't quite figure out where. (Here's a hint: quack... quack... quack... quackquackquackquack.) Pretty soon though, name recognition won't be a problem for the 31-year-old, who's returning to TV in a big way with a starring role on Empire, a new show about a family that runs a major hip hop label. On Empire , Smollett plays middle son Jamal, a role that allows him to show off his talent for singing as well as his acting abilities.
I'm a middle child myself, so I know it's not always the easiest position to be in. But Jamal has it worse than your average in-between kid. His father Lucious (Terrence Howard) is pitting his three sons against each other to see who will inherit Empire Entertainment, a record company he built from the ground up. It's like King Lear set to original Timbaland tracks (just the way ol' Billy Shakespeare would have wanted it). Here's a clip of Smollett singing one of the show's songs.
Obviously, the guy's got pipes and talent to spare. So where do you recognize Jussie Smollett from? And what's he been up to lately? (Besides building an Empire, of course.)
He Was Big in the '90s
When he was just nine years old, Smollett was cast as Terry, one of the Mighty Ducks (let's be real, the greatest hockey team of all time). The movie also featured major '90s players Joshua Jackson and Danny Tamborelli as adorable baby athletes. After Mighty Ducks, Smollett appeared in more early '90s kids films, like the movie North. He and his five real-life siblings — including famous sister Jurnee Smollett-Bell, who's appeared on Friday Night Lights and True Blood — all starred in the series On Our Own, about a 20-year-old who raises his younger siblings after their parents die. The show ended in 1995, and Smollett didn't work again until 2012. Not even in Mighty Ducks 2!
So Where Was He?
Like his character Jamal, Smollett is also a musician. After leaving Hollywood, he recorded an EP, Poisoned Hearts Club, which was released in 2012. There's not much info out there about what the actor/singer was up to before releasing his debut, but we do know he's currently working on a follow-up album. But you don't have to wait for that project to drop to hear his smooth and sexy vocals. Smollett is heavily featured on the Empire soundtrack, which you can find on Spotify right now. Yes, that really is him singing.
He Won't Be Disappearing Again
Now that Smollett's in the spotlight once again, don't expect him to run back into obscurity anytime soon. The Empire star had three roles last year alone: in the race car drama Born to Run: Fast Track, the coming of age movie Ask Me Anything, and a part in the ABC hit Revenge. The actor's newest show is pretty much a guaranteed hit, and bigger opportunities — in the worlds of film, TV, and music — are sure to come.
If you missed any of Empire Season 1's action, watch Bustle's drunk recap of the series' first season here:
Images: Chuck Hodes/FOX; FanPop