Patrick Wilson Has a Strange Story About His Wife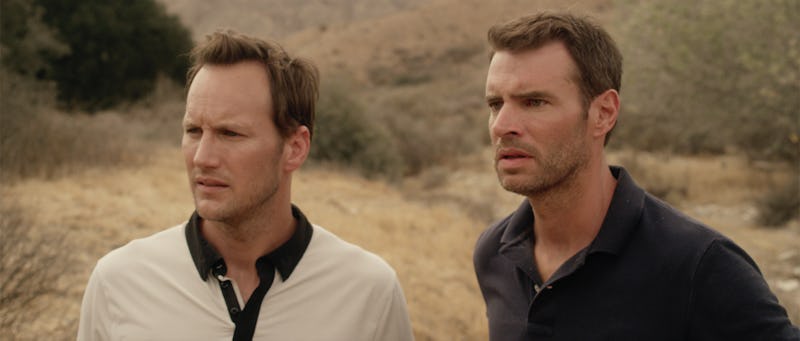 It's not every day that you get to pretend to hack up your wife's body, but that's exactly what Patrick Wilson does in Let's Kill Ward's Wife . In the dark comedy, Wilson's character, David, is actually the brains behind the body disposal operation when Tom (Scott Foley, who also wrote and directed the film) accidentally kills Stacy (Wilson's real-life wife, Dagmara Dominczyk). If that sounds complicated, it's because they had a "whole family tree" on set for the quick 12-day shoot, as Wilson explained during our chat. There were wife swaps galore as Foley's wife, Marika, plays Wilson's onscreen wife, and Amy Acker plays Foley's character Tom's wife — even though she's married to their co-star (and co-producer) James Carpinello. But for Wilson, even though it was a little strange to be pretending to saw up his wife's body to cover up a murder, acting alongside her was one of his favorite parts of the film.
"What's fun about working with Dag is that I have been a fan of my wife's before we were together. I knew her in college a little bit and I always followed her career before we were together," he reveals. "I loved her in Count of Monte Cristo and Rock Star and a bunch of other movies. I love working with her because she is such a confident pro and a really good actress. So in a strange way, from that perspective it was fun. She is, as you say, a gamer. She loved going there, making Stacy this hilariously awful woman."
When it comes to the whole wife swap and pretending to be married to his sister-in-law, he's just glad there weren't love scenes involved. That's where he draws the line.
"Look, if there were intimate scenes that I had to do with my sister-in-law, yeah, I wouldn't have done that," he says with a laugh. "There is a line — albeit I think that we crossed it in this movie, but there is a line. Luckily all of the relationships… even Scott with Amy, they had known each other for a long time. I think that we've all played opposite so many people that we all sort of know the drill, so there's none of that. Actually shooting that stuff wasn't as uncomfortable as maybe you might think. Maybe if we all weren't actors, we would be like, 'What are we doing?!' But it's really just like whatever. It would be a different story and I wouldn't have had me as Tom and Marika as Amy's character, Gina."
Part of the reason why it would have been awkward for Wilson to play out that particular relationship is that it has Gina trying to seduce her own husband when he's too tired to have sex. Foley told me that gender-role-swapping was intentional, trying to turn stereotypes around throughout the film, and Wilson appreciated that reality check. However, he thinks that some of those roles are just in movies, not real life.
"In switching some of the gender roles, I think it makes it more dynamic. But truthfully, I think some stereotypes are really only in movies and not really in life, and that's what Scott wanted to show — what happens in his circle of friends instead of some sort of Hollywood stereotype. Those are very real situations that apply to women, like those who want to be more intimate than the husband does. There are also women who are more verbally abusive than men."
But has seeing Foley at the helm of the project inspired Wilson to get in the director's chair, too? Absolutely. "I've always had directing in my sights, it's just always been what is the right vehicle, what is the right script? It's something I have to be passionate about," he reveals. "There's a script that I'm writing with Aaron Cooley and my brother that I'm going to direct that will shoot in Florida. I'm just finishing my second draft right now."
However, there's one thing you can probably count Wilson out of: television. After working on CBS procedural A Gifted Man and one memorable episode of Girls, he's hanging up his small-screen hat, at least for now.
"It's funny. Certainly TV is such a huge landscape right now, so I certainly would if the show was right, but the reality is that for my lifestyle, I like to go off and do little indie movies, and I've got a horror franchise going with The Conjuring," he explains. "And I love theater, even though I haven't done it in a few years. I live on the East Coast, and that's still something I'd like to try to carve out in the next couple years. To be quite honest with you, the network life is not really for me. If nothing else just because of schedule. I love going and finding these strange independent movies, and that's the thing about 22 episodes in a long network season. There's not a whole lot of time outside of that, and that's just not really where my priorities lie."
Let's Kill Ward's Wife is available on iTunes and On Demand now, and hits select theaters on Jan. 9.
Images: Tribeca Film (4)