Emily Brooke Could Easily Be A Big Star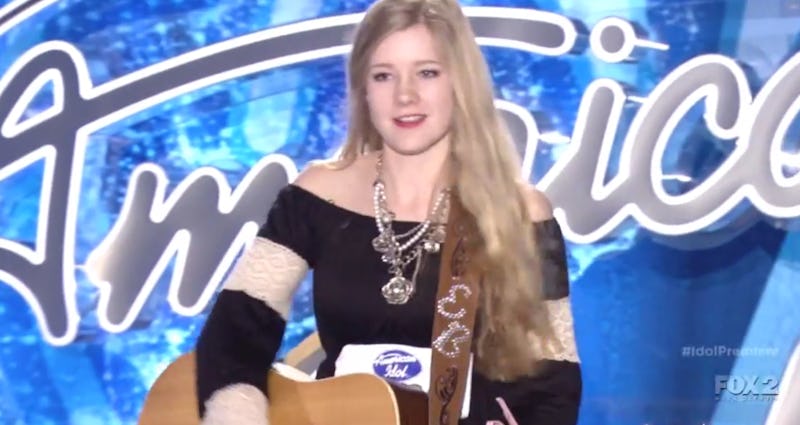 "She might have the most potential out of the ones we've seen," Harry Connick Jr. said about one of the last auditions of the Season 14 premiere of American Idol. The singer that Connick Jr. gushed about was 15-year-old Emily Brooke who wowed all three judges from the first note of her performance of previous American Idol winner Carrie Underwood's "Blown Away." And not to be too punny, I was pretty blown away myself. Seriously, she might be one of the first 15 year old's on the show that actually deserves to get as much attention as she received from the judges.
When Brooke was first introduced, she seemed to naive and, let's be honest, a little too innocent to really be a serious contender for Season 14. She started out by saying that she believed Ryan Seacrest was talking directly to her in the Season 13 finale when he told America to audition for the following season of American Idol. So for a whole year, she practiced and performed local gigs in her hometown of West Palm Beach, Florida, and finally made her way in front of the judges. Harry Connick Jr. praised Brooke for actually looking her age instead of trying to be older than she really is, an opinion I also agree with in this day and age of pop stars who are constantly trying to be older than they actually are. But when she opened her mouth, Brooke's voice had a soul, folk-y feel to it that made her seem wiser than her years.
Seriously, how great is she? The episode opened with Ryan Seacrest showing the audience the silhouettes of the Top 24 for Season 14 and let them perform "Feeling Good." After seeing Emily Brooke's audition, I hoped and prayed that she had made the Top 24 contestants because while we're only one episode in, her performance was easily the best of the season so far. If she doesn't make it, then that must mean this year's crop of potential winners are better than we've seen in quite a while.
Images: Fox (screenshot)