Barry Allen Wins Big at the 2015 PCAs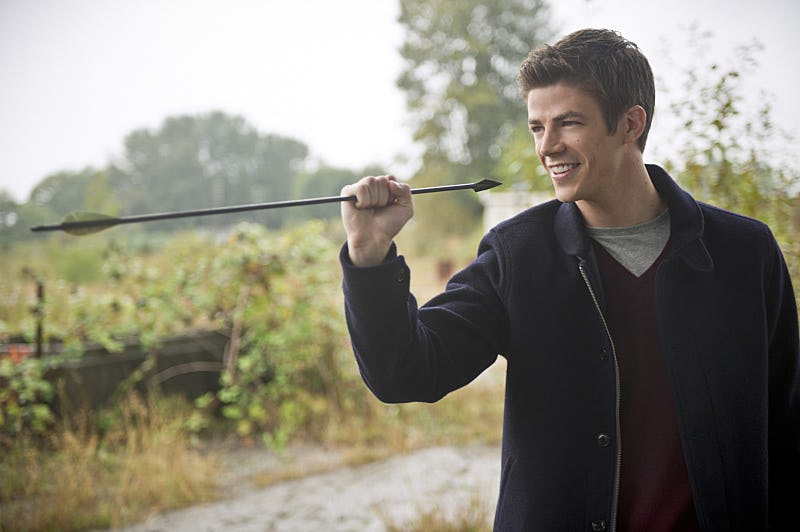 By now you have no excuse not to be watching The Flash on the CW. Is it OK to go ahead and call it the best new TV show of this season? Probably, especially now that The Flash has won Best New TV Drama at the People's Choice Awards. It beat out not only Forever, Gotham, and Constantine, but also powerhouse How To Get Away With Murder. What do you think Annalise Keating would have to say about all of this?
Billed as kind of the little brother to the CW's other comic-based show Arrow, The Flash literally burst onto the scene this fall. It had just the right mix of comic book lore, humor, and a ridiculous amount of heart — I can't be the only one who has found myself crying over an episode of The Flash, because its characters are just so rich. That's an impressive feat for a TV show about a guy who gets struck by lighting, develops super speed, and has a mentor who may or may not be a secret villain. While Arrow is a lot darker and heavier with its storylines, The Flash has taken more of a whimsical approach, while still packing those one-two punches when needed.
The Flash has also made a huge star out of Grant Gustin, who plays the titular speedster, Barry Allen. Before this, Gustin was only really known for his turn as Sebastian Smythe on Glee, but now he's just about everywhere. It might not be so far off to suggest that a Golden Globe or an Emmy could be in his future, because have I mentioned that sometimes The Flash makes me cry?
Though it's still on hiatus for another two weeks, The Flash will return for the second half of its freshman season on Jan. 20 So that basically means you have two weeks to get completely caught up with the People's Choice Favorite New TV Drama. What are you waiting for??
Image: Diyah Pera/The CW