See Julianne Moore In 'Map to the Stars'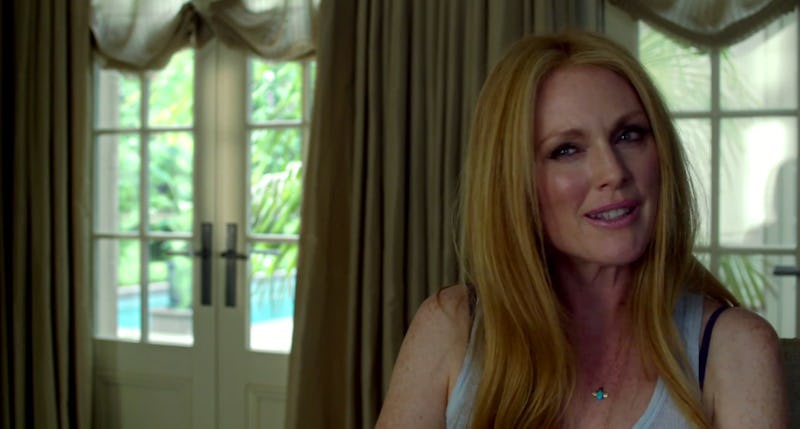 You kind of can't deny an actor's having a good year in their career when they have not one but two of what Deadline calls an "awards-season tour de force." This time around that great year goes to Julianne Moore, who'd stunning audiences not only in Still Alice — in which she plays a renowned linguistics professor diagnosed with Alzheimer's — but also in David Cronenberg's Map to the Stars, in which she plays someone very different. We've already seen trailers for Still Alice; now we've finally got a trailer in which we can see Moore and Mia Wasikowska face off in Map to the Stars . She's got nominations for both films at this year's Golden Globes.
It is to my great distress that neither Still Allice or Map to the Stars are actually out in theaters yet — the former hits Jan. 16, the latter Feb. 27, after the Oscars — but I will cling to these trailers for now. And the most recent, for Map, is pretty intense. I think I might be a little terrifid of Wasikowska now. Here's the plot rundown, from Deadline:
Cronenberg frames his razor-sharp take on Hollywood though on a family made up of a famed TV self-help therapist (John Cusack) with an A-list celebrity clientele, and his wife (Olivia Williams), who manages the career of their child-star son (Evan Bird). And another member of the family (Mia Wasikowska) shows up fresh from the psych ward to become Havana's personal assistant.
Also there: Robert Pattinson! Both he and Wasikowska appear to be from Jupiter.
Moore's always been a stellar actress, but hopefully this is the year all those fancy awards we're always going on about here actually officially recognize that. Between Map and Alice — both of whose trailers you can see below — she's done the emotional dirty work. Now let's see what happens at the Globes.
Map to the Stars:
Still Alice:
Images: Focus Features/Youtube