The 7 Beauty Products Worth Saving Up For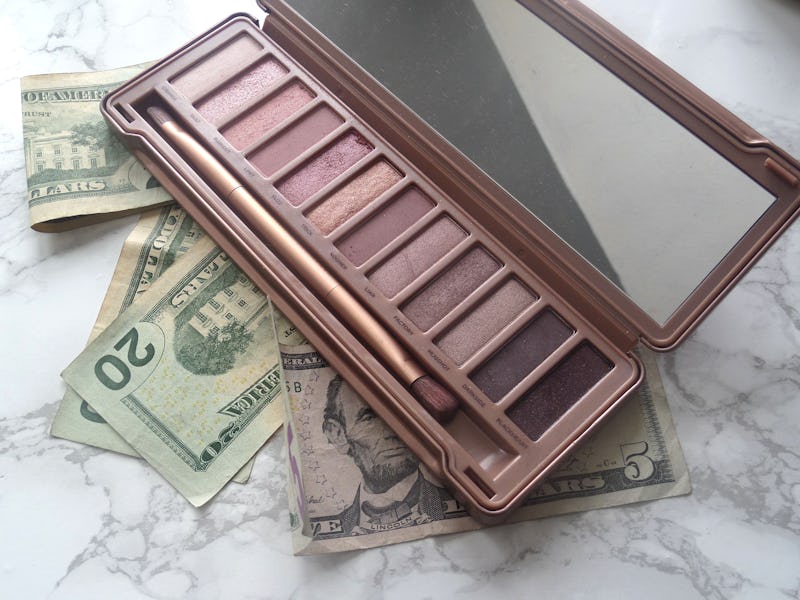 I love budget beauty. Always have, always will. Admittedly one reason for that is that I'm always on a budget, but it's not the only reason. When you consider the fact that many high-end and drugstore beauty brands are owned by the same corporation, it's not surprising to realize that the cheaper option is often just as good as the pricier one.
I've tried a lot of mini samples of high-end mascaras, but I still prefer to stick with the same two or three drugstore favorites. I love lipstick, but so far my massive collection is solely from the drugstore. I'm sure Tom Ford lipstick is very nice, but I just don't have the money for that when Revlon, NYX, and Maybelline are all kicking butt with their lippies
That said, in my time as a beauty writer a lot of pricey products have crossed my desk, and a few times I couldn't help but fall in love... And then fork over the money once I ran out, over and over again. Everyone's beauty priorities are different; mine are skin, fragrance, and eye makeup (excluding mascara, of course). Check out the seven items below that I will never, ever try to replace with a budget dupe.
The basis of any beauty look is a decent skin care regimen. For me, that means a really good moisturizer. I have incredibly dry skin, especially in the winter, and Skin's Shangri-La from Lush is the most luxurious moisturizer that I've found so far. It's thick and creamy and rich. It makes my skin look bright and glowing.
Skin's Shangri-La is formulated with aloe vera extract, jojoba oil, almond oil, and other moisturizing ingredients. (See the full list of ingredients here.) It has a strong, nutty scent with hints of oatmeal and vanilla that grows on you the more you use it until you realize you're addicted.
Yes, it's pricey, but if you have dry skin it is worth a shot. Plus it lasts for ages, because a small dab is all you need. Ask for a sample the next time you're at Lush before you make the splurge.
I know, I know. $24 for deodorant? I must be a crazy person. I guess crazy loves company because I'm about to convince you that you need this fancy deodorant too.
I first heard about this deodorant from my glamorous friend Kara, and although skeptical at first, I decided to give it a try. I had been loyal to my unscented, natural Arm & Hammer deodorant for a year or two but then it suddenly turned on me. (Don't you hate it when deodorant does that? I'd rather lose a friend than a dependable deodorant.)
This deodorant smells great on your skin and your clothes, with notes of jasmine, orchid, sandalwood, and lily. It lasts all day and even into the next morning. Buy this with the money you'll save on your water bill from never having to shower again! (OK, that last part might be an exaggeration.)
I bought Black Orchid after lusting after it for ages with a $20 Sephora gift card, and even then it was the most money I had ever spent on a beauty product at the time. I'm not looking forward to the day that I run out because I know I will have no choice but to fork over the full $75 to replace it. I love a lot of fragrances, but this one will always be a signature scent for me.
It's strong and masculine, spicy and sexy, with notes of bergamot, jasmine, orchid, patchouli, vanilla, sandalwood, and incense, just to name a few. Not for the faint of heart, this fragrance will linger throughout the entire day and on all of your clothes. It's best in the winter, and always makes me think about winter nights in Manhattan because that's where I was when I bought it. Black Orchid demands to be worn with heels, black clothing, and dark lipstick. Wearing it makes you feel richer, even if your wallet is $75 lighter.
Back to my dry skin for a moment: Even with the best moisturizer, my dry winter skin makes it difficult to wear any kind of foundation whether it's high-end or drugstore. For days when my skin is parched and flaky but still needs coverage, I reach for this Japonesque foundation. Its name doesn't lie: you will get luminous, bright skin with this stuff. I've struggled with getting a lot of foundations to go on my skin smoothly, but this foundation is pretty much mistake-proof. (I also love the pump.)
This comes in ten shades. For reference, I'm usually a N1 or C1 with MAC, and Japonesque's Shade 2 fits me perfectly.
I love this concealer because I can often forgo foundation completely and wear this alone. It's easy to blend, has great coverage, and makes skin look bright and glowing. There is no better concealer for dry skin. I use it to conceal redness and spots, but it's also good for under-eye circles because it reflects light.
This comes in ten shades, and I wear the second-lightest, Vanilla. I replace it about once a year when it starts to get dried out. Totally worth adding the $30 to my annual budget.
I could never really master the cat eye until I tried it with this eyeliner. It does what the name says and stays all day, but more importantly it's incredibly easy to use. Tight-lining my upper eyelids and doing a quick flick at the ends is now a total breeze. Plus it never dries out, like most drugstore eyeliners that I've tried.
This comes in 15 fun colors (including brown, pink, and white), but I haven't yet strayed from Stila's perfect, inky black. Pink eyeliner, no matter how good, is a splurge. Black eyeliner will always be a necessity.
I'm pretty sure I'm the last one to join this particular bandwagon, since I only caved this past Christmas (and only because I had a 20% off coupon and a bunch of almost-expired points to use at Ulta). I was never one for wearing eyeshadow, but after I tried the Naked palette I realized why. There actually is a big difference between drugstore eyeshadow and this.
I chose this palette because I thought the rose gold hues would look nice with my blue-green eyes, and I was right. Even without primer, these shades stay on longer and with stronger pigmentation than any of the cheap shadows I've used in the past. My eyelids tend to be creased and oily, but with this palette I can finally experiment with gorgeous eyeshadow looks.
Shades left to right: Strange, Dust, Burnout, Limit, Buzz, Trick, Nooner, Liar, Factory, Mugshot, Darkside, Blackheart.
Luckily these items only have to be replaced about once a year, if that. God help me if I ever get hooked on expensive shampoo.
Images: Kelly Dougher