Bring Jon Hamm Back To Pawnee, Please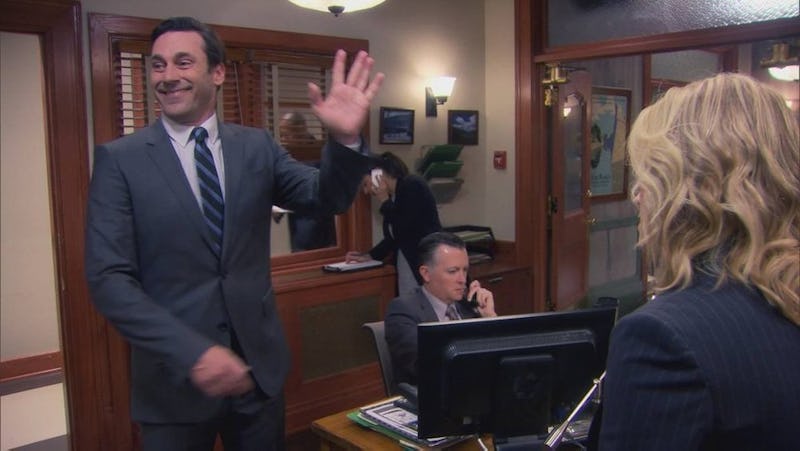 Add Parks and Recreation to the list of wonderful shows — like Cougar Town and Justified — that are currently kicking off their final (ever) seasons. I'm sure going to miss Leslie Knope's eternal optimism and never-ending appetite for waffles. But, we've still got one season left, and I'm going to savor it while I can. But do you know what would make the show's ending sting a little less? Another appearance by someone who'll also be bidding farewell to his own TV series this year: Jon Hamm. Will Jon Hamm make another cameo on Parks and Recreation ?
Rejoice! Sometimes dreams do come true. Hamm will be returning to Parks and Rec , reprising his character of Ed, the incompetent National Parks Service worker. If you don't remember Ed, that's because he was only on last season's finale for a few brief moments. He popped on screen, was fired by Knope for his ongoing ineptitude, and took his firing with a Don Draper-like million-watt smile. He thanked Knope for "the literally hundreds of opportunities," then left shouting, "It's been a great three years!" Such a tease! I'd give anything for three years of a show where Hamm plays a bumbling, not-slick NPS employee — basically the anti-Don Draper.
To me, the cameo is great without context. But bringing Ed back is even better. Entertainment Weekly first learned of Hamm's return. "If I have my way, every episode where you see events that take place before that moment will include a shot of him doing something insanely incompetent," showrunner Mike Schur told the magazine.
Apparently, Hamm was an easy get for a cameo because he loves doing comedy. "He was so happy just to show up and do a funny thing where he pops in for 25 seconds and gets three laughs and leaves, you know?" Schur told Entertainment Weekly after the finale. "He's such a great guy. We wanted him to do this little cameo thing and we wanted to keep it super secret. And he was like, 'I'll just show up and do it. Don't even make me an offer.'" (In the same article, Schur also admits that the "it's been a great three years" line, and the ebullience with which it was delivered, were probably Hamm ad-libs. It's not fair that he's so handsome and so funny.)
I'd like to believe that Ed is a distant relative of Drew Baird, Hamm's character on 30 Rock. Baird lived inside what Liz Lemon described as an attractiveness bubble. There were advantages to the bubble — he got out of speeding tickets and got to order off-menu at restaurants — but people were so blindsided by his handsomeness, they never told him he wasn't good at certain things (like the Heimlich maneuver, which is pretty important if you're a doctor like Baird was). So he's just as incompetent as Ed, but a little smoother about getting away with it — until it all catches up with him horribly.
There's no word yet on when Hamm will first appear on the final season of Parks and Recreation. But, be honest, you were going to watch the whole thing anyway, with or without him. When he does show up, Hamm will just be the cherry on top of an undoubtedly great season.
Images: Screengrab/NBC; Giphy