Crush Alert on This 'Mindy Project' Ex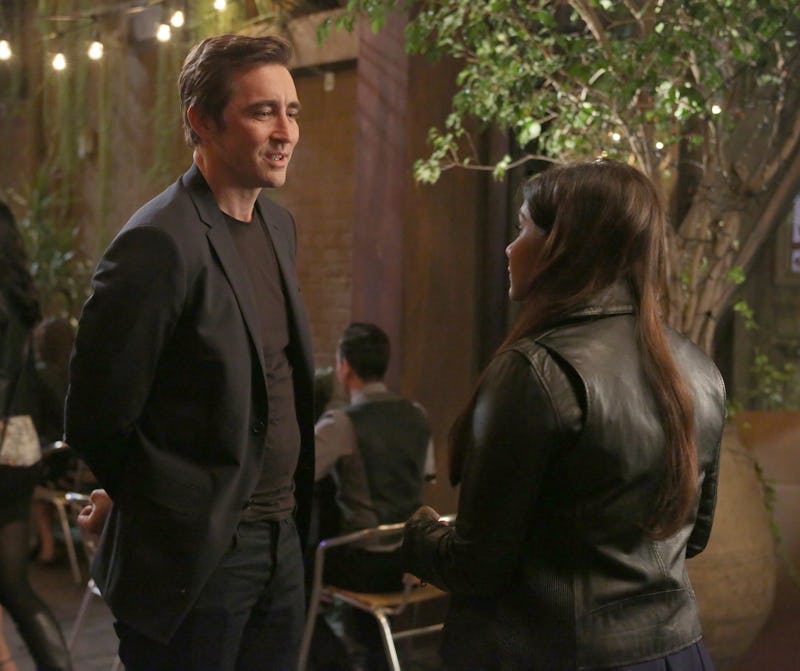 Oh, Mindy — is there any end to your supply of ex-boyfriends? At least the love interests of The Mindy Project, from Bill Hader to Max Greenfield, show that she has taste. In the episode airing on January 13, Lee Pace plays Mindy's college boyfriend, adding his name to the long roster of her many loves. And if you own a television, I can almost guarantee that actor Lee Pace has made your heart skip a beat at least once before.
Surely, you've seen him around, since he's picked up a lot of small roles in a bunch of big franchises. Most recently, his already good-looking face was made even more beautiful to play Thranduil, the isolationist elf-king in The Hobbit: The Battle of the Five Armies. Before that, his mug was made completely ugly to play Ronan the Accuser, the mini-boss under Thanos in Guardians of the Galaxy. And, like Goldilocks, his face was pretty much left alone to play Garrett, the Revolutionary War soldier in The Twilight Saga: Breaking Dawn, Part 2.
While those are some pretty big movies, Pace doesn't exactly stir up romantic feelings in them. But he has broken some hearts in the past; he almost specializes in a specific type of quiet yearning. Here, a look at some of his more heart-tugging roles:
The Romantic: Ned, the Pie Maker in Pushing Daisies
Pushing Daisies was the best show ever with the most ridiculously complicated premise. Ned, played by Pace, had the power to bring dead things back to life if he touched them — once. A second touch, and they'd be dead again. He used this power to wake murder victims for a minute, ask them who the killers were (info he'd then sell to a local private investigator), and then touch them again so they'd re-die. That sounds all well and good, but then he wakes Chuck, the love of his life, and he doesn't have the heart to re-kill her. It's the most tragic of romances, since Ned and Chuck love each other, but one touch from Ned sends Chuck back to the cemetery. They are also painfully cute together. The show was full of that will-they-or-won't-they tension, except you know in advance that they never could. Sigh.
The Emotionally Unavailable: Joe MacMillan on Halt and Catch Fire
If Ned is dripping with outward feelings of longing, Joe MacMillan on AMC's Halt and Catch Fire is the opposite: shut down and reserved. The show takes place in the '80s at the dawn of the age of personal computing, and MacMillan is singularly focused on making an IBM clone. So it's extra-adorable when he cracks and starts showing affection for Cameron, the programming wunderkind on his team.
The Lovelorn: Michael Pardew from Miss Pettigrew Lives for a Day
Pianist Michael Pardew starts off the movie jilted by singer Delysia Lafosse (Amy Adams), then spends the rest of the movie pining over her. As you can see from the duet above, though, they make a pretty good team. Do they get back together? Well, if they don't, I'll be here for him.
Images: Beth Dubber/FOX