22 Sundance 2015 Movies You Need to Know About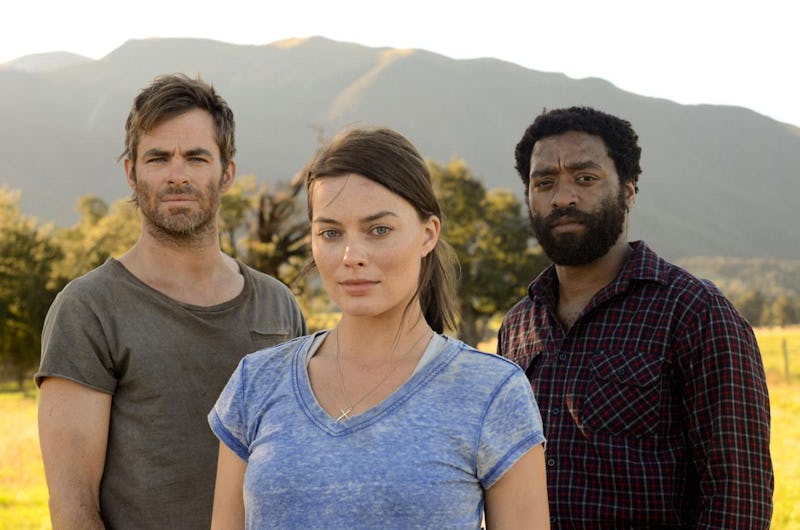 This week, cinephiles from all over the world will flock to one of the coldest climates in the United States for the sake of cinema. Thursday marks the start of Sundance Film Festival 2015, a film festival made popular by Robert Redford — the original Sundance Kid — and his admiration of independent film. The town of Park City, Utah is transformed into a winter wonderland, complete with vintage theatres, people dressed in head-to-toe fur, and a general feeling that something very special is taking place.
Last year, some of the year's most buzzed about films came out of the festival. Boyhood, Richard Linklater's 12 year epic and Golden Globe winning best picture, premiered at the fest. Whiplash, which just won J.K. Simmons a Golden Globe for Best Actor in a Drama, premiered on opening night in 2014. Love is Strange, which has made many top ten lists, also showed at the festival, now notorious for churning out the year's most talked about offerings.
So while you may not be able to pack your parka and vacate into the tiny town for 11 days, you will inevitably feel the post-festival vibrations. So let's get a leg up on 2015's favorites. From American dramas to movies shot around the world, here are 22 films you need to know about.
The Bronze
By the sound of this American drama contender, we can't pinpoint exactly what all the fuss is about. But leave it to the Sundance planners to put a seemingly average film in the opening night screening slot. This is notoriously a spot gifted to Sundance's cream of the crop, and we can't wait to see why The Bronze, about a former Olympic gymnast washed up in her hometown, was given the coveted spot.
The D Train
Starring Jack Black, James Marsden and Kathryn Hahn, The D Train should offer some laughs, even if it does fall into the U.S. Dramatic competition. About a thirty-something who can't shake his insecurities and enlists the once-popular kid for help.
The Diary of a Teenage Girl
Ah, diaries! The notebooks filled with paper and secrets we kept tucked in our nightstand tables as young girls, what nostalgia. But from the synopsis of this Sundance picture, starring Kristen Wiig and Alexander Skarsgard, is hopefully nothing like our childhood journals. The summary from Sundance's website is as follows: "Minnie Goetze is a 15-year-old aspiring comicbook artist, coming of age in the haze of the 1970s in San Francisco. Insatiably curious about the world around her, Minnie is a pretty typical teenage girl. Oh, except that she's sleeping with her mother's boyfriend."
Me and Earl and the Dying Girl
Movies about dying teenagers are having a moment. Thanks to John Green's bittersweet Fault in Our Stars, movies about children who are destined for shorter lives aren't scoffed at as too terrible for mainstream audiences any longer. FOX premiered Red Band Society this fall, and now Sundance is giving us Me and Earl and the Dying Girl. Starring Nick Offerman, Molly Shannon and Connie Britton, this all star cast is enough to entice us in, even if we'll shed a few tears in the viewing process.
The Overnight
Parks and Recreation's Adam Scott, Orange is the New Black's Taylor Schilling, and Wes Anderson golden child Jason Schwartzman star in this mysterious drama about a young couple who spends an "increasingly bizarre" evening with the parents of their son's new friend. Questionable, but you had us at Adam Scott.
Results
"Two mismatched personal trainers' lives are upended by the actions of a new, wealthy client." This is the synopsis for Results, starring How I Met Your Mother's Cobie Smuders and Guy Pearce. It's been a while since we've seen Guy Pearce in a role from this century, and we can't wait to indulge the talented actor in a role that honestly, looks like a lot of fun.
The Standford Prison Experiment
Based on the true story of Stanford University professor Dr. Philip Zimbardo and his social experiments that shocked the nation, the 1971-set film stars Billy Crudup and Ezra Miller.
Stockholm, Pennsylvania
Known to take on intense and often psychologically challenging roles, Saoirse Ronan does it again with Stockholm, Pennsylvania. Portraying a woman who is returned home to her parents after living with her abductor for 17 years, the film is sure to be one of the darker offerings of the festival.
Z for Zachariah
One of the only films to debut at Sundance that already has a distribution deal, Z for Zachariah's star-studded cast might be to thank for the film's preemptive success. Starring The Wolf of Wallstreet's Margot Robbie, 12 Years a Slave's Chiwetel Ejiofor, and Tina Fey's number one desired slampiece Chris Pine, the post-apocalyptic picture centers around one woman and two men left at the end of the world. And when an unequal amount of testosterone and estrogen are left to repopulate the planet, you can guess what happens next.
Slow West
If last year's Frank is any indication, any movie that comes out of Sundance and stars Michael Fassbender is going to be a slam dunk. This year it's Slow West, about a boy at the turn of the 19th century who journeys across the USA in search of the girl he loves. He's accompanied by Silas, an outlaw who is pursued by the law along their journey. Also starring Kodi Smit-McPhee, Ben Mendelsohn, Caren Pistorius and Rory McCann — we can only assume old-timey billowing shirts will be present in spades.
Brooklyn
Another Saoirse Ronan led film, Brooklyn is an adaptation of 2009 novel by Colm Tóibín. Set in 1950s Ireland, Eilis (Ronan) must decide between two men — and two countries. We're excited to see this period romance on the big screen, a nice break from the all-too-real documentaries and foreign language flicks.
Digging For Fire
If you were looking for the ensemble movie, this is it. Starring New Girl's Jake Johnson, Rosemarie Dewitt, Orlando Bloom, Brie Larson, Sam Rockwell, Anna Kendrick, this film packs as many Joe Swanberg favorites as one picture can hold. The premise follows a husband and wife who find a bone and gun, sending the couple on separate adventures over the course of a weekend.
The End of the Tour
Directed by The Spectacular Now's James Ponsoldt and starring soon-to-be Lex Luther's ·Jesse Eisenberg and Jason Segel, this is probably my most anticipated film for the festival, but as a journalist, perhaps I'm biased. Here's the rundown from Sundance's website: "This story of the five-day 1996 interview between Rolling Stone reporter David Lipsky and acclaimed novelist David Foster Wallace explores the tenuous yet intense relationship that develops between journalist and subject. The two men bob and weave, sharing laughs, and also concealing and revealing their hidden vulnerabilities."
I Am Michael
This isn't the only movie James Franco is starring in at Sundance 2015, but it's certainly his most controversial. A true story, the film follows a gay activist who rejects his homosexuality and becomes a Christian pastor. Also starring Franco BFF Zachary Quinto, and Palo Alto co-star Emma Roberts.
Last Days in the Desert
The biblical offering coming out of Sundance, Last Days in the Desert, sees Ewan McGregor as both Jesus and the Devil as he enacts an episode from his 40 days of fasting and praying in the desert. It's an imagined enactment, so this interpretation is pure fiction with no actual barring to Bible stories.
Mistress America
It's hard to read the description of Mistress America without wondering if it will be a carbon copy of Greta Gerwig's Frances Ha. Set in New York City, Mistress America tells the story of "Tracy, a lonely college freshman in New York, is rescued from her solitude by her soon-to-be stepsister Brooke, an adventurous gal about town who entangles her in alluringly mad schemes." So basically, a girl power flick set in the city with quirky circumstances. Even if it is eerily similar to Frances Ha, we're on board, because Sundance always needs more female-empowering movies.
Sleeping With Other People
Chronic one-night stand participants Jake and Lainey lost their virginity to one another in college. When they cross paths a dozen years later, they form a platonic relationship, and vow to help each other find healthy relationships. Starring SNL's Jason Sudeikis, Sundance darling Alison Brie and Adam Scott, we are embracing this romcom-esque item with a hilarious cast.
Ten Thousand Saints
Ethan Hawke, Asa Butterfield, Hailee Steinfeld, and Emile Hirsch star in this coming of age adaptation about three kids and their parents in New York's East Village in the era of "CBGB, yuppies, and the tinderbox of gentrification that exploded into the Tompkins Square Park Riot of 1988."
True Story
Based on actual events, real life BFFs Jonah Hill and James Franco take on the story of a New York Times reporter and an accused killer (who has taken on the killer's identity)'s twisted relationship. We're on board based on the case alone, but a description that includes "murder, love, deceit, and redemption" has us firmly planted in our seats.
The Hunting Ground
Our dose of "real talk" from the festival, The Hunting Ground is a documentary that exposes campus rape, the coverups campus employ, and shocking statistics that will have us all cringing the whole way through. While this doc will be a tough pill to swallow, we're glad the film will be shedding light on victim's of campus rape, their journey to pursue their education and the legal ramifications of pressing charges.
99 Homes
Another film that already has distribution, 99 Homes stars Wild's Laura Dern and Spidey himself Andrew Garfield. The film is about "a father struggles to get back the home that his family was evicted from by working for the greedy real estate broker who's the source of his frustration."
James White
Starring former Girls regular Chris Abbott, this film appears to one of the festival's more somber flicks, focusing on a young New Yorker who tries to keep his head above the surface amidst self-destructive behavior.
Images: Getty