What Is 'RHOBH' Lisa Vanderpump's Son Max Up To?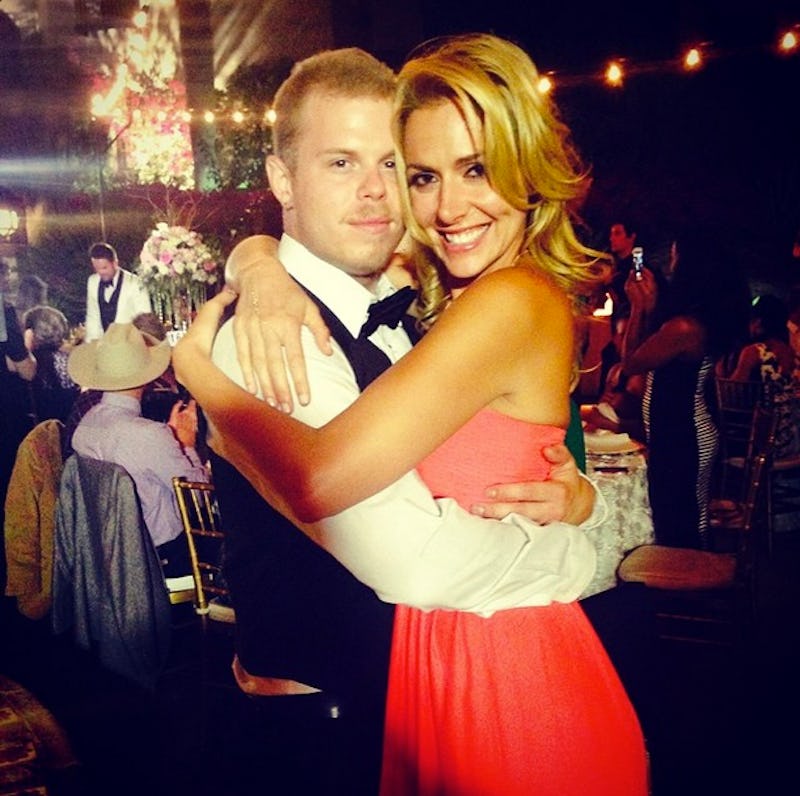 The preview of the Tuesday, Jan. 13 episode of The Real Housewives of Beverly Hills promises a family affair with several of the Housewives preparing to either let their children spread their wings and fly or serving up some tough love. Lisa Vanderpump and her son Max Todd will be falling into the latter category when he comes by for a visit. And if the episode's preview is any indication (Lisa scolds Max for being "irresponsible"), Lisa is ready to dish out some cold, hard truth to her son.
Max hasn't been on RHOBH as much as his big sis Pandora, but Tuesday night's episode won't be his first appearance on the show. The junior Pump appeared on RHOBH way back in Season 1. He was just about to graduate high school in Idaho, where Lisa and Ken sent him because he was spending too much time doing his extra-extracurricular activities and not enough time hitting the books while in Beverly Hills, if you know what I mean. Max wanted to attend the Musicians Institute College of Contemporary Music in Hollywood upon graduating. The episode showed Lisa, Ken, and Todd awkwardly touring the school as most college visits with your parents go.
Since then, we don't know a whole lot about what Max has been doing. In an age where everyone puts their lives out on the Interwebs for all to see on the daily, much less someone with reality TV connections, it's unusual that Max keeps his goings-on fairly private. Here's what we do know about what Max's has been up to these past few years.
He Just Turned 23
And he celebrated the big day (Dec. 7) with his family. There are some things in life that you're never too old for.
He Hangs Out with the Vanderpump Rules Cast
Knowing how hard his parents work, I'm sure Max grew up at their restaurants. So as strange as it sounds, Sur may be like his second home, and that means the staff members are like his siblings. As far as social media has documented, Max has enjoyed the company of Kristen Doute, James Kennedy, and Jeremy King Davison from the cast. Perhaps they're easier to tolerate in person?
He Has a Lady Friend
Max is cozying up to this mysterious blonde woman named Allison in several photos on his Instagram profile. He's even met her mom. I don't know for sure if these two are dating, but they're definitely close.
He Still Plays Music
Max may not be a big rock star just yet, but he's still keeping the music alive, whether it's jamming out at Sur or providing some backup to singer, actress, and dancer Lauren Chavez.
He Was in a Noir Film
Doesn't everyone just casually appear in a movie when they've got some downtime?
He's Kind of Obsessed with His Cats
I mean, who wouldn't be? Just look at those faces. Those whiskers. That fur. Tiny pomeranians are not the only animals that get some love from this family.
But He's Not a Fan of Lisa's Swans
In this video, he calls Hanky or Panky, one of Lisa and Ken's swans, a "big bastard." But to be fair, the swan tries to attack him, so the insult is justified.
Oh, the spawn of reality TV stars. They're just like us!
Image: maxtodd71/Instagram