10 Classic Movies You're About to Be Obsessed With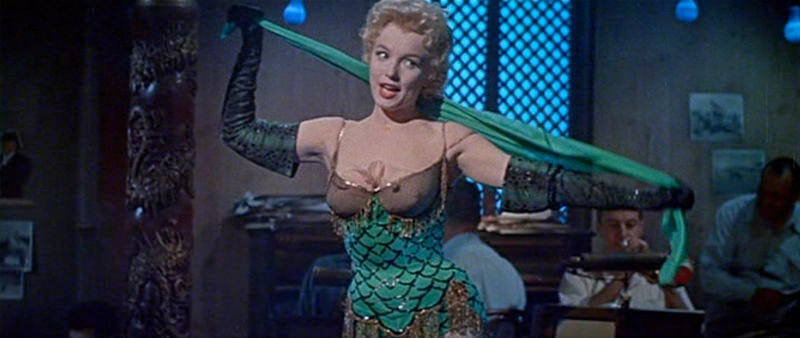 OK, so you've seen the Big Classics—Casablanca, Gone With the Wind, Lawrence of Arabia, etc.—and you're wondering what to watch next. Well, you can thank your lucky stars, because I have created a handy list of recommendations just for you. The films I've listed below are not obscure art films by any means; most of them were popular and widely acclaimed when they were first released, and they star actors who can rightly be called the "Big Guns" of the silver screen: Jimmy Stewart, Marilyn Monroe, John Wayne, Paul Newman, Sidney Poitier. But they are movies that, while classic, have not achieved the iconic status that other films have.
One thing I love about old movies is that they are so good, you know? That might sound dense, because obviously there were bad movies in the past, but what I mean is that old movies have been sorted; the wheat has been separated from the chaff, so to speak, and the ones that are left—the ones that we hold onto—are those that are really, really good. Sure, 1945 probably had its own version of Paul Blart: Mall Cop, and 1962 probably had its Deuce Bigalo: Male Gigolo, but we get to conveniently forget about them and pretend that in the good old days, all movies were like Philadelphia Story. If the past isn't for idealizing, what is it for?
When you're as addicted to classic films as I am, whittling down a list of recommendations to ten well-nigh impossible, so I've imposed a couple of parameters on myself: First, none of these movies appear on the American Film Institute's list of top 100 films. Second, I have arbitrarily decided that "classic movies" refers to films made prior to 1965. Why? Why the hell not?
1. The Thin Man (1934)
The Thin Man is first in a series of screwball comedy-mysteries starring William Powell and Myrna Loy as Nick and Nora Charles, a retired detective and his heiress wife. Nick and Nora solve mysteries and party hard, all the while trading rapid-fire, witty, and generally amazing banter. Nora swans about in gorgeous clothes, and Nick drinks six martinis at a time. It's silly and incredibly entertaining.
2. The Lady Vanishes (1938)
Hitchcock is most famous for thrillers like Vertigo and Psycho, but The Lady Vanishes finds him working firmly in a comedic vein. An old woman seemingly vanishes from a moving train, and Iris Henderson—the only person who seems to remember her—is determined to get to the bottom of things. Stars Margaret Lockwood and Michael Redgrave are excellent as the two leads, who hate each other so much they fall in love. (As an aside, does that ever happen in real life? People who hate each other fall in love in movies all the time, but have you ever heard of that actually happening to someone?)
3. Rope (1948)
That's right, Hitchcock gets two entries on this list because he's Hitchcock and his movies are awesome. Rope begins with two roommates strangling someone and hiding the body in a chest in their living room. They then proceed to have a party, all while there's a corpse hidden in the room. Rope is a film in which the audience knows more than the characters; we watch with bated breath as characters slowly start to suspect the truth, and cringe when they use the improvised coffin as a bar.
Rope was also a technical experiment: Hitchcock wanted the film to look as if it all took place within a single shot, so he filmed scenes in very long takes. There are only ten cuts in the whole film (whereas most movies contain hundreds).
4. Born Yesterday (1950)
Born Yesterday is a 1950 comedy starring Judy Holliday and William Holden. Holliday plays Billie, an uneducated ex-chorus girl whose business-tycoon boyfriend hires a tutor (Holden) to class her up a bit. Of course, sparks fly between student and tutor, and the rest is romantic-comedy gold. The main draw here is Judy Holliday's Academy Award-winning performance as the hilarious and charismatic Billie.
5. The Quiet Man (1952)
When The Quiet Man was being made in the 1950s, it seemed an odd fit for both its star and director—John Wayne and John Ford, respectively—who were, at that time, famous primarily for making Westerns. What were they doing anywhere near a romantic comedy set in Ireland? John Wayne, playing an American new to a small Irish village, aptly tackles the role of romantic lead, and has amazing chemistry with co-star Maureen O'Hara (whom you'll probably recognize as the mom in The Parent Trap). The film's portrayal of the Irish is anything but subtle, but everything else is so freaking charming that you won't care.
6. Bus Stop (1956)
Bus Stop is not your typical Marilyn Monroe fare. With this comedic drama, co-starring Don Murray, Monroe set out to prove that she was more than the breathy bombshells she plays in movies like Gentlemen Prefer Blondes and The Seven-Year Itch. Monroe plays what is essentially a parody of her own polished sex-kitten persona in the form of Chérie, a hapless and talentless showgirl who dreams of making it big. Studio execs were nervous about having one of their biggest starts playing against type, but Monroe's gamble paid off: When the film came out, The New York Times wrote that with Bus Stop, "Marilyn Monroe has finally proved herself an actress."
7. The Long Hot Summer (1958)
Full disclosure: I'm sort of obsessed with Paul Newman. I think you only need to look at that gif to see why. He was so, so attractive, AND he was a great actor, AND he was a major philanthropist, AND he was completely devoted to Joanne Woodward for 50 years. The Long Hot Summer is my favorite of his films. A southern pot-boiler heavy on the melodrama, The Long Hot Summer was the first of Newman and Woodward's films together, and their chemistry on screen is sexy and palpable. It is also, in my humble opinion, Paul Newman at his most attractive.
Here's another gif. You're welcome.
8. Bell, Book and Candle (1958)
If you're a fan of Vertigo, you'll be thrilled (thrilled!) to see stars Jimmy Stewart and Kim Novak reunited in this supernatural romantic comedy. Kim Novak is a witch trying to make Jimmy Stewart fall in love with her. Because Kim Novak oozes sexiness from her pores, it works! That's all you need to know.
Also, this movie features Jack Lemmon playing a beatnik-warlock. Because why not?
9. Lilies of the Field (1963)
Sidney Poitier's most famous role is probably that of Virgil Tibbs in 1967's In the Heat of the Night. But before we called him Mister Tibbs!, Portier made his mark as the star of Lilies of the Field, for which he won his first Oscar and became the first black man to ever win an Academy Award. In Lilies of the Field, Poitier plays an itinerant ex-GI who gets roped into helping a group of German nuns, who in turn are convinced that he has been sent from God to help them build a chapel. The movie is funny and heartwarming in the best way, and Poitier is, of course, excellent.
10. Love With the Proper Stranger (1963)
Natalie Wood and Steve McQueen star in this romantic drama about two strangers who have a one night stand, get pregnant, and then have to deal with the consequences. Unusual for its frank treatment of abortion, Love With the Proper Stranger boasts compelling, three-dimensional performances from Wood and McQueen and a more complex view of love and commitment than most romances allow for. (This description might make the movie sound sort of depressing. Trust me, it's not!)
Images: Wikimedia (2); Giphy (7)