How Accurate Is Lifetime's Whitney Houston Movie?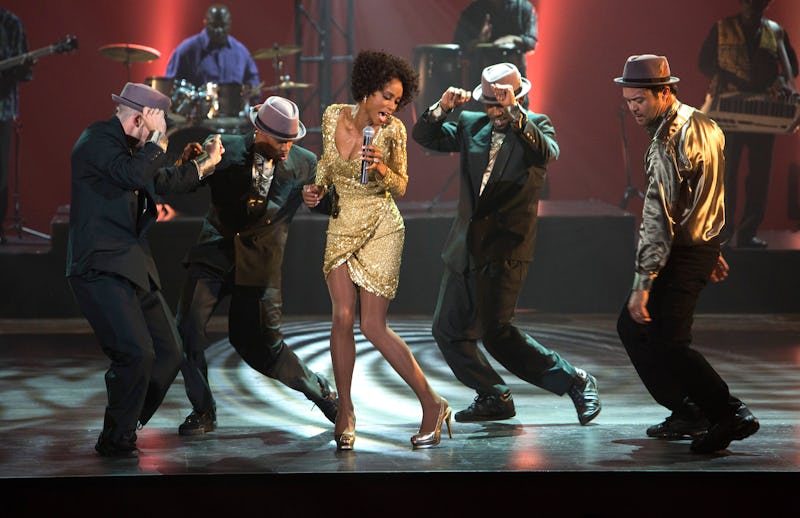 Whitney Houston had one of the greatest voices music has ever heard and lived an extraordinary life. Countless albums sold, seven consecutive No. 1 hit songs on the Billboard charts, and several great feature films — Houston was a talent that was truly unparalleled. But it wasn't always sunshine for the singer — she also had some documented stormy days with husband Bobby Brown and problems with drugs. Unfortunately, her life ended too soon in 2012 at age 48. Lifetime's latest TV movie Whitney, premiering Saturday night, will detail her life with Brown. But how much of Lifetime's Whitney Houston movie is true? Apparently, there's more than one answer to that question.
"It may not be truthful, because who can know each and every truth in every situation," Whitney director Angela Bassett told ABC News. She also told the NY Post that she wanted the biopic to focus on Houston's "beautiful years," rather than the more difficult ones that came later in her career. Even so, Houston's mother Cissy and the Houston estate are against the movie and didn't grant the telefilm the rights to use the singer's original music. "Please, please let her rest," Cissy said in a statement issued to Entertainment Tonight . But the filming went on and Bassett aimed to make an honest portrayal of the singer's life, starring Yaya DaCosta as Houston and Arlen Escarpeta as Brown.
Naturally, there's bound to be some controversy. Here are some aspects of the film that might raise some eyebrows.
Drug Use
In 2013, Houston's brother Michael revealed on Oprah's Next Chapter that he introduced Houston to drugs, not Brown as many people believed. In Whitney, Houston is seen doing cocaine all on her own, and there is not a scene in which anyone introduces her to the drug.
Bassett told Biography that she was careful about how to go about showing the drug use by both Brown and Houston. "I knew [drug scenes] had to be done with grace, with dignity, but it's there," she said. "There are moments where you're not going to have it. There's a scene with her mama, where you're not going to have it. There's a party and her father's in the room, so we're not going to have it. So some scenes it's impossible, but what we did was layer it in."
Whitney & Bobby
Houston and Brown met in 1989 at the Soul Train Music Awards. He was fresh from the boy band New Edition and embarking on a solo career anchored by hits "Don't Be Cruel" and "My Prerogative." And sparks just flew, causing them to be endlessly devoted to each other in a very tumultuous marriage — according to the TV movie and real life.
"He was my drug," Houston told Oprah in a 2009 interview (see above). "I didn't do anything without him. I wasn't getting high by myself. It was me and him together, and we were partners, and that's what my high was — him. He and I being together, and whatever we did, we did it together. No matter what, we did it together."
Whitney's Death
Houston died on Feb. 11, 2012 in a bathtub at the Beverly Hilton Hotel. The Los Angeles coroner ruled her death to be an accidental drowning and told E! News that the "effects of atherosclerotic heart disease and cocaine use" were contributing factors. But this is one scene you won't see in Whitney.
"A full, rich, complicated life: there's no way to do that in a television movie," Bassett told ABC News. "If that's a story someone else wants to tell, then perhaps we're a trailer to that movie. That's not a story I was interested in telling."
Images: Jack Zeman/Lifetime