'Whitney' Marks Angela Bassett's Directorial Debut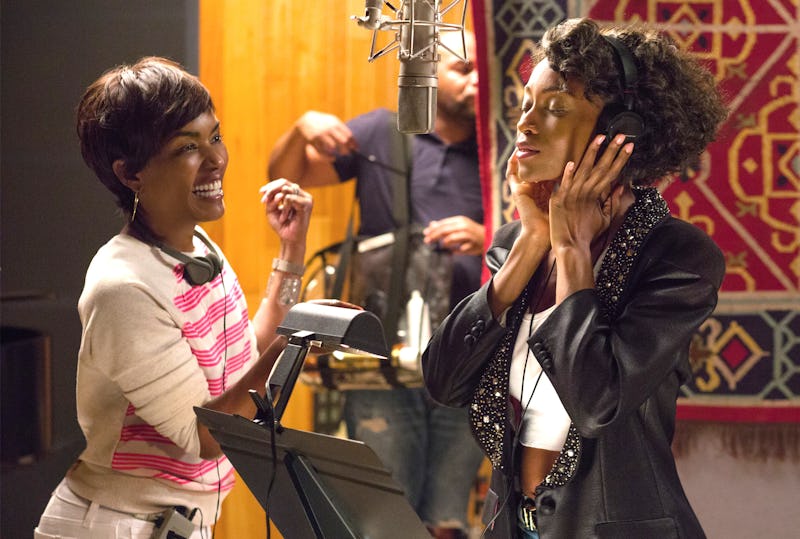 These days, it's hard to express shock when an actor or actress decides to step behind the camera and take the helm to direct a project. It just seems to be a natural progression in Hollywood — after all, Clint Eastwood has made a hell of a career on both sides of the camera (and sometimes simultaneously). Now, it's Angela Bassett's turn. Having played iconic women like Tina Turner and Rosa Parks on screen as an actress, Bassett directs Lifetime's Whitney Houston biopic Whitney , making her directorial debut when the movie premieres on Saturday at 8 p.m.
The 56-year-old actress, who currently stars in FX's American Horror Story: Freak Show, actually knew Houston. She actually acted opposite the legendary singer in the hit 1995 feature film Waiting to Exhale and Bassett's husband Courtney B. Vance starred opposite the singer in the film The Preacher's Wife. And because the first-time director cared about Houston, Bassett's biopic will focus on what she called "the beautiful years" of the crooner's life in an interview with the New York Post.
"I would not have been interested in telling something that degraded someone I cared about," Bassett told the Post. "Someone that I was privileged to work with, to spend time around and whom I enjoyed. Who was another African-American woman trying to do her best. We all know how the story goes and we don't need to see that."
It sounds like Bassett has a lot of respect for Houston's career, but the actress/director has also had a pretty awesome career herself. Here's a look back at the Florida native's illustrious career, in which she has appeared in at least one film every year since 1997.
Roles Based on Real People
Bassett herself is no stranger to biopics. The Yale School of Drama grad played Rosa Parks in The Rosa Parks Story, Betty Shabazz in Malcolm X, Jackson Five matriarch Katherine Jackson in The Jacksons: An American Dream, Voletta Wallace in Nortorious, Coretta Scott King in Betty and Coretta, and very famously Tina Turner in What's Love Got to Do With It.
Leading Lady
Bassett has that rare ability to be both a leading lady and an actress who can steal a scene in a small role. The woman is versatile. She starred in the hit films How Stella Got Her Groove Back (in which she famously romanced Taye Diggs), Green Lantern, Strange Days, Jumping the Broom, and Music of the Heart.
Small Screen Dominance
In addition to her feature film career, Bassett has had many regular roles on TV. She was a cast member during ER's final season and has also appeared on The Cosby Show, Alias, The Simpsons, and The Bernie Mac Show.
Right now, Bassett is part of the cast of Ryan Murphy's American Horror Story anthologies on FX. She played the wicked voodoo queen Marie Laveau in Coven last year and now she portrays the three-breasted woman Desiree Dupree on Freak Show.
You can also catch Bassett in Whitney, as in addition to directing the movie, she'll star as Houston's mother. Based on of all her past experience, I'm sure she'll deliver one of the film's best performances.
Images: Jack Zeman/Lifetime