This Site Sells Flawless Androgynous Suits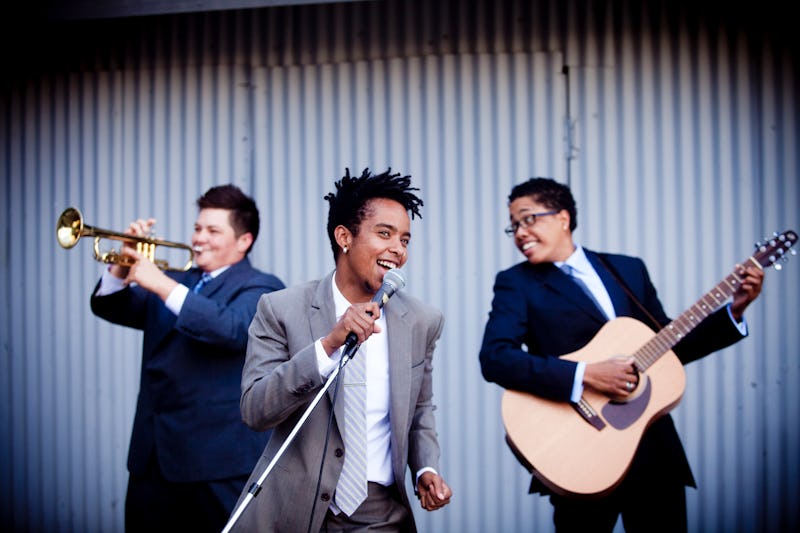 When I first heard about the likes of Saint Harridan's gender neutral suits early last year, my immediate reactions were many: elation, surprise, curiosity, grief. The latter because, of course, I'd just missed their month-long set-up at the Baltimore Embassy Suites. But word in Charm City lasted long past the boutique's February departure — everyone I knew who'd visited couldn't sing enough praises about the traveling pop-up shop that offered masculine apparel for women and transgentleman.
Indeed, I was sad that I'd missed the experience. To me, shopping for formalwear is like trying to find the perfect Band-Aid to slap on after a shot. The process is painful; the reward simply adequate, at best. I've burst into tears trying on pants. This is because I'm five-feet tall, 113 pounds; I shop in the boys' section of every department store I visit. And this is where I find waistbands too narrow (even those advertised as "husky"), sleeves too short, and shoulders too tight. On top of all that, I get a lot of side-glances and snickers when I'm appraising blazers meant for middle-school boys.
Many of my genderqueer/androgynous/transgentlemen friends share in this sentiment, this emotional aversion to shopping for all things spiffy. First, those aforementioned reactions from the general public (which don't always occur, of course; but once is enough) leave us feeling uncomfortable. Then our gosh-darn female shapes get in the way.
But, were it not for this common experience suffered by so many masculine women and transmen, Saint Harridan wouldn't exist. Founder Mary Going relates on the store's website: I tried shopping for men's suits. Of course, nothing fit and the customer service was humiliating. In the end I had a custom suit made. It cost more than our rent, but I'll tell you: it felt great. Really great.
Going immediately knew that she wanted others to experience the empowerment that came with wearing a customized formal suit. She had a background in business, but in order to make the idea of a specialized apparel boutique a reality, she needed a little fashion design education as well. So she turned to Sheree L. Ross, founder of fashion blog Preppy Baba, as her instructor. Ross set Going to work, sending her assignments to study garment construction, collars spread, lapels, and fashion designers, among several other things.
In December 2012, with her business and newfound fashion knowledge, Going launched Saint Harridan's Kickstarter campaign. Curious as to whether or not she was surprised by the campaign's seemingly overnight success, I asked Going how the public's reaction made her feel. "I felt validated," Going said. "There was a definite hole in the marketplace. We pushed the concept on social media and held modeling contests after which I personally wrote back to each of the models, thanking them."
Going and her team's dedication paid off. On December 28, 2012, Saint Harridan's campaign closed with $137,000 donated by 1,108 backers. Their goal had been $87,000.
It was time to take their show on the road. Literally. Going's inspiration for the Saint Harridan pop-up shops came from food trucks. "I really care a lot about access," she said. "If we never get to the smaller places, say, Greenville, South Carolina, then I feel like I'm not fulfilling our mission."
This makes sense, as Going is devoted to and inspired by anyone and everyone who wants to wear a Saint Harridan tailored suit. Her fashion idols? Cowboys, superheroes, and her Uncle David. "Really," Goings said, "I'm inspired by the empowerment of others." With an almost nostalgic tone in her voice, Going described customers' reactions in their finished, fully-tailored Saint Harridan suits. "I've had people prance around," she said. "I've had customers just stand there, stunned into silence. Some have cried."
I wonder which reaction I might have: Would I prance around? Would I be shocked to silence? Would I cry happy tears at the sight of myself in a two-piece charcoal-gray Lyon suit?
I know this much: I intend to find out very soon.
Images: Cindy Fong (2); Christina Hernandez (2)