Bottle Bright Is a Bright 'Shark Tank' Idea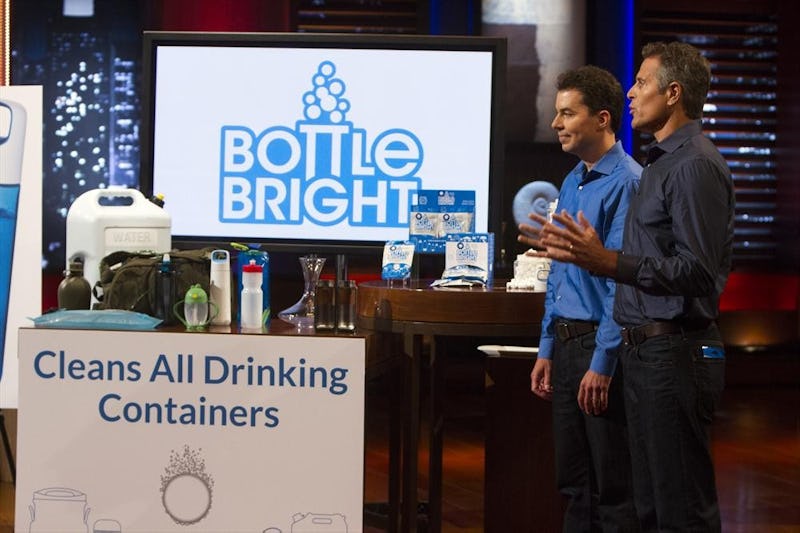 I still remember arriving at my small private university for my freshman year of college and finding that everyone seemed to have gotten a New Student memo to all bring the same large, bulky water bottle that I had never seen before: Nalgenes. You weren't cool unless you were lugging 32 ounces of water to class, and a couple of stickers notifying your classmates of where you went to camp or where your family vacationed in the summer couldn't hurt. Of course, as senior year drew closer, the contents of those bottles became much more varied and much less innocent. And that's when things got grimy; plastic soaks up the taste of vodka and Crystal Light like a sponge, it seems. That's why Bottle Bright is going on Shark Tank Tuesday night: to bring truly clean bottles to the masses.
Bottle Bright 10 Count Pouch 2 Pack, $30, Amazon
Well, I'm sure they're around for much more than just helping undergrads sketch around on the last day of classes. According to their website, Bottle Bright seems to have a pretty noble mission. It seeks to use all natural and biodegradable cleaners to keep even the hardest to clean drinking containers fresh. Or in their words: "Lose the Stink. Enjoy the Drink." Those bottles I mentioned, and many more complicated designs that have come onto the market in more recent years, all eventually develop ambiguous grime in some hard to reach place that no scrubbing device can reach; Bottle Bright tablets drop into any bottle and get to work breaking down those ambiguous substances using patented non-toxic substances.
Their Story
Bottle Bright 10 Count Pouch 2 Pack, $30, Amazon
Seth Friedman and Justin Koehneke came up with Bottle Bright — and their umbrella company, Clean Ethics — at the end of a long bike ride that was commenced with stale, bottle-plagued water. Avid outdoorsmen, Friedman and Koehneke knew the pains of trying to clean a moldy CamelBak straw or keep a hydration pack fresh, so they got to work using their background in renewable fuel production to create a safe, all natural tablet that did the cleaning for them.
Their Mission
As Friedman and Koehneke began to realize all that their Bottle Bright tablets could do, they threw a few in a five gallon jug to clean up for a camping trip, and suddenly, the opportunity for Clean Ethics' social enterprise became clear. Lack of clean water is a well documented problem in developing nations, and with a little research, Friedman and Koehneke found that unclean water vessels contribute to that problem more than they realized. That's when they decided to create their one-for-one program, Clean in Kind, which for every package of Bottle Bright purchased, gives an equal amount to developing nations to keep drinking containers clean around the world.
They May Be a Great Buy, But Are They a Great Investment?
Bottle Bright 10 Count Pouch 2 Pack, $30, Amazon
Nothing wins Sharks and consumers over faster than a before-and-after demonstration. It's what keeps home shopping networks in business in an online shopping world. Bottle Bright's product seems great: it's proprietary, and most importantly, meets the need. To get a bid in the tank, they'll just need numbers... and that could potentially be a problem. Not only is Bottle Bright's price point fairly low at $5.95 for 10 tabs, available on their website, but they also give a tab for every tab they sell, cutting their numbers significantly. However, keeping prices low also keeps customers more open to buying, and with availability on Amazon in addition their own website, if Bottle Bright communicates their entrepreneurial drive and a presence in the retail space, they might just get away with a fresh deal on Shark Tank.
Image: Adam Rose/ABC