Here's The Hot Chocolate Recipe Of Your Dreams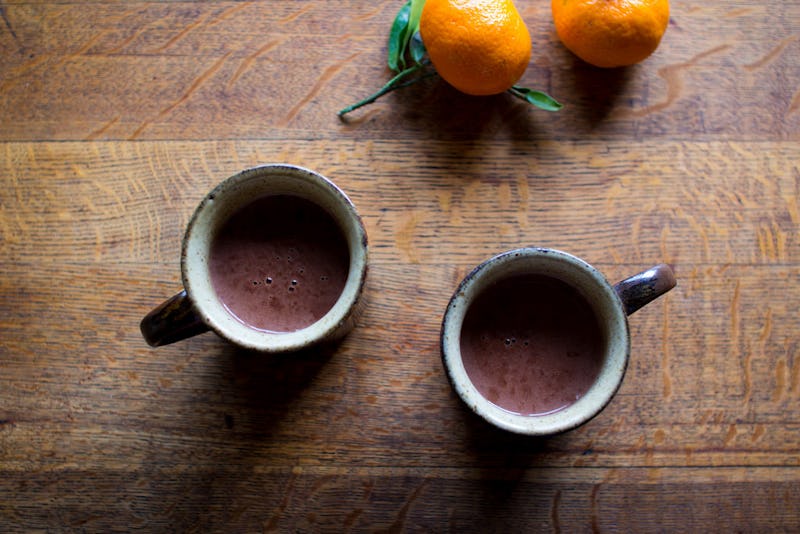 It's always more fun to DIY. Every week, we'll spare you a trip to the grocery store and show you how to make small batches of great foods at home. Today: Don't be surprised if this incredibly rich Mexican sipping chocolate from Heather Hands at Flourishing Foodie becomes your go-to winter beverage (it makes the perfect fireplace companion).
I am a sucker for anything chocolate, and I'm not very particular about the variety. I can appreciate and recognize a good chocolate, but I'll never turn my nose to a Twix, a Kit Kat, or even one of those giant rabbit-shaped chocolates the Easter bunny used to hide behind my bed (because it really was a good hiding spot). I never go a day without at least a piece of chocolate — I find that it helps lower my stress levels and, overall, just makes me feel really good. Sometimes I'll have a nice piece of dark 70 percent chocolate with a full-bodied glass of red wine, while other times I'll enjoy a creamy piece of milk chocolate with my black coffee. No matter what form — cake, cookies, brownies, or sipping chocolate — chocolate comes in, I love it all.
I even have such fond memories of those powdery packs of Cadbury hot chocolate, the ones with the tiny marshmallows inside. I remember being a kid, all bundled in my snow gear, waddling in from the snowy outdoors through the basement door. After stripping down all those layers of socks and pants, my nose was always as red as can be, and my fingers and toes were tingly due to potential frostbite. My mom would save the day by greeting us with a cup of hot chocolate, extra marshmallows in mine, and my sisters and I would sit in front of the fireplace to de-thaw.
More: What goes better with chocolate than more chocolate? Gild the lily with these Homemade Oreos.
As I get older, I do find that my tastes are continually changing. I can no longer stand the sickly sweet nature of the hot chocolate of my youth. What I now look for in a hot chocolate is completely different: I like to be able to taste the different notes and flavors that are naturally present in the chocolate; my ideal hot chocolate has creaminess from milk, subtle orange notes, and even a slight spiciness.
A few years ago I was introduced to sipping chocolate. Sipping chocolate dates back to the early Mayan civilization in Mexico. Although the terms "sipping chocolate," "hot chocolate," and "hot cocoa" are often used interchangeably, sipping chocolate is much different in that it uses real dark chocolate melted into warm milk — not powder. The great thing about sipping chocolate is that you can tailor each cup to your own preferences. I prefer using a nice dark chocolate, something with a lot of flavor (and I think you would be selling yourself short if you tried to use a mediocre milk chocolate). I recommend using a chocolate around 60 to 85 percent cocoa, one from a good reputable store; SOMA, Theo, and Taza are a few of my favorites.
In my sipping chocolate, I like to use a good amount of orange zest, cinnamon, and chili powder. The combination of those flavors with the chocolate and the creamy milk is incredible. When I make mine at home, I heat all of the ingredients in a pot until warm, but I have also seen people melt the the chocolate with spices, add it to a cup, and then steam milk and pour it over like a latte. The recipe that I have provided below makes two cups, enough to serve four people. Sipping chocolate is much richer than your average mug of hot chocolate, so I find that 1⁄2-cup serving per person is plenty.
Serves 4
2 cups whole milk1 teaspoon honey3 ounces dark chocolate, chopped1/8 teaspoon ground cinnamon1/8 teaspoon chili powder1/2 small orange, zested
Add the milk, honey, chocolate, cinnamon, chili powder, and orange zest to a medium saucepan and heat on low. Continue to stir with a whisk until the chocolate has melted.
Continue to heat the sipping chocolate on low until it has turned a nice dark brown color and is warm to touch (10 to 15 minutes). Ensure that you are stirring occasionally to prevent burning. Do not heat the milk to boiling.
Strain the sipping chocolate and pour it into four cups. Serve immediately.
See the full recipe (and save and print it) here.
Photos by Heather Hands