Here's the 'Bridesmaids' Reunion We All Needed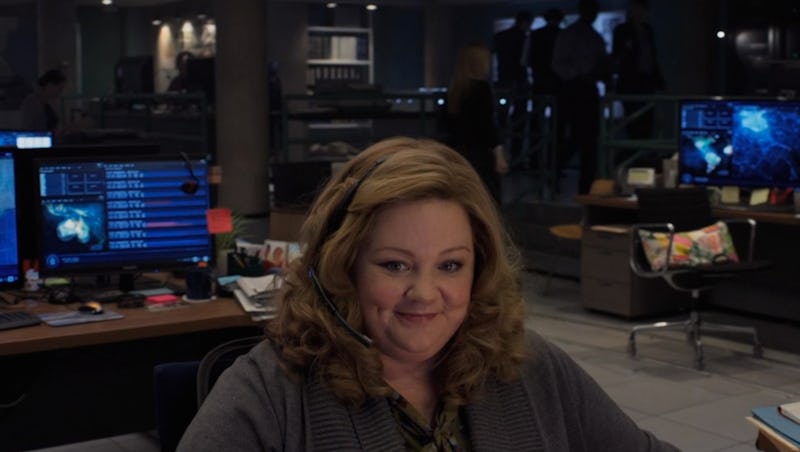 I will be completely honest, here: Before I saw this new trailer for Melissa McCarthy's upcoming film Spy — in which she stars as a CIA analyst-turned-agent — I did not know how much I (and the rest of the world) really needed a Melissa McCarthy spy movie. But after watching this, it's hard to understand how I didn't: The concept is brilliant, not to mention, Melissa McCarthy can pretty much take on anything and rock it. (I mean, remember Tammy?) Now that this trailer has been released, the entertainment world is truly a better place.
That's not even the best part about this movie either — it helps that the plot looks legitimately hilarious and the cast is pretty epic too. In addition to McCarthy, the film was directed by Bridesmaids director Paul Feig, and boasts a cast that includes Allison Janney, Jude Law, Bobby Canavale, Jason Statham, Miranda Hart, and, best of all, fellow Bridesmaids veteran Rose Byrne. (Sure, this isn't how anyone really expected a Bridesmaids reunion between Byrne and McCarthy to go, but let's be real: Would you have it any other way?)
Plot-wise, Spy follows McCarthy's character Susan, a CIA analyst who volunteers to go undercover when her partner (Law) and another CIA agent (Statham) find themselves in major trouble during a mission.
The only downside about this whole trailer? Without a doubt the anticipated release date for the movie that it reveals: May 22, a whole four months away.
Until then, check out the trailer below:
Image: 20th Century Fox