These Old Yearbook Captions Are So Sexist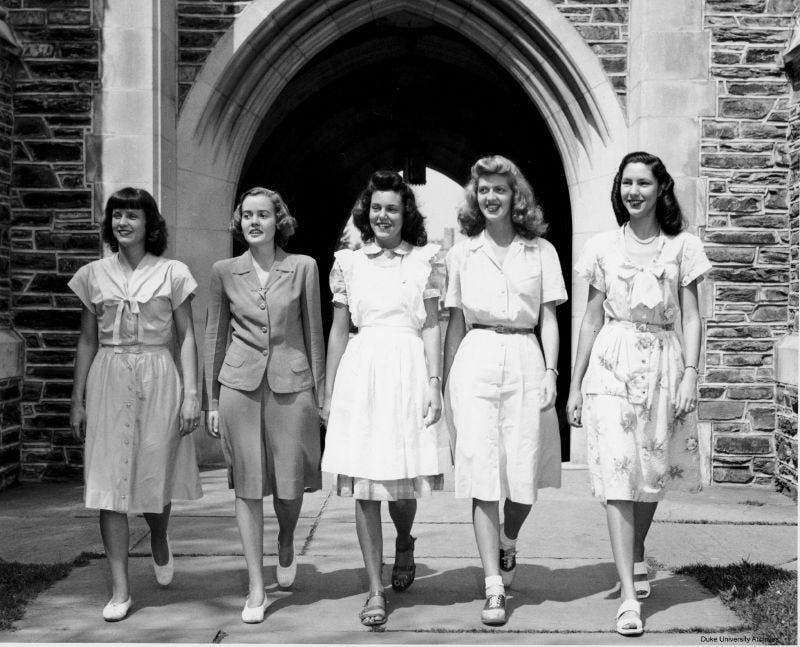 Have you ever flipped through your parents' or grandparents' old yearbooks from the 1940s and '50s? Laughed at the wacky fashion, cringe-worthy hairstyles, and awkward captions? Well, if you haven't, here's your chance to get a glimpse of what those (supposedly) humorous lines were like in 1946.
Redditor The_Blackfish_ first pointed out these yearbook images dating back to 1946 (that's 69 years ago) on Imgur. At first glance, they appear to be nothing more than a good old-fashioned dose of nostalgia — but if you take a closer look at those type-writer captions, you'll see they are anything but funny. In fact, most of the comments are downright sexist.
You will notice that the majority of the comments about girls focus on their appearance and bodies, while those made about boys are much more forgiving. Surprise! Sexism back then wasn't just tongue-in-cheek — it was pretty blatant. Just look at this sampling below to get an idea.
Take, for instance, Max Littlejohn's caption. Though he is noted for being on the shorter side, Littlejohn is praised for exemplifying that "good things come in small packages." Meanwhile, the caption for Romaine Childress takes on a different, misogynistic tone; she's noted for having "pleasant ways," but then she's chided for wanting to be a doctor. "Happy butchering," her caption reads.
I also don't think we can ignore the fact that Childress is called a "big little woman." Isn't it amazing (and by amazing I mean gag-worthy) how a man can be complimented for the same thing a woman is knocked for on the very same page of this yearbook?
If there's anything these images can do, it's make you appreciate how far we've come as a society in the ways of treating women. This kind of explicit misogyny (this stuff isn't sugarcoated at all) wouldn't be written in a yearbook in 2015 — at least we hope not. So at least we have some proof that the 60-plus years of feminist activism since then have yielded some much needed results.
If you want to check out the full (nauseating) gallery, head over to Imgur.
Image: dukeyearlook/Flickr; Imgur