Mississippi Might Make The Bible Its State Book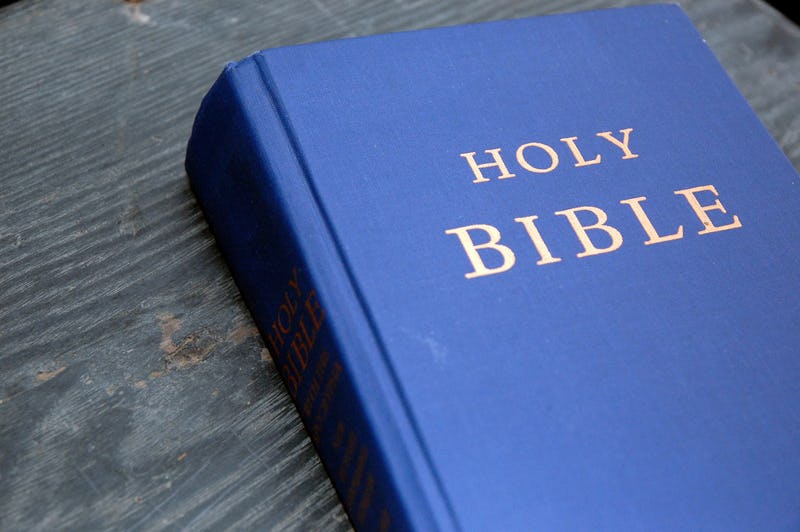 Mississippi has already locked down the Teddy bear as its official state toy and square dancing as its folk dance, but it's hoping to add an official state book to the list. Specifically, there are two separate motions from members of the Mississippi House of Representatives proposing a bill to make the Bible Mississippi's official state book. One of these proposals is from two Democratic (yes, Democratic) representatives, Tom Miles and Michael Evans; the other, from Republican representative Tracy Arnold, a pastor of a nondenominational Christian church.
"Me and my constituents, we were talking about it and one of them made a comment that people ought to start reading the Bible," said Evans, who is a Baptist, to the Associated Press. He added that their conversation also centered on how making the Bible the state book, they could counteract "all the things going wrong in the world."
This trend toward bringing religion into the Mississippi state government received another bump last year when "In God We Trust" was legally added to the state seal.
But it's not even the separation of church and state that has many in Mississippi upset about the proposal. Mississippi has a strong literary heritage, and some people think that representatives should be looking closer to home for an official state book.
Larry Wells, director of small publishing house Yoknapatawpha Press in the town of Oxford, was married to William Faulker's niece Dean Faulkner Wells, before she passed away. He is one of the opponents of the bill:
It's impossible to conceive of a state abandoning its literary heritage like that ... What would Faulkner and (Eudora) Welty and Shelby Foote and Richard Wright think? I think they would collectively link arms and say, "Go back to kindergarten, Legislature."
And just to go ahead and add to that list: Tennessee Williams, Donna Tartt, Jesmyn Ward, Willie Morris, Tom Franklin, and heck, even John Grisham.
I mean, As I Lay Dying is even set in Mississippi, so that one seems like no-brainer, if you want to go ahead and designate a state book. And it seems like doing that, picking a state book, is beyond rare. Massachusetts has named Make Way For Ducklings by Robert McCloskey its book, as the story is set in Boston's Public Gardens, though the author is from Ohio. Michigan named The Legend of Sleeping Bear by Kathy-Jo Wargin as its official state children's book. These are the only two that have a clearly designated official state book.
But it's not the first time a state has proposed making the Bible its official book. Last year, Louisiana scrapped a bill to make the Bible its state book, saying the bill was "a distraction."
Images: Steve Snodgrass/Flickr