The Quickest Way to Double Your Seasonal Wardrobe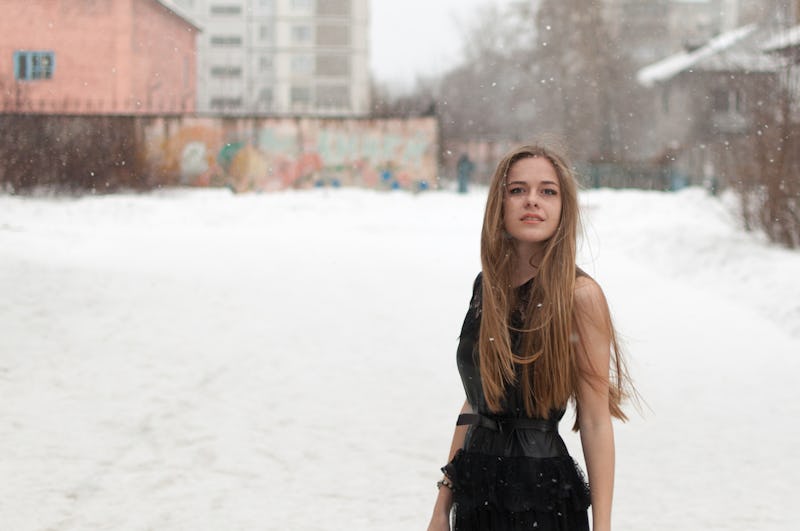 Everyone has that one summer sundress. You know the one: The fit is perfection, you can dress it up and down, you can wear it everywhere. But then you sadly tuck it away when the autumn leaves start to fall. It's a damned shame that the two of you are separated for months of the year, whilst your most beloved article of summer clothing has to sit in a box or a bin for a long, cold winter. But what if I told you that it didn't have to be this way? That there was a solution that would not only allow you to reunite with your exiled one true [clothing] love, but that would also allow you to double your wardrobe — for free, starting right now? Ladies, it's easier than you might think: All it takes is learning how to style your "summer clothes" for the winter. This is a staple that I learned out of necessity during the time I refer to as my "young person's retirement" — a.k.a. underemployment. When one is working 25 hours a week at minimum wage because you have been promised a manager job in a few months time, there's not a lot of extra money around for seasonal wardrobes. Whether money is an issue or not, if you have clothes that you like wearing, you should get to wear them as much as is physically possible. I mean, finding clothes that fit and that you're psyched to wear is practically a GD miracle. Don't let something silly like winter get in between you and your favorite clothes. Like Tracy Jordan taught us: "Dress every day like you're going to get murdered in those clothes."Here's how to style five summer wardrobe pieces for the frigid winter:
1. SHORTS
Chiffon Shorts, $19, Forever 21
Winter shorts are one of my favorite looks. They work best with either a more rugged and durable fabric (like pleather, wool, or denim) or the exact opposite — flowy, delicate fabrics (like silk, chiffon, or lace). Wear them over dark, opaque leggings and ankle boots, and top with an open-front blazer or moto jacket. Wearing lighter shorts? Give a chunky sweater or denim button-down a half-tuck. Wearing heavier shorts? Tuck in a floaty blouse or a lacy bodyuit.
2. SUNDRESS
Invitation Designer Dress, $55, Mod Cloth
My sundresses get almost as much play in the winter with this little styling trick: Take an oversized, loose-knit sweater and tie it to crop top length at your natural waist. This not only creates an hourglass silhouette, but turns one dress into two articles of clothing: A sundress and a winter skirt. Wear with tights and boots of your choosing.
3. FLIRTY SKIRT
LC Lauren Conrad Tulle Skirt, $26, Kohl's
Winter whites are stunning, and a tulle skirt is especially stunning in white. Once again, this skirt plays well with juxtaposing traditionally cool-weather fabrics with the airy-ness of a summer staple. Layer under a long, fitted sweaterdress for a little flounce in the hem and a few extra inches of length. It's great for turning a plain basic into a fun frock instantly.
4. MAXI DRESS
Michel Studio Long Printed Dress, $90, additionelle.com
Just as with a sundress, it's easy to turn a maxi dress from one article of clothing into two! Add a fitted long-sleeve top or sweater over the top of the dress, then gather and knot the bottom of the maxi on one side. This gives it an asymmetrical hem look without being so heavy on legs that are already wrapped in tights. Finish with a statement necklace.
5. ROMPER
Current/Elliott "The Mechanic" Stripe Shorts Jumpsuit, $374, nordstrom.com
Rompers are maybe one of the most versatile pieces when taking items from summer to winter. You can style them like the suggestion for shorts above (over tights, under a blazer) or wear them like another top. No matter the weight or texture of the romper's fabric, adding a floaty midi skirt overtop instantly expands your shirt wardrobe. Plus, it gives you another full-body layer. Warm and cute, can't argue with that!
Images: Fotolia; Courtesy Brands