6 Easy Ways to Make a Little Extra Spending Money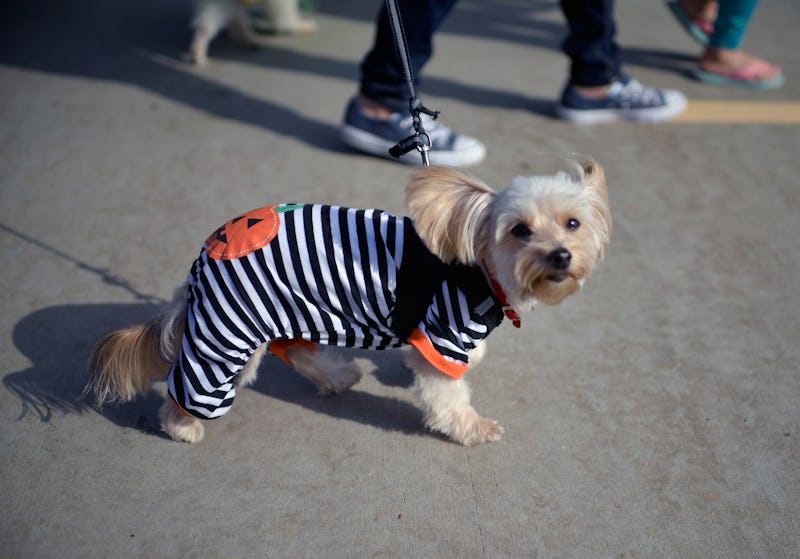 Chelsea Guglielmino/Getty Images Entertainment/Getty Images
While being a writer is both an incredibly enjoyable and very fulfilling career, it isn't usually a lucrative job, and most of us have gotten pretty good at subsidizing our income with other outside ventures. But even if you are lucky enough to have a career that comfortably pays all your bills and more, we could all stand to make a little extra cash from time to time. I mean, the holidays were rough, right? The emotional toll of holiday shopping is one thing (luckily there is wine for that), but the toll on your wallet isn't something you recover from as easily.
I've had a job since I was 16 years old, and have been a professional writer for the last seven years. And in my nearly 10 years of working experience, I've had just one job that paid me enough that I didn't have to think twice about every penny I spent. Not to mention I haven't always been the best at saving and budgeting money (I'm trying to get better, I promise), but I have gotten pretty good at finding things that help pad my bank account — even if it's just an extra $20 here and there.
So if you're like me, and you find yourself consistently short on cash, it's time to start thinking about employing a few money saving hacks, and come up with some creative money-making ideas that, believe it or not, are also kind of fun. Here are six ideas to get you started.
1. Open an Etsy Shop
If you don't know what Etsy is (seriously, mom?!), go look right now and I'll see you in several hours, 'cause you'll be browsing its awesomeness all day. Etsy is a magical place that has given designers, crafters, and casual buyers alike a place to find and sell homemade and vintage wares. I've been running an Etsy shop for the last year and a half, and it's a great resource for earning extra cash. Whether you're selling things you've designed or crafted, or you're trying to unload grandma's entire collection of vintage Chanel suits, Etsy is easy to use and manage. And I've known quite a few people who have turned their Etsy shops into full-time jobs, so you never know!
2. Start Pet Sitting or House Sitting
Even if you have your own pets and/or house, watching someone else's pets and/or house is still fun. The best way to get started is to sit for friends and family (since they can be good references later on), and keep an ear out in your neighborhood for other opportunities. True story: I've had the same dog walking gig for three years after my boyfriend told our neighbor that his dad was a vet, and our neighbor asked if we knew any dog walkers. Speaking of vets, they're actually a good resource for finding clients. Ask if you can put up some signs in the office, and mention that you're looking for opportunities. You can also use sites like Care.com to connect with both pet sitting and house sitting jobs.
3. Sell Your Lightly Used Clothes
Following the start of the new year, I know a lot of us take some time to clean out our closets, whether it's to make room for all the new clothes we got over the holidays, or because (like my closet) it's filled with things you haven't worn in months. You probably even have a few items that still have tags on them, am I right? Donating your clothes is one option, but you can also try and sell the brand name, lightly used, and never worn pieces. There are a handful of second-hand stores, like Buffalo Exchange, that you can bring your clothes to, but I recently discovered ThredUP, an online thrift shop, that carries both designer brands and mall favorites, including Forever21 and H&M. The process is easy — simply request that a free exchange bag be sent to you, load up your clothes, and the company pays you for what they'll be able to sell.
Just a heads up, though! Stores like Buffalo Exchange and ThredUP are pretty particular about what they buy. I brought three garbage bags of clothes into my local Buffalo Exchange once, and they didn't buy a single item. So, keep your expectations low.
4. Become a Tutor
Maybe some of you already did this in high school and college, but the money is just as good, if not better, now. For many young students, getting into college is a huge, huge deal. Having a good tutor for AP Government or Biology or whatever else seems to be a near necessity, especially in affluent areas... which means people will pay handsomely for college-educated instructors. Aside from school subjects, there's a big need for essay reviewers and test prep tutors. A quick glance at the listings on Wyzant.com shows that qualified tutors can charge up to $95 an hour for their expertise. Even if you only tutor one person, one hour a week, that's a good chunk of change.
5. Set Up Social Media Accounts for People and Businesses
Facebook might be second nature to millennials, but it's definitely not so easy for everyone. I've written for a few start-ups and small businesses in the past, and one of the things I've helped with most is getting them set up with social media accounts. Businesses are looking for tech-savvy people to help them get their social presence up and running, whether it's signing up for Twitter or creating a Facebook business page. Usually, they'll provide you with graphics and copy (though you can offer those services too), and all you have to do is input everything and launch the pages. Check out sites like Elance and Freelancer to find people and businesses looking for help. Bonus: If you are interested in social media management, this is a perfect way to find clients.
6. Sell Stock Photos
You don't have to be a professional photographer in order to make money from your photos. Stock photo sites like Shutterstock and Fotolia accept submissions and pay you when your images are bought by customers. We all know how crazy stock photos are sometimes, so you never know what will sell.
Images: Chelsea Guglielmino/Getty Images, Dan Kitwood/Getty Images, Adam Berry/Getty Images,Justin Sullivan/Getty Images, Brian Ach/Getty Images; Giphy; Etsy