One 'Empire' Track Should Be Its Theme Song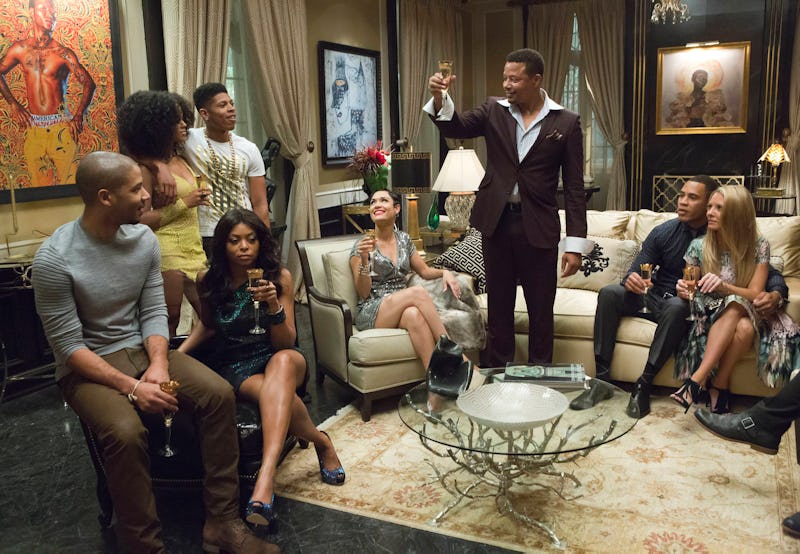 A heady mix of melodrama, a star studded cast, and awesome music has made Empire Fox's highest rated debut series since 2012. Empire follows Terrence Howard as hip hop mogul Lucious Lyon, who only has a short time to live and must decide which of sons will gain his control of his business. The standout character by far is Taraji P. Henson's Cookie, Lucious' ex-wife who took the fall for him, landing her in jail, and now that she's out, she is eager to get what she deserves. One of the most buzzed about aspects of the show is all the great music. From the second the show begins we're getting pure ear candy. But which one of these great songs from Empire deserves to be the theme?
At first it seems hard to choose, especially since the pilot episode alone had 12 songs. Plus, each episode will have new songs for the audience to get thoroughly addicted to. That's a lot of original songs for one whole season, let alone one episode. They're pulling off this awesomeness thanks to Timbaland being Empire' s executive music producer. But don't worry, this show won't shoehorn songs in for the hell of it.
In an interview with Variety, Empire co-creator Lee Daniels said, "the story drives the music, the music doesn't drive the story. That was very important to me that we're not just popping out musical numbers for the sake of popping out musical numbers." Let's look at some of the standout songs we've already heard on Empire thus far. If you're curious about any of the music featured on Empire, check out Spotify. They have all the songs from the show listed by episode, you can check some out below.
One of the songs that really hit me emotionally actually kicks off the show, "What is Love" by Veronika Bozeman. It's soulful, but may be a bit too somber to really fit the show as a theme song. "Right There" and "Armani" by Yazz are great as well, but much more high energy. All good songs. But do they make a great theme song for Empire?
A great theme song has to accomplish a few things: capture the tone of the show and underscore theme — being catchy as hell helps too. Out of all, "No Apologies" fits everything needed for a great theme song. It features the stylings of cast members Jussie Smollett and Bryshere Gray aka Yazz the Greatest. "No Apologies" has a hard edge that totally fits the glossy, slightly rough-edged melodrama that drives the show. But enough of me explaining the greatness of the song, check it out.
"No Apologies" was released before the start of the show and has received a big marketing push. Empire writer and executive producer Danny Strong told Billboard,"we wanted to do a Dynasty -like soap opera that happened to take place in the hip-hop world." I think "No Apologies" provides exactly that kind of edgy, soap opera-y fun needed for the Empire theme song. Even if it doesn't become the show's main theme song, we'll have a lot of great songs to choose from by the end of this season.
Images: Chuck Hodes/Fox; dailyempiregifs/Tumblr