A Look Back At Whitney Houston's Real Wedding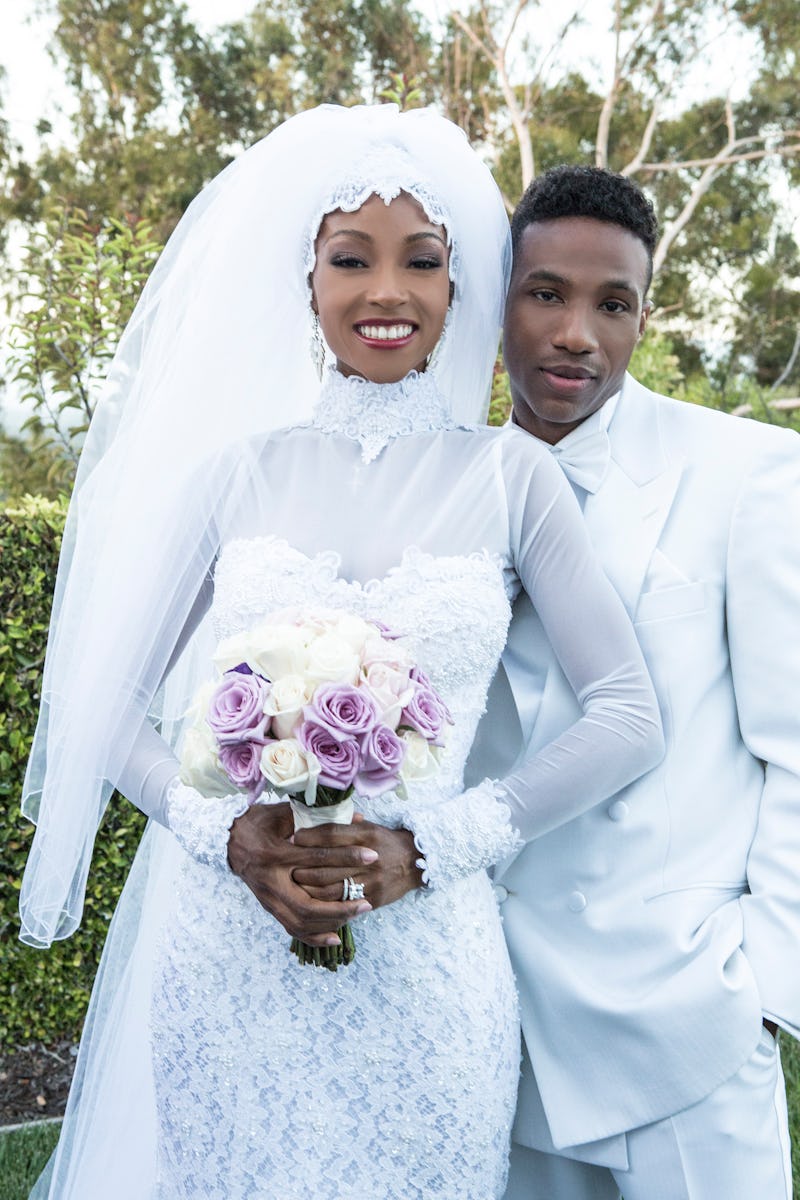 What makes a great celebrity wedding to you? A fabulous dress? A star studded guest list? A bit of good gossip? The 1992 wedding of Whitney Houston and Bobby Brown had all that and then some. To say that Whitney and Bobby had a tumultuous relationship is an understatement. Theirs is a pairing of pure melodrama, which makes them a perfect fit for a TV movie. Well, for those who have been dreaming of a Whitney Houston biopic, you're in luck. Whitney airs Saturday Jan. 17 on Lifetime. The biopic is directed by Houston's Waiting to Exhale co-star Angela Bassett and has Yaya DaCosta taking on the iconic singer. Of course, this movie may produce more drinking games than awards, but that doesn't mean it won't be fun to watch. One question I've been wondering about is whether the film's version will up to the extravagance of Houston and Brown's real wedding.
Bassett definitely wants to stay true to the story, as she told USA Today, "I have a great respect, love and desire to hold up [Houston's] legacy. I respect the lives of the people I put onstage. It's their life, their heartbeat." Bassett may want to respect the legacy, but reproducing the lavishness of Whitney and Bobby's lifestyle at the beginning of their marriage is not an easy feat on a TV movie budget. Before watching Whitney this Saturday, why don't we take a look back at the expensive and over-the-top wedding Whitney and Bobby had in real life.
Star-Studded Guest List
Houston was just at the peak of her career when she married Brown on July 18, 1992, in a wedding detailed by Vanity Fair . So it isn't any surprise that the guest list was a who's who in early 1990s Hollywood. Their wedding wasn't what one would call intimate either, since they had a whopping 800 guests, according to People. I'm pretty sure that's more people than my graduating class in high school. I personally would be overwhelmed and in major debt if I tried to pull half of that off. But I'm not a superstar diva, I know my limits. Guests included Patti LaBelle, Gladys Knight, Phylicia Rashad, and Donald Trump.
Early '90s Fashion, FTW
Some wedding dresses are timeless no matter what era they were made in, like Grace Kelly's. That's not exactly the case with Houston's. According to People, her white lace Marc Bouwer wedding dress cost $40,000, which is probably more than what I made last year. But her dress just seems to scream early '90s. It's just a bit too gaudy and overbearing to work beyond its era. However, I think the headpiece is a pretty daring fashion choice that made her standout from the usual boring, white gowns in a great way. Here's how Lifetime recreated the dress for Whitney.
Do you think star Yaya DaCosta pulled off Houston's look?
What Was Going On With Whitney & Bobby In 1992?
Brown released his third album Bobby one month after the wedding and it went double platinum. But let's be real, 1992 was totally Houston's year. It saw her career hit hyperdrive, and not just because of her very high-profile relationship turned-not-quite wedded bliss with Brown. Houston finally crossed over into Hollywood with a little film you know as The Bodyguard. This was her acting debut and it made quite an impact. The Bodyguard was released in November and became the second highest grossing film of 1992, bringing in over $400 million. But the most memorable aspect of the film is probably its soundtrack, which spawned major hits for Houston, including one of her most well known ballads, "I Will Always Love You."
We'll see if Lifetime is able to properly depict the dramatic glamour of this wedding and Houston's overall career when Whitney premieres on Saturday night.
Images: Jack Zeman/Lifetime (2); Hello Magazine