These 'Nashville' Questions Need Answering, Y'all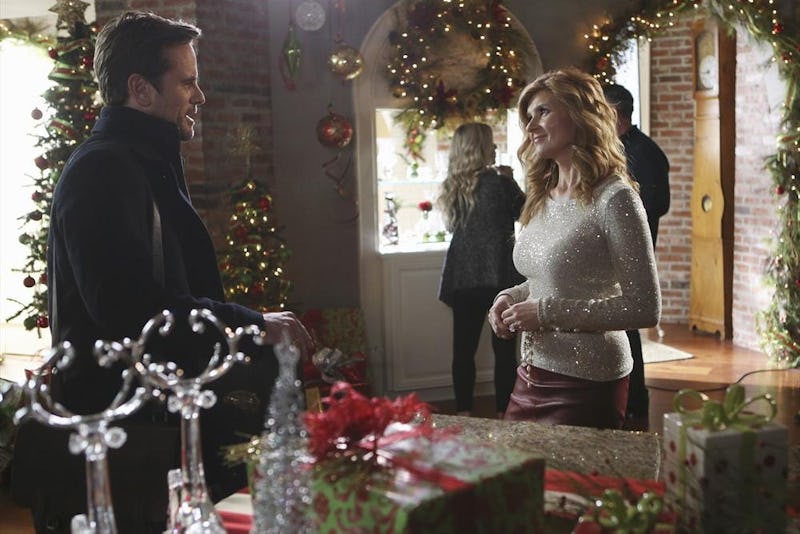 Anyone else still reeling from Nashville 's Season 3 winter finale? I mean, just look at everything that happened: Juliette and Avery got married, Rayna called off her engagement with Luke, Deacon more than likely has cancer, and Lyla overdosed in a swimming pool after being rejected by Jeff "The Sleazeball" Fordham, as I've taken to calling him. Basically, what I'm trying to say here is that a lot has happened, which makes me all the more anxious for the ABC country drama to return. And although we still have quite a ways to go before that glorious day arrives — the series is currently slated to return on Feb. 4 — it leaves us with quite a bit to mull over in the meantime. Because I've got a ton of Nashville questions that need answering, y'all. And I'm talking ASAP.
I mean, I'm all for a little added suspense every now and again, but given the particularly lengthy gap between the December finale and February premiere, I'd say we, as fans, have earned the right to demand some answers at a relatively brisk pace. (Remember that with great drama comes great responsibility, my friends.) So unless Rayna & Co. are prepared to deal with the wrath of hundreds of thousands of country-lovin' viewers, I suggest they saddle up and start answering some of these questions, pronto.
Has Avery Really Forgiven Juliette?
Look, it's not that I'm not happy for the newlyweds or anything. It's just really hard to believe Avery can go from being drunk and angry at Juliette one minute to being ready to marry her the next. That's a huge jump to make in the forgiveness department and one that I fear may come back to haunt them in the not-so-distant future. So please, writers, let us know once and for all if these two are finally on some solid ground. They need that kind of stability, and so will their unborn child.
What Does Lyla's Future Look Like?
That is, if she even has a future. I mean, chances are Will's troubled wife will end up recovering from her recent overdose, but things were definitely left up in the air, so it'd be nice to get a little confirmation on the matter. It'd also be nice to know what her next move will be. Jeff seemed very worried that the blowback of this could fall back on him. Will she use this opportunity to get revenge on him and perhaps ruin his career for good? (A plan that I would fully support BTW.)
Is Sadie in Real Danger?
After seeing her ex-boyfriend punch her in the face (a truly horrifying thing to witness, might I add), it's clear that the show is establishing this guy as the season's new Big Bad. But what does this mean for poor Sadie? She's managed to escape his grasp before, but now that he's tracked her down I'm worried that her luck is running out, which could lead to fatal consequences in the near future. Gulp.
Will Deacon Tell Rayna About His Health Problems?
Now that Luke and Rayna are officially dunzo, Deacon can once again swoop in and reunite with his true love. But will he? Given his recent health concerns he may decide to keep his distance for fear of not being around much longer. In fact, I'm seriously doubting if he'll even tell Rayna, or anyone for that matter, about his potential cancer diagnosis and opt for brooding in silence. (Please let me be wrong about this.)
Will Gunnar Still Fight for Custody of Micah?
Now that he knows Micah is not really his son, but actually his nephew, I wonder how this will impact his decision to fight for custody. I mean, on the one hand, it's certainly gotta sting to know that your former love was fooling around with your brother, but on the other hand, that still makes the kid a member of his family. Either way, it'd be nice to know where exactly this particular plot is going and whether or not he'll decide to keep Micah in the dark about the whole thing.
Will Gunnar Choose Scarlett or Zoey?
Speaking of Gunnar, now that he's potentially childless, will this mean he'll try and contact Zoey in an attempt to get back together? Or will viewers finally get to see things heat back up between him and Scarlett? (Personally, I'm hoping for the latter.) So what's the plan, writers? I want to knowww!!!
What's the Deal with Teddy's New Love Interest?
Is it a Pretty Woman-esque love story or will this turn into a type of blackmail situation down the line? I can't decide which one I'd prefer or if I even care since Teddy's storyline hasn't been very interesting all year. But it would be nice to know where it was all going.
What Is Luke's Purpose Now?
Actor Will Chase was brought on as a series regular this season, so to have Rayna kick him to the curb only halfway through the year makes me wonder what the writers have in store for his character now. Will he turn jealous and seek to ruin Rayna's life? Will he start dating another main character? I need details, Nashville! What's the dealio?
See you in a few weeks, y'all!
Images: Mark Levine/ABC; ibelieveinlove58/Tumblr; austennerdita2533/Tumblr; whentherightonecomesalong/Tumblr; nashvilleabcgifs/Tumbr