'Center Stage's Jody Is Doing Awesome Things Now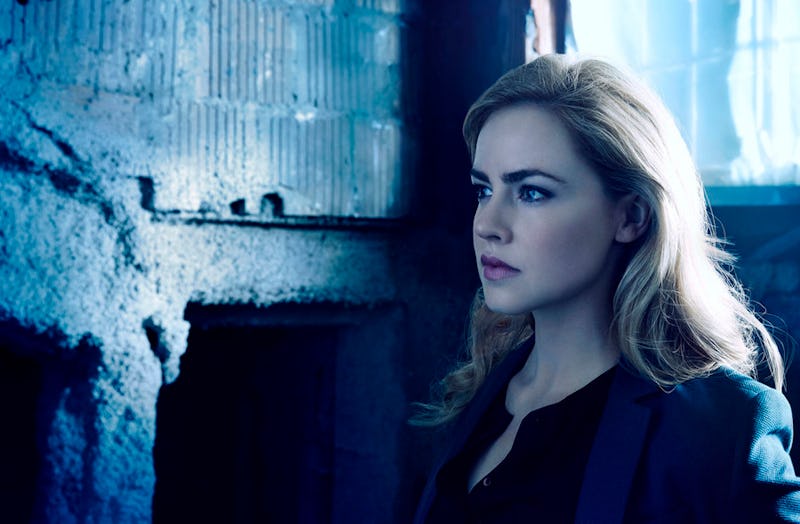 Nostalgia is totally in season when it comes to today's pop culture. I can't lie it affects me too. I'm still bitter that Sarah Michelle Gellar hasn't gotten a great role since Buffy ended and that Shannen Doherty was fired from Charmed. For fans of a certain 2000 ballet movie, get ready for your nostalgia fix because Center Stage's Jody (actress Amanda Schull) is coming back to the screen. Well, the TV screen, that is. She stars in the new Syfy show 12 Monkeys premiering Friday Jan 16 and she's got a kickass role.
Does that title sound familiar? It should 12 Monkeys was a 1995 dystopian sci-fi film starring Bruce Willis and a totally bonkers Brad Pitt. And that wasn't even the first incarnation of the story. The 12 Monkeys film was based on La Jetee, a 1962 short film by Chris Marker almost entirely composed from black and white still photos.
Based on early reviews of the 12 Monkeys series, the television show is an entirely different beast than its predecessors opting for a more straightforward science fiction adventure drama. One certainty is that Schull has a juicy leading role as Cassandra, a brilliant virologist who teams up with time traveler James Cole to stop the release of a deadly virus that obliterates 93 percent of the world's population in the future he's traveling from. I'm all for actresses playing brilliant scientists.
But I have to wonder, before taking on this role, what has Schull been up to since Center Stage?
Suits
While her Center Stage co-star Zoe Saldana has hit the big screen in a major way with roles in almost every high profile science fiction film like Avatar and Star Trek Amanda Schull has primarily stuck to appearing on television. Since 2013 she's had a reoccurring role on Suits as Katrina Bennett, a shrewd and tenacious fifth year associate at the Pearson Specter law firm until she quit.
Katrina is a far cry from Jodi Sawyer. Just saying.
Pretty Little Liars
Another show you may have seen Schull on is Pretty Little Liars as Meredith Sorenson, the trifling woman who got involved with Aria's dad. This eventually leads to Aria's parents divorcing and a host of other drama. But she was a substantial antagonist on a show chock full of them so don't feel bad if you completely forgot what happened with her character like I did.
J. Edgar
The only major film that Schull has been a part of is J. Edgar, that drab Clint Eastwood take on J. Edgar Hoover with Leonardo DiCaprio as the lead. Schull played Anita Colby in the 2011 Oscar bait-y film whom you can see between DiCaprio and co-star Armie Hammer.
While Center Stage received at best mixed reviews when it was released it has become a cult classic for those who grew up in the late 1990s and early 2000s. Sure it was a bit on the melodramatic side with things being tied up in a neat bow for many of the characters. But I have no shame in liking bad movies. Saldana is undoubtedly the most famous face from the cast appearing in blockbuster after blockbuster, but that doesn't mean she's the only one of the cast members who deserves the spotlight. But let's be real Saldana's character in Center Stage, Eva Rodriguez, was the highlight of the film.
Schull is stepping into the spotlight once more by taking on a leading role and much like her final performance in Center Stage, 12 Monkeys' Friday premiere will put Schull and her experience to the test.
Images: Jeff Riedel/Syfy; Giphy(2); satvojihusana, prettymysticfalls /Tumblr