Black Lives Matter Is Still Going Strong In Boston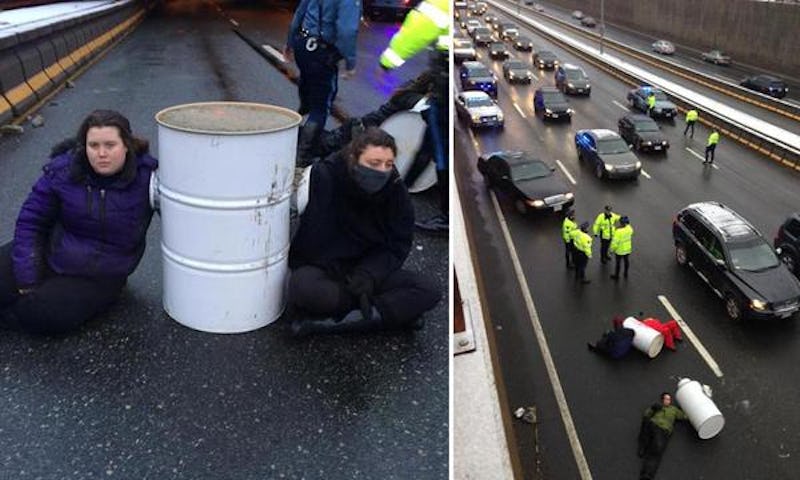 In light of the recent attacks in Paris, attention has shifted to terrorism and foreign threats. The people of Boston, however, reminded us this week that a dire domestic threat remains in America that has not been defeated. On Thursday morning, Black Lives Matter demonstrators in Boston protested violence against African-Americans by chaining themselves to barrels on I-93, shutting down the interstate and disrupting the morning commute for thousands of people. But that was exactly the point, according to a statement released by the Boston contingent of Black Lives Matter.
On Thursday morning at around 7:20 a.m., a group of at least 23 people protested at two different sites along I-93 in Boston, East Milton Square south of the city and Mystic Avenue in Medford north of the city. Six people chained themselves to heavy barrels, weighing 1,200 pounds each, and blocked every lane of I-93 North, forcing State Police to shut it down along with I-93 South.
According to a press release posted to the Boston Black Lives Matter Facebook page, the activists wanted to "disrupt business as usual" while protesting "police and state violence against black people." Protester Katie Seitz said:
Today, our nonviolent direct action is meant to expose the reality that Boston is a city where white commuters and students use the city and leave, while Black and Brown communities are targeted by police, exploited, and displaced.
At 8:08 a.m. State Police tweeted that the protesters on I-93 South had been removed. Shortly after police tweeted that 17 protesters had been arrested at the Medford area. A total of 23 people have been arrested at both sites.
At the peak of the Black Lives Matter movement, tens of thousands of protesters marched against police brutality and racial injustice. While the number of protesters in regular demonstrations have dwindled, the message has remained as strong as ever. Thursday's demonstration was noticeably multi-ethnic and included members of the LGBT community. Many of the activists issued personal statements as to why they were protesting. Asian-American Nguyen Thi Minh Thu said on Facebook:
As Pan-Asian people in the United States, we refuse to perpetuate anti-Black racism. We will not allow our communities to serve as a wedge to divide us and jeopardize our struggle to end racism and achieve our collective liberation.
Monica Majewski recognized the ties between the fight for LGBT rights and racial justice:
As non-Black lesbian, gay, bisexual, and queer people in the United States, we refuse to allow increasing acceptance of our sexuality and several marriage equality victories to end our commitment to advancing social justice. We recognize that this movement has been spearheaded by Black queer women and gender-nonconforming people.
Emily O. gave the point of view of a white American refusing to settle for the status quo:
As a white person, my only options are to act against white supremacy or to be complicit in it. I'm here today because I refuse to be complicit.
Image: Paul D. Gallagher/Twitter