Fashion and Beauty Tips From Disney Princesses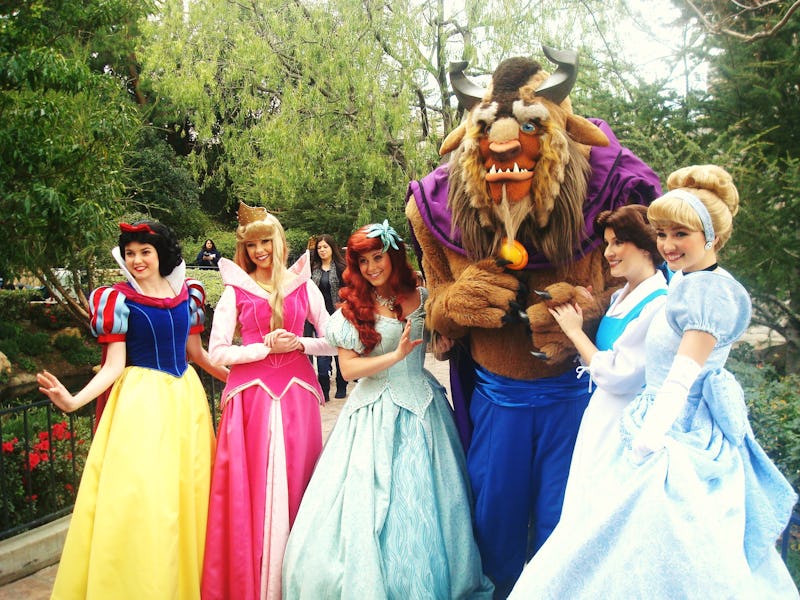 As a little girl (and even as a not-so-little-girl), I was obsessed with everything princess-related. My favorite books were The Princess and the Goblin, A Little Princess, and The Princess in the Tower, and I loved any fairytale or any film that had anything to do with the regal beauties. I daydreamed my youth away pretending that I was a princess from a magical land far, far away, and not unlike most of the girls I knew growing up, I was completely obsessed with Disney. I loved and admired every single Disney princess for her own sense of strength, courage, love, and of course, beauty. I spent my days secretly wishing to be like them — to dress like them, have hair like them, live where they lived and have adventures like they had.
Then came that dreaded time where youth turns into adolescence, and my love for Disney (although staying very much alive), took a backseat to the more urgent, pressing matters of a girl becoming a teenager. My daydreams of being a Disney Princess would have to wait, for my time was suddenly devoured by worry and stress over how to style my actual hair, how to dress and pick out my actual clothes, and how to live and be happy in my actual life. No one prepares you for these changes. One day you are daydreaming away about a beautiful and fantastical life, then the next you are faced with the cold-hard reality that life isn't as whimsical or fantastical as you'd dreamed. It's cold, cruel and sometimes terrifying.
I was not a pretty sight per se when I was a young teen. I have always been a big girl, and although that is something I love about myself (it's a permanent part of my identity) and something that makes me feel powerful and confident today, the little girl I used to be definitely never felt that way. My weight, to me, only added to my ugliness, and when combined with acne, braces, and baggy, unflattering clothing, I was most definitely a sorry sight for sore eyes. Having being raised by my grandparents, I didn't have anyone to give me fashion or beauty advice when I so desperately needed it. There was no one to show me how to do my makeup the right way, to tell me to always wash my face every night, to make sure to always moisturize, to trim off my dead ends, to sleep on a pillow of pure silk, or warn me that glitter gel was the worst invention ever. So how did I get from that desperate, clueless, sorry-ass teen I used to be, to the gorgeous, glamorous, fashion and beauty guru I am today? Well.
Looking back now, I have to credit my dear and beloved Disney Princesses for teaching me everything important I needed to know about fashion and beauty. If it wasn't for their influence, I'm pretty sure I'd still be wearing track pants and baggy sweatshirts to the mall (and everywhere else). Having never left my heart, over time I drew inspiration from the women I admired and loved, and eventually turned myself into my own adult version of a Disney Princess. So without further ado, let's take a look at 12 tips I learned from Ariel, Mulan and other amazing ladies. They definitely guaranteed part of my own happily ever after.
1. THE BIGGER THE HAIR, THE BETTER
I actually have to thank Disney for giving me completely unrealistic hair expectations, which has fueled my ever-growing obsession with having long, BIG hair. It's because of this that I learned how to tease, and have spent a fortune on wigs and extensions. But nothing says "gorgeous" like big hair, and so, I digress.
2. ALWAYS BRUSH YOUR HAIR
You can't have big, long, amazing hair without taking proper care of it. And note: If a brush can't be found, it's perfectly acceptable to use a dinglehopper.
3. IT'S OK TO BE A TOMBOY
The ultra-feminine style isn't for everyone. Remember, you can be a tomboy and still find love, save your country, and bring honor to us all.
4. BOOKS ARE THE BEST ACCESSORY
As a bookworm, I've always been quite eager and happy to accessorize my outfit with the perfect book. And I know Belle would agree with me.
5. CROWNS AND BOWS ARE A GIRL'S BEST FRIEND
As it was years ago, as it is today, no princess is complete without a crown or bow to adorn her gorgeous hair and head. Crowns, tiaras and bows are the perfect princess-worthy accessory for any girl (and my personal favorites).
6. BELLY BUTTONS ARE SEXY
Belly buttons aren't just for the beach, girls. Thank goddess crop tops are back in fashion!
7. HAPPINESS IS AN UPDATED WARDROBE
From rags to riches — it worked for Cinderella. One moment she was kneeling in her rags, crying in the dirt, then cue a brand new dress and bam: The next moment she's full of confidence and smiles. Sometimes all it really takes is a new outfit to make us feel confident, happy, and on top of our game.
8. FLIP YOUR WET HAIR FOR ADDED DRAMATICS
When in doubt, flip that wet hair of yours and all eyes will be on you. Trust me. Or rather, trust the power of the wet-hair-flip.
9. EVERYONE LOVES A GOOD BRAID
Do that braid. Rock that braid. Work that braid.
10. DON'T BE AFRAID OF COLOR
Any Disney Princess will tell you to paint with all the colors of the wind — with your wardrobe! Don't be afraid to wear bright, bold colors. They are the perfect way to express our personalities, moods, and styles.
11. HIDE YOUR FACE WHEN YOU CRY
Great advice for fellow ugly criers, like myself.
12. HAPPY ENDINGS COME IN GOWNS
When dressed in the most flowing, glittering, gorgeous gown, it's impossible for you not to live happily ever after.