Every Time Bill Has Hinted At Hillary 2016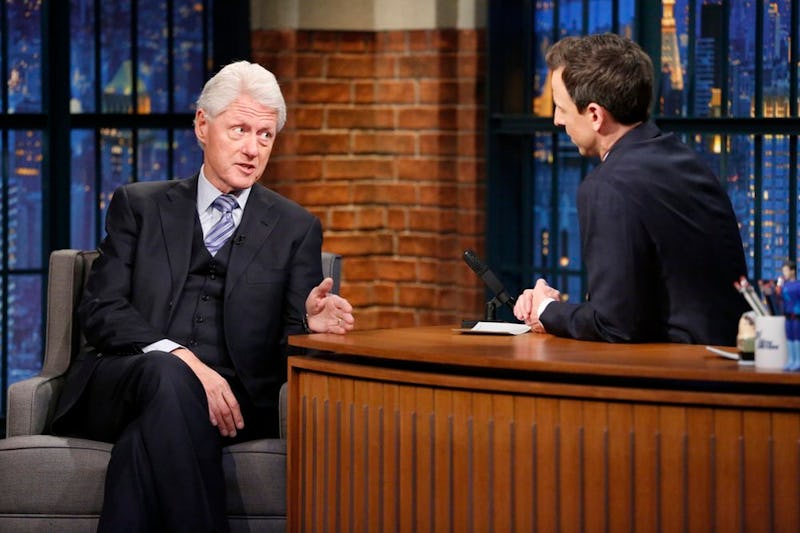 As "will she, won't she?" speculation continues to loom, Hillary's husband, Bill Clinton, continues to stay vague, lest he feel her wrath. On Wednesday night, during an interview on Late Night With Seth Meyers, host Seth Meyers asked Bill about housing in 2016, posing the question as one on the topic of, uh, real estate. Drawing laughs from the crowd, the innuendo did not trip up the former president. As always, Bill stayed cool and collected and replied with an equally ambiguous answer.
Seth took a clever approach to asking Bill about Hillary's presidential bid:
I want to get away from politics for a minute and talk about real estate. Do you think you might live in a different house in 2016?
Bill, clearly amused as the audience claps and cheers, answers:
I hope not because 2016 is the election year and I don't have anyplace to move.
Clinton's answer may seem simple on the surface, but it's dripping with nuance. It seems like he's just merely brushing off the question by saying they don't have plans to move elsewhere nor anywhere to move to, but he could also be hinting at the election timeline. If Hillary did run, she and Bill wouldn't be able to move into the White House until 2017, when she's officially inaugurated, anyway. Which is it? We'll never know.
Last June, NBC's David Gregory asked Bill Clinton, "You're just a bit player as to whether Secretary Clinton runs?" The former president gave the most perfect answer imaginable: "That's exactly what I am. I'm a foot soldier in an army. I will do what I am instructed to do." Amid the years-long speculation that Hillary Clinton would run for president in 2016, her husband has emerged as her most unwavering confidant, supportive to a fault with lips sealed like Fort Knox.
But that doesn't mean he hasn't made a few playful hints. Just like he did with Meyers, Bill has playfully teased the world several times about Hillary's presidential bid, enticing us with just enough information but then leaving us in the lurch.
"My Wife Might Run For Something"
Last October, Bill gave perhaps the most revealing hint thus far when he talked about the benefits of not being president anymore. At the U.S. Conference of Mayors at the Clinton Presidential Library in Little Rock, Arkansas, Bill told the crowd:
The great thing about not being president anymore is you can just say whatever you want, unless your wife might run for something.
"I Will Not Be Baited"
In September, Hillary herself made a pretty suggestive statement at Senator Tom Harkin's annual steak-fry fundraiser in Iowa. She greeted the crowd by saying, "Hello, Iowa, I'm ba-ack!" It was widely perceived as an unofficial announcement of her bid in the state that will vote first in the 2016 primary.
However, when reporters asked her about a run in 2016, Hillary suddenly became tight-lipped, saying, "We're just here to support Democrats." And when Bill was asked the same, he firmly stated, "I will not be baited. I cannot be baited." He then joked, "I'm waiting to be a grandfather, and I want a happy grandmother." Smart man.
"A Good Choice For President"
Though he's remained pretty consistently hush, Bill did add fuel to the speculation last April at the Clinton Global Initiative (CGI) in St. Louis, Missouri. When someone in the audience asked him whether he would rather be president for another two terms or complete 16 projects at the CGI, Clinton replied:
I would rather keep doing what I'm doing. Because I think America will have some very good choices for president.
His answer drew loud applause and cheers from the crowd, who were presumably thrilled for the prospect of a Hillary run.Images: Lloyd Bishop/NBC; Getty Images (3)