Will 'Agent Carter' Be Back For A Second Season?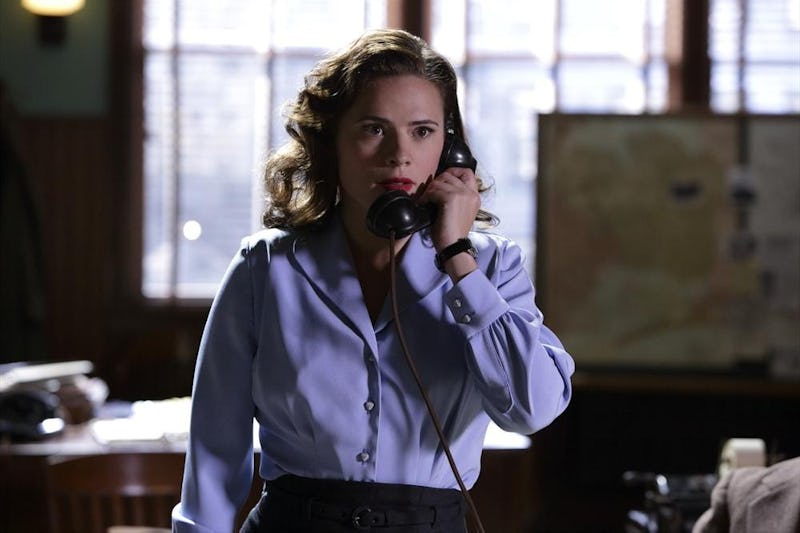 The main goal for any television show is to be widely well reviewed by critics, and watched by millions of viewers. Both of those things add up to long and success run for any show. And that what loyal viewers want too. Then, of course, there are those shows, which are beloved by critics, watched by few, and quickly gain a diehard fan base. Those of us who have already tuned into Marvel's Agent Carter probably fall into that last batch, because we fell had and fast for this heroine. Agent Carter is barely even halfway though it's eight-episode run, but the question has already been raised: will Agent Carter be renewed for a second season? Obviously, the answer should be, "yes, this show is brilliant, Hayley Atwell is a Goddess, and I damn well expect my grandchildren to watch this show one day." Agent Carter should receive the go-ahead for 15 more seasons of Peggy Carter's adventures. Hey, there's a long time between Captain America disappearing and Captain America defrosting, and I think we can all agree we want to see everything that happened to Peggy during that time. However — and ugh, this is already the worst — the show isn't doing as well in the ratings as everyone had initially thought and hoped. Across the board, everyone really seems to love Agent Carter — its been praised by many for its strong take on feminism, which is honestly something the TV landscape has been lacking. In this case, that high praise hasn't exactly turned into high numbers. BUT, the show is still pretty beloved, thankfully. "We feel very optimistic," ABC entertainment president Paul Lee told reporters about Agent Carter at the Television Critics Association semi-annual press conference on Jan. 14. The Jan. 13 episode delivered 5.1 million viewers, and Lee noted that at this time last year, Agents of S.H.I.E.L.D. was doing half that. So in ABC's eyes, this is a great show, even if it's not exactly as huge of an audience draw as they were hoping for. And speaking of Agents of S.H.I.E.L.D., that ABC/Marvel venture itself hasn't done so hot in the ratings either. It didn't really start hitting its stride creatively until it perfectly synched up with Captain America: The Winter Solider. And you KNOW the network and Camp S.H.I.E.L.D., had been planning that since the beginning. It wasn't like they were going to pull the series midway through its run, especially when it hadn't even hit the good parts yet. Considering all of this synergy happening within Marvel, both on the big and small screen, it wouldn't make sense to pull any sort of creative outlet just yet.
More than likely, everyone behind Agent Carter, the network, Disney, and Marvel have much greater plans for the show than just an eight-episode limited series run. We already know Peggy makes an appearence in Avengers: Age of Ultron, and there are still a hundred different places she could pop up next. We NEED to see Peggy form S.H.I.E.L.D. And just think, if Peggy forms S.H.I.E.L.D., then she needs Howard Stark by her side... and Colonel Chester Phillips. Which means obviously Tommy Lee Jones has to come on board. If Agent Carter can find a way to get Tommy Lee Jones on primetime television, we all need to support this.
So if you're thinking about wagering money on Agent Carter returning for more adventures, it'd be safe to bet on this lady. And if I'm wrong, you'll find me crying alone in a corner, mumbling about girl power and 0-8-4s. Images: Michael Desmond/ABC, marvelsagentcarter/Tumblr