New App Could Revolutionize Life For Blind People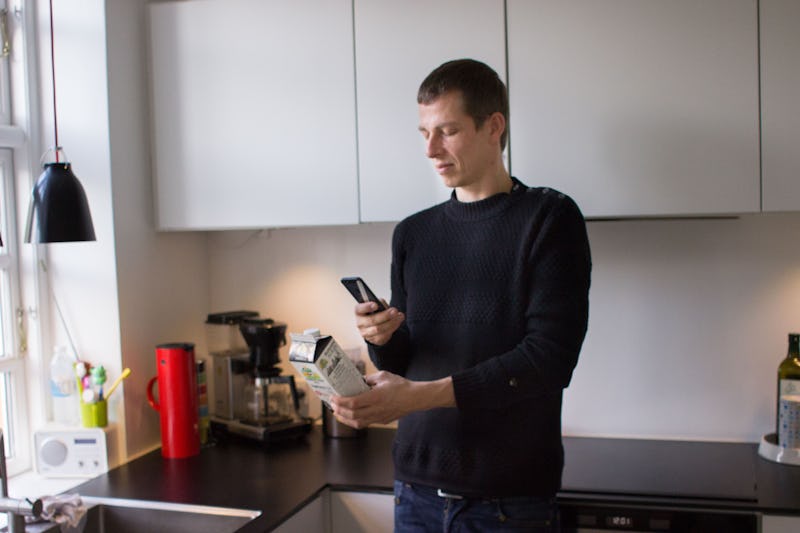 Forget selfies, iPhone cameras can now have a much more important use. Through the new BeMyEyes app, sighted "helpers" can aid the visually-impaired in everyday tasks — and the app could revolutionize daily living for the blind. Using a live video feed on their smartphone, the blind person "lends" their eyes to the helper, who is able to see and describe what the blind person is showing them — such as the contents of their fridge or the total on their cable bill.
It's a fairly straight-forward process: When a blind user needs help, they simply let the app know with the click of a button, and a number of helpers will be notified. Helpers are not required to answer the call, and if they decline, another user will be pinged. "The really important thing about this app is the blind person gets the opportunity to get help without 'asking', so to speak," Hans Wiberg, the Denmark-based founder of nonprofit Be My Eyes, who is also visually impaired, told Mashable. If you're a helper, you simply sign-up, enable video capabilities within the app, and wait for a notification.
Helpers earn points through aiding blind users, although there is no rewards system. Currently available on iOS, Wiberg told Mashable an Android app is also in the works. It officially launched on Thursday, and according to TechCrunch, the servers were "overwhelmed," with at least 13,000 sighted volunteers signing up and at least 2,000 visually-impaired people being helped. According to project coordinator Thelle Kristensen, the helper to visually-impaired user ratio is 10:1. Though it was built and tested in Denmark, American users are signing up in droves.
The app is free to download, although the nonprofit is accepting donations to keep it up and running. It is currently backed by the Danish Blind Society, Velux Foundations, and Robocat, but funding is expected to run out by September. The creators are also asking volunteers to help them translate the app into more languages (it has currently been translated into 29 languages, it's primary language being English). If two people don't get along, there's a blocking system installed to ensure they aren't paired again in the future.
"The app makes it possible to get help at times where it might be inconvenient to get help from neighbors or friends, and you don't have to go apologetically and ask for help," John Heilbrunn, himself blind and vice chairman of The Danish Association of the Blind, said in a statement.
Images: Thelle Kristensen/Be My Eyes (1), Screenshot/Be My Eyes App (1)