MAC's Isabel And Ruben Toledo Collection Is A Must-Own Thanks To Graphic, Collectible Packaging — PHOTOS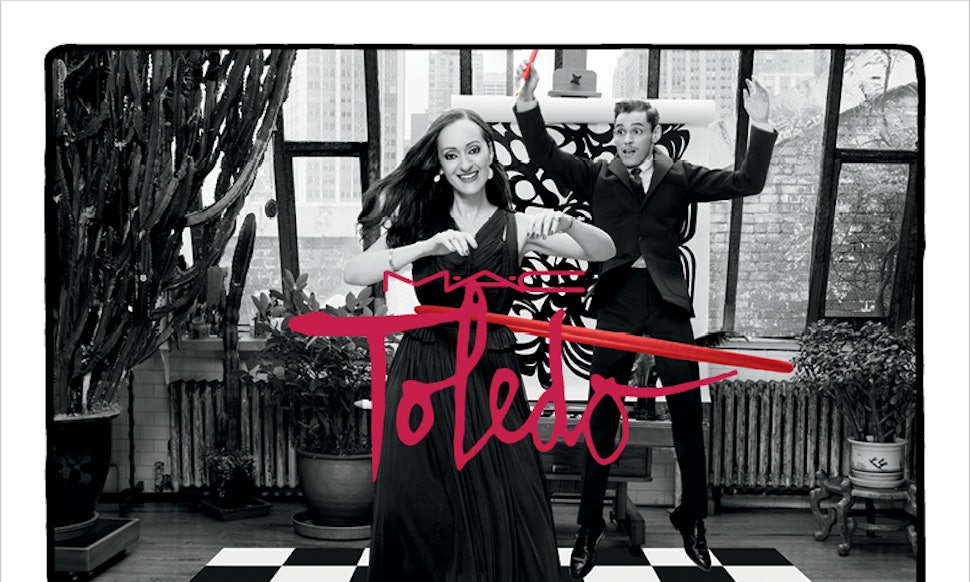 MAC Cosmetics has traded its signature matte black casing and packaging in favor of bright white tubes and palettes accentuated by graphic lines and red-lipped faces with good, limited edition reason! Fashion design and illustration duo (and real-life married couple) Isabel and Ruben Toledo have teamed up with MAC for a blockbuster new collection that is centered around her penchant for color and his vibrant energy and illustrations!
With packaging as lively as the colors contained inside, the extensive range will really pretty up your vanity and/or your makeup bag — in addition to your face, of course!
The collection will be available online starting January 29 and on makeup counters as of February 5. It's limited edition and will be gone as of April 2, so you'd be wise to scoop up as much as you can, while you can!
Why not have a look at the entire range?
Images: MAC (36)
Here's The Main Aesthetic
This is the main aesthetic of the entire collection.
Checks + Lines
The eyeliner shell is as pretty as the actual liner itself.
Swirly + Girly
These shells have such a fun vibe, don't they?
Get Your Stripes
The liners will amp up your eyes and your makeup bag's cool factor.
The Eyes Have It
There are multiple mascara options.
Check Out That Brush
You won't be able to part with these packages once you're out of mascara. They are so adorbs.
Anyone Sensing A Pattern?
So many combinations of product and packaging!
Checkmate
A Case Of The Blues
Of course MAC's hyper-pigmented shadows are of the highest quality.
Don't Forget...
... And Toes
MAC's signature glossy lacquers get the Isabel x Ruben treatment.
Bring Your Own Polish To Your Mani + Pedi
You'll be the coolest girl in the salon.
Lip Glass Is Also On Point
Opaque lip glass shades also reign supreme.
Tenor Voice
Pack a punch with your pucker!
Sin
What a lovely bordeaux shade.
There's No Shortage of Color Options
If you love color, this collection (especially the glosses) is for you.
Oxblood
This universal pink works with all skintones — and has a badass name.
BBQ
This shade is called Barbecue. Need I say more?
More Treats!
Blush Flush
Pink ladies always reign supreme.
Coral Cheeks
Warm coral cheeks are such a "Do."
Space Case
Carry your cosmetics in style.
Protect Your Tools, Too
It's important to keep your tools housed in protective cases. It's a bonus when they look this cool.
All The Liners + Mascaras
It's really an all-around aesthetically pleasing collection.
All The Eye Shadow Palettes
Violet Eyes
Channel your inner Elizabeth Taylor!
Neutrals!
Neutrals are never boring in MAC's universe.
Ombre Blush
Ombre blush offers so many options.
BBQ Part 2
Barbecue Lipstick is red hot.
Sing Opera!
This is the Opera lipstick, which calls attention to the mouth, just like singing opera would.
Oxblood, Too
We all need a universal pink lipstick.
Sinning Is Fun
As decadent as a glass of wine.
Tenor Voice
This tomato-y red, called "Tenor Voice," will also flatter any skin-tone.
Victoriana
Here's another ultra-flattering red for all you vamps!